Mumford & Sons find their place in the alternative genre
By John Kibler
Mumford & Sons have had a big week, to say the least. Delta, their newest album, racked up 230,000 album units (streams, downloads, and album sales), the most of any alternative album in 2018, placing the quartet at the top spot of the Billboard 200 for the third time in their career.
I'm not sure how I feel about the new direction that they are taking their music, and as far as I can tell, the majority of people have yet to adjust from their boot-stomping folk rock to their atmospheric-sounding alternative genre. As you will soon see though, they have not lost the sentimental quality that listeners tend to either fall in love with or admonish its corniness. I am one who fell in love with it at the release of Sigh No More.
My family has four tickets to see the band in March in Charlottesville. On the day of the release, we received four copies of the CD in the mail, so I've been listening to it on repeat in the car. By doing so I've found an effective way of judging the songs in this way: On a scale of 1-10, how far above the speed limit did each take me? Rush hour on I-264 may not have been the safest time to test this, and my mom grabbed the side handle plenty of times. Sorry, Ms. O'Connell.
Track 1: "42." Speed Rating: 6. A fun starter for the album aptly named as their 42nd song released. I didn't think it was anything special, but it did make me go pretty fast.
Track 2: "Guiding Light." Speed Rating: 6. Don't get me wrong, this is a great song. It released early as a single and did not fail to meet my high expectations. Listening to it multiple times a day on Sirius XM's The Spectrum, however, has made me slightly tired of it.
Track 3: "Woman." Speed Rating: -2. This song is one of the album's more popular ones, but it came off as relatively unexciting to me.
Track 4: "Beloved." Speed Rating: 4. Out of all the album's tracks, you can almost hear the return of Winston Marshall's beloved banjo-picking on this one. I didn't think the track itself was anything special, but I'm all for the banjo.
Track 5: "The Wild." Speed rating: 9. The orchestration in this track along with its well-crafted and poetic lyrics make this feel like the most powerful track on the album: "What's that I see?/I think it's the wild/Puts the fear of God in me."
Track 6: "October Skies." Speed rating: 4. Don't let this speed rating fool you; this is one of my favorite songs on the album. They took a slow-paced but robust approach, and I dig it. Thought-provoking lyrics and a Behind the Wheel friendly tempo.
Track 7: "Slip Away." Speed rating: 8.5. A light, airy melody that serves as a testament to all of the bold emotions surrounding love: "You'll find me holding my breath for you/It's never more than I can take/I wouldn't have it any other way."
Track 8: "Rose of Sharon." Speed rating: 4. Bassist Ted Dwane said in an interview with Radio.com that this song has an influence in hip-hop. Frankly, I can't hear it, possibly because I went into it expecting to hear the next "Mo Bamba." Maybe recent hits have tainted my perception of music, or maybe I couldn't come to associate the genre with Mumford and Sons, of whom my perception is still stuck in their folk-rock days.
Track 9:  "Picture You." Speed rating: 3. This is another contemporary-sounding track that seemed to be a cross between the styles of Taylor Swift's Reputation and Of Monsters and Men's Beneath the Skin. As opposed to those two works, this song failed to reach me in any way. (I binged Reputation when it first released. Now I can't stand it.)
Track 10: "Darkness Visible." Speed rating: 7. "Picture You" transitions into "Darkness Visible" seamlessly, seemingly on the same audio file (as the band has done with multiple tracks in the past—think "Babel" and "Whispers in the Dark"). It features Old Crow Medicine Show guitarist Gill Landry reading an excerpt Book I of "Paradise Lost," an epic by John Milton. This is perhaps the most unconventional track on the album, and it sounds like it would fit in more over the climactic ending of a science-fiction thriller.
Track 11: "If I Say." Speed rating: 0. This was the second and final single to release before the regular release of the album, but like "Woman," it sounds bland and shallow to me.
Track 12: "Wild Heart." Speed rating 4. Soft-spoken and sentimental, this track is the most easily comparable to Sigh No More, with its rustic but bustling acoustic vibes that somehow always remind me of morning dew and dusty bookshelves. It also features some of the heavier and more thoughtful lyrics on the album— "I wouldn't have it any other was/I don't want a love that makes sense anyway."
Track 13: "Forever." Speed rating: 4. This track opts out of the fast pace it originally had when it was played on the 2016 tour, and features a more soulful, slow dance-ready beat that explores the value of being unafraid to love after being hurt by it. Its chorus features what will likely become the most tweeted verses on the album, aside from those on "Guiding Light:"
"Love with your eyes/Love with your mind/Love with your –  dare I say forever."
Track 14: "Delta." Speed rating: 9.5. If there were any songs that could have killed me on Monday afternoon, this would have been the one. I vividly remember my dad getting pulled over once for going over 80 when ZZ Top was playing on the dial. I only have God to thank that there was no police car around. The song has a slow and steady first half, but the second half arrived in full force as brake lights illuminated the I-64/I-264 interchange. My car was the only one to speed up. I took half a point off the speed rating because I'm still alive.
As the reader, there is a multitude of conclusions you can take from this, but you get the main idea—either the album really does overtake the listener with audacious arena rockers accompanied by a couple of downers, or I'm just an inconsistent, generally unsafe driver. There is truth in both of these statements.
It is like the band's previous album, Wilder Mind, (where they originally ditched the folk-rock genre that they helped to create) in that after listening to it one time through I feel pressured to go to Guitar Center, impulse-buy a Stratocaster and turn PA Beach Boys, the sixties trio that was featured in our homecoming hallway, into a full-time rock band.
If you're looking for a reincarnation of Sigh No More and Babel, as I was, you will undoubtedly be disappointed at the first listen. But although the band went for mostly produced sounds, it seems like Marcus Mumford has not abandoned his tried-and-true methods of songwriting: write about love, write about Jesus, start off slow, and build up suspense. And after all these years, I still love it. I don't have a big problem with Mumford and Sons experimenting and broadening their horizons, but their first two albums were revolutionary masterpieces in the scene of folk music, inspiring the rise of other bands such as The Lumineers and Of Monsters and Men. You can either think of Delta as a bittersweet goodbye to the past or as they describe it, the quartet's way of entering their prime.
P.S.  We don't know what to do with our extra CD's. If you want one, find me during lunch and it's yours for $25. Of course, that's $12 more than listed on their website, but you can't argue with free shipping.
About the Writer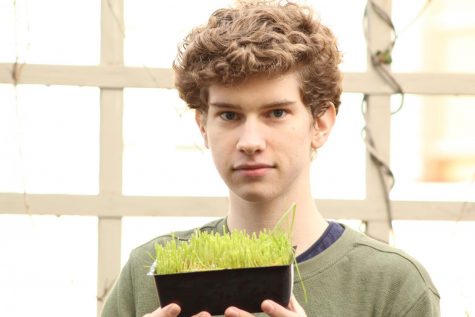 John Kibler, Staff Writer
Howdy! My name is John Kibler, and this is my second year on staff. In addition to writing for The Page, I am a Workshop staffer, junior class president,...