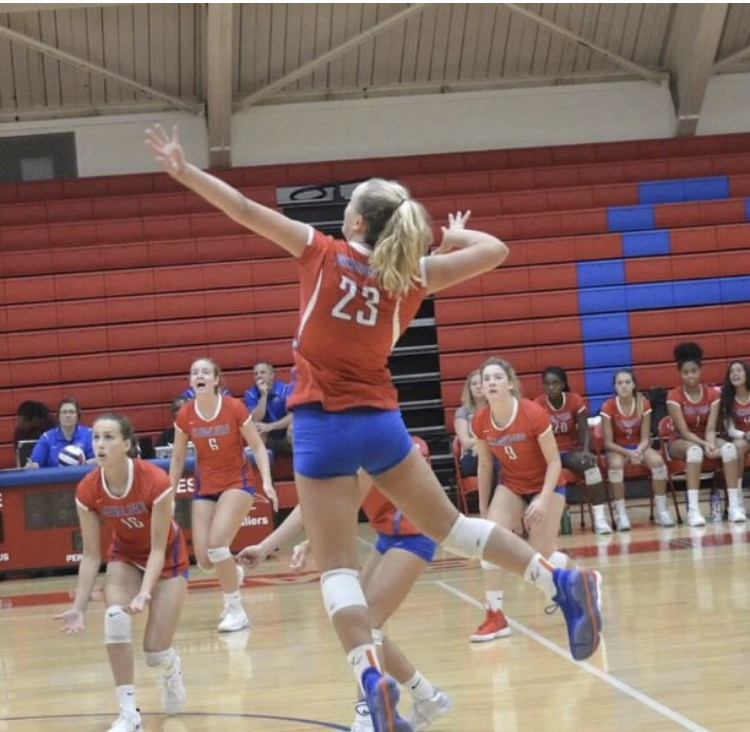 By Allie Boulier and Katie Smith
Senior captain Jayna Francis was awarded with Player of the Year in Virginia after being in the volleyball program for four years.
After a historical undefeated season and a victory at the state championship, many of the players of the boys' and girls' teams, as well as the coach of PA's girls' volleyball team, have been rewarded with player of the year, first-team all state, and second-team all state.
For the girls' team, Jayna Francis, Alyssa Vitale, and Erin Gray made first team and Elizabeth Hunt made second team. For the boys' team, Connor Dooren made first team and Noah Moyer and Micah King made second team.
"I think I'm just a really competitive person and it's infectious to other people around you," Francis said. "My competitive drive inspires others."
Francis has already committed to UVA, and remarked that, "One [motto] for me is 'once a Cavalier, always a Cavalier,' because everything I've learned here will carry with me to UVA."
Francis looks forward to having a role on a collegiate team and is excited to see what her freshman class brings to the program at UVA.
"I think we can help the staff build the mindset to improve and meet their goals to compete in the NCAA tournament," said Francis.
Looking back on the season, Francis reflected on the state championship as one of the best moments of the year. "We had won the first set but they [North Stafford] were still coming at us in the second set," Francis said.
"We were against one of their best strikers, and our libero, Erin Gray, dug it perfectly and our center ran it in system. We got a big kill and from that point on we were winning and broke North Stafford," continued Francis.
Junior Erin Gray made first team herself as libero, formerly Peyton Washington's position before Washington graduated.
"After Peyton left, she played that part perfectly and I knew if I wanted to be starting libero, I would have to pick up my game," Gray explained.
Gray continued by emphasizing the importance of hard work.
"I worked really hard and I think the coaches saw that and in practice I proved myself to them. I just showed them what I could do and I showed them I deserved to be on the court," Gray said.
After coaching for 32 years with 20 of those years spent at PA, Coach Craig Dooren was awarded coach of the year.
According to Coach Dooren, what drives him to coach is "watching student athletes accomplish goals they didn't know they were capable of."
This seemed to be a common sentiment around the team. As Vitale stated, "Our coach tells us not to go through the motions, which I've come to realize is such an important motto to go by. What's the point of doing something if you're not going to give it your best? If you go through the motions, you'll never know your potential or what you're capable of."