Scholastic Bowl finishes fourth at states
By John Kibler
To cap off an offseason focused on rebuilding, the Scholastic Bowl team took on three schools at states at William & Mary on the weekend of Feb. 23. After going undefeated at regionals, the team lost its three matches, most notably of which was Thomas Jefferson School of Science and Technology (TJHS) from Alexandria—which Niche ranks as the second-best public high school in the nation.
"This year we didn't do particularly well, because we had lost 75 percent of our varsity team," said junior Joseph Wornom, "[most of which] had been on varsity since 10th grade, so this year was really just a year of recuperating what we once were and we still performed really well, but in the upcoming years we're probably more likely to get second again or possibly first."
If you're not familiar with the concept structure of Scholastic Bowl, you can think of it as a "team Jeopardy." Most of the questions, which cover anything from quantum physics to English literature, are answered by individuals with buzzers, with some team questions that are answered collectively. Questions start out as vague and obscure, and gradually become slightly more specific through a series of clues. If the student or team answers a question correctly the school gets a certain amount of points, and at the end the school with the most points ends up winning. There is no one student who typically carries the PA team, but rather an assortment of different students who specialize in different subjects.
"As a whole our team is really well-balanced," said Wornom, "and we have different people who are really good at particular subjects. For example Shannon [Dinniman] is great at English, Robert [Jiang] is wonderful at math, I usually cover history and politics and Bhoomika [Chowdhary] usually covers chemistry. So we each have our own special field where we normally get the majority of the questions. But no one tends to dominate the PA team."
For a school to go to the state tournament, it must defeat every school in the regional conference. PA went to states in District 5A as one of four schools who had gone undefeated at their regional conferences. PA is known to typically place second in the district behind TJHS.
After losing much of the team over the summer, the team wasn't particularly worried about reaching a top rank. It was more regarded as an opportunity for evaluation and growth. This lack of experience may have been the deciding factor, as the questions asked were slightly different than expected.
"This time we felt like a lot of the clues were all this random stuff that you wouldn't really know unless you were super specialized in that subject," said Chowdhary. "I just felt like the questions were a lot different than what we were used to getting."
Regardless, in the regular season they still went undefeated, their only roadblock being a loss in a practice match against Ocean Lakes, which is in a different district.
"We were very excited when we went to regionals and were able to go undefeated," said Wornom, "because that was something particularly last year that we had worried about, and just being able to meet those goals for this year was a really satisfying experience."
In addition to valuable experience, Wornom and his teammates are enthusiastic about the knowledge gained from studying for their own specialties as well as watching teammates tackle their subjects.
"It'll give me a confidence boost because I've learned a lot about subjects I don't particularly think I would have ever learned about. For example, learning the basics of quantum physics and what the particles are called, or learning more about art or authors just from listening to other people answering questions, it just gave me a breadth of knowledge that I wouldn't have if I hadn't done Scholastic Bowl, and that's one thing that you can't leave Scholastic Bowl without taking with you."
About the Writer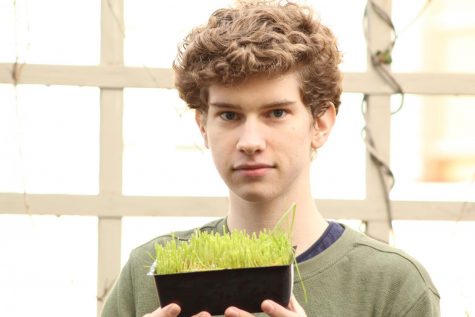 John Kibler, Staff Writer
Howdy! My name is John Kibler, and this is my second year on staff. In addition to writing for The Page, I am a Workshop staffer, junior class president,...