PA student takes top spot in National French Contest
By John Kibler
In March, French teacher Elisabeth Crothers enrolled her classes in Le Grand Concours, or the National French Contest. It features five different levels, and assesses the abilities of students across the nation in their French comprehension skills.
The results of the test came in a day early, as the lowest scores were announced first. Sophomore Jackson Kubin thought he had made a crucial mistake when he didn't hear his name. But there was a mistake in the announcements, said Madame Crothers, and Kubin had won first place bracket in the nationwide contest for French 1, getting 40/40 questions right.
"That was really shocking to me," said Kubin. Most of his class entered the contest, which has a $5 fee, and most of his class got honorable mention, meaning that they scored above average. There were also numerous bronze and silver medalists.
In class they used old, released material as benchmark tests to prepare for the contest. But the test became considerably difficult in the listening comprehension section.
"They speak French at normal speed," said Kubin, "and it's not recognizing the words, it's the ability to put what you hear into context, so that makes it a little harder than the usual [French test]."
Kubin also studied French 2 concepts in addition to French 1, preparing himself for anything that might have showed up on the test.
"On the practice test I only missed one," he said, "and that was the thing we were literally going to talk about next class."
Earlier in the school year, Kubin hosted a challenge on language-learning website Duolingo as his MYP Personal Project. Students could enter the contest, choose a language, and compete with others to make the most progress in learning that language. Kubin commonly uses Duolingo for other languages, and believes that his foundations in other languages help him to succeed in French.
"I didn't really use Duolingo for French," he said. "I used it for Spanish and I learned a little bit of Spanish on that, which does help — they're probably the two closest [languages]. And I have taken five years of Latin, so that's probably the best background because I have all of that material pretty solid. And if I see something that looks similar in French, or sounds similar, I can use that knowledge and what I learned in French class to get answers correct."
Kubin was also a gold medalist in this year's National Latin Exam, scoring a 39/40. Both languages have their difficulties, but those are found in different aspects of the language:
"The exceptions [are the hardest part of French]," he said. "There are so many exceptions to every rule. Latin is hard because it's complex, and there's a system, but it doesn't really deviate from the system. Once you get your system down — like three years to learn the system —  after that nothing really changes. But French…you have to be able to memorize everything. Eventually I feel like if I keep learning I'll have a feel for it and be like, 'Oh, that sounds wrong.'"
Kubin plans on studying French throughout the rest of high school, and in college hopes to study abroad in a francophone country to get a better feel for the linguistics and to officially become bilingual.
"I like learning the similarities and differences," he said "and how languages evolve and change, and how linguistics affect people, how the language affects the culture of a population. That's more interesting to me than learning languages, but I also do hope to learn a bunch of languages by the time I'm an adult. Especially French—French is really interesting to me."
"I'm not bilingual yet — I hope to be, but you just experience different cultures. The way that they express themselves is so interesting to me, because the phrases are not the same. So much of our culture is based on a language. We talk about being open-minded, and we talk about listening to other people's perspectives, but until you speak their language, you can't really understand them to the best of your ability."
As for next year, Kubin will have a different French teacher, but plans to reenter the contest and re-ace the test.
About the Writer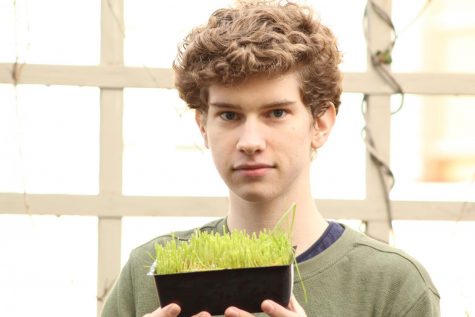 John Kibler, Staff Writer
Howdy! My name is John Kibler, and this is my second year on staff. In addition to writing for The Page, I am a Workshop staffer, junior class president,...