Boys' lacrosse beats Maury in 9-8 game
Maury was beating PA 9-8 as the team's home lacrosse game came to a close on April 5. The turf was soggy with the cold rain falling that evening, but that didn't stop an abundance of PA students from attending one of the few home games of the season. The team had never won a game before at the football stadium, but that didn't discourage junior midfielder Sam Peal, who scored the tying goal with three seconds left.
"It was a great feeling," said Peal, "because the team has worked really hard to have a home game… It gave us another chance to finally give the team a win."
Which is exactly what happened after the game went into double overtime, as junior Carter St. John scored the winning goal to put the Cavs up 10-9. Since the team is still technically a club, it's difficult to play a game at PA and they are grateful whenever they get the opportunity.
"In overtime, we played more as a team," said junior Josh Crumbly, "whereas in regulation everyone wanted to be the hero, but once we put in the work we could really show what we could do."
The game was dedicated to Crumbly's mother Cheri, who is battling breast cancer and going through chemotherapy. Admission was free, and there was a bake sale, ticket raffles, and silent auctions to raise funds for the treatment.
"It felt really good knowing that all these people came out to support my mom, and just raising awareness for breast cancer and for her," said Crumbly. Cheri Crumbly made an appearance during halftime for an award and recognition from the substantial audience of students, parents, and teachers who came out in support.
"[My favorite part was] all of the people coming out even though it was cold and raining," said Crumbly, "and looking over at the sideline and seeing all the fans cheering once we scored that last goal."
The vast audience, the music, the stadium, and the competitiveness on both teams all combined for a gratifying experience as the Cavalier lacrosse team was able to "play at PA and represent PA as a real team."
Crumbly was most thankful for those who attended in support of the lacrosse team and his mom, he said, "and knowing that my team could come through in a crucial time to pull out the win."
The team's regular season ends this Friday, and then they are set to enter the playoffs. They play their next game on Thursday against Grassfield, and one last home game against Landstown at PA on Friday.
About the Writer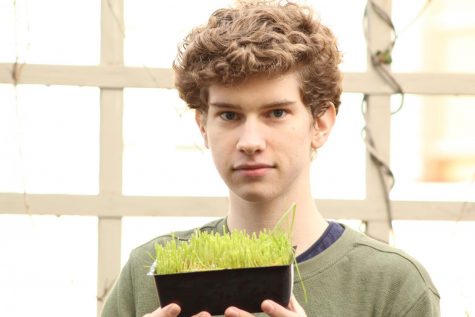 John Kibler, Staff Writer
Howdy! My name is John Kibler, and this is my second year on staff. In addition to writing for The Page, I am a Workshop staffer, junior class president,...