Homecoming 2019: a sip of McDonald's Sprite
By John Kibler
As the sun set on Town Center Saturday, Oct. 19, students in bow ties and high heels huddled their way into the gym for PA's 2019 homecoming dance. 
Earlier that day, SCA strung lights across the gym and decorated the 700 hallway—through which students wandered upon entering the building—with the best of the homecoming hallway decorations. (One of these, I might add, was a giant dollar bill with my face on it, which had a notable role in the hallway's beautification.)
"I would arguably say that this was my favorite homecoming," said Homecoming King Daniel Bojo, with bittersweet emotions about his last time experiencing it. Besides his and Alex Hakim's coronation as King and Queen, Bojo's highlights of the senior experience include wearing togas and "taking pictures where you actually look good, compared to freshman year."
"It was a really great time and I feel like senior year Homecoming is definitely something that everyone should experience," he said, "because honestly we all deserve it at this point."
Towards the end of the dance the DJ, per tradition, played Journey's "Don't Stop Believing"—which also happens to be the senior class slogan.
"The last song is always 'Don't Stop Believing,' but this time it hit different just because it's our last time hearing that at the end of the dance," said Bojo. "And I didn't expect to get a little sad, but I really did because senior year is full of a bunch of last things that you're going to do, and I think the end of the homecoming dance was one of the first ones."
This moment was evidently sentimental to many others, as senior Megan Fleeharty edited a video of the Class of 2020 singing the song, alternating clips from the pep rally and the dance. The video quickly circulated the PA community after it was posted on Twitter.
"My favorite part of the dance was when we were singing 'Don't Stop Believing' and the DJ stopped the music and said 'Where is he from?' and we all had to say 'Detroit!'," said senior and Homecoming Queen Alex Hakim.
The dance was the grand finale to PA's homecoming week, referred to by many as the busiest week of the school year. It included spirit days, hallway decorations, and an indoor (mock) bonfire.
"During Homecoming everyone is a Cavalier, no matter what," said Hakim. "Everyone participates in spirit weeks and bonfires and the dance and the football game. During the football game our student section is crazy. So I'm going to miss that part of seeing everyone get so excited for our football team, and stuff like that."
Hakim called her crowning as queen "the icing on the cake" to her last Homecoming.
"I really wish I could go back in that moment [of being crowned king], and kind of be more into it…It felt so surreal that I was kind of detached from the moment," said Bojo. "I was really proud, not really of myself, but of the point where all of my friends have gotten to. Freshman me would have never thought I would be homecoming king one day."
In regard to the seemingly simultaneous timeline of homecoming events and the students' resulting deliriousness, translating to the dance's maniacal atmosphere, senior Kana Roarty posted a tweet comparing PA's Homecoming to sipping McDonald's Sprite—which, as pop culture has decided, has an exclusive taste and effect of its own on the consumer.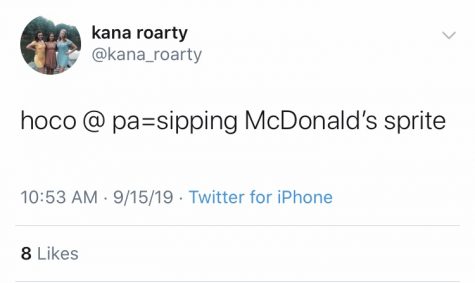 Biology teacher Hunter Ott was a chaperone for the dance, and was entrusted to keep the craziness of the event to a happy medium. 
"I was actually pleasantly surprised," said Ott. "I feel like there wasn't that much craziness. I know there was some crowd surfing," which, along with profanity in songs like "Mo Bamba," the DJ repeatedly discouraged.
But supervisors' jobs were mostly kept easy, despite one or two lapses throughout the night.
Sophomore and Homecoming Court elect Abigail Ferguson enjoyed the dance to the fullest extent in spite of, or perhaps thanks to, one of those lapses. While most other students walked out of the gym with nothing more than sweat stains, she rolled out with a dislocated knee.
Upon entering a dance circle, Ferguson found herself "doing that dance where you do the weird wave with your arms, and I just got challenged by [fellow sophomore] Jonas Sosnowski," she said. "So I was like, 'Okay, he wants the smoke, I'll give it to him.'"
After an exchange of Fortnite dances, Sosnowski (did he? Oh gosh, yes he did…) started dabbing. 
"And I was like 'Oh no, I need to bring it up a notch,'" said Ferguson. "You know that dance where you're just shaking your knees and kicking your legs out? I was doing that, and then I did it a little too hard, then my knee popped out, and I fell on the ground.
"My friends gathered around me and were like 'Come on, get back up.' I was like, 'I literally cannot get back up, I think I broke my knee.'"
In the aftermath, Ferguson was wheeled out of the dance and, while attempting to climb into her mom's minivan to go to the ER, her knee popped back into place. She stayed in the ER until about 10 p.m., where she received an immobilizer and a pair of crutches—which you can see her schlepping through the halls with.
"I don't like to think of it as a negative experience," said Ferguson, "because even though I was in pain, I saw that my friends really did care about my well being. A lot of my friends came and rushed to my aid when they realized I wasn't joking. They all looked very concerned. Shoutout to Jonas for apologizing afterward. … I saw it as, if I'm going to dislocate my knee, why not do it in the best way possible, by winning a dance off?"
Ferguson chose not to view the event traumatically in any way, but rather as "a blessing in disguise."
Aside from supervising and being held responsible for these lapses, Ott attended the dance to get the most out of her first PA homecoming experience.
"When I think about my own [high school] homecoming, it was really wild, and not in a good way," she said. "So I was pleasantly surprised because it seemed like everyone was getting along and just having a good time. I think it was a really good homecoming."
For the week's experience as a whole, Ott most enjoyed the hallway decorations, which was something that she had never seen before. "I've never seen that," she said. "I cheated and looked at videos on YouTube, but it's not the same as walking through."
Senior James Dalida was another first-timer, having never attended any dance at all. 
"As a senior, I saw my final chance," he said. "My first and final chance to attend a dance—a homecoming dance, that is."
And reflecting on the experience, he called the dance "overwhelmingly spectacular." He recalled enjoying the room's contagious energy rush, and watching the "exhilarated" emotions.
"You could see it on everyone's faces, that everyone was thrilled," said Dalida. "And I was as well. It was grand. The event was grand."
As for guest students visiting from other schools, the dance was impressive both in spirit and in aesthetic.
"You guys did really well with your decorations for the dance," said Bayside junior Lauren Asperin. She appreciated the amount of work and organization put into our hallways, and she also noticed my face on the dollar bill.
Hakim was accompanied by a few friends from Kellam, who were immediately captivated.
"They loved it. Apparently it was a lot better than Kellam's dance," she said. "As soon as we walked in they were like 'Oh my gosh, this is so much better.' Right from the beginning."
Complaints were seldom heard about the dance, thanks to the upgrade from last year's A/C disaster. The only real grievances heard were in frustration with the DJ, who had previously worked at numerous other homecomings and PA events. 
"The transitions were kind of weak from song to song," said Asperin. "It would be a hard cut from song to song, or it wouldn't flow. And when people were really into a song, and everyone was hyped for it, the DJ didn't take that queue and keep the song going."
While some students were annoyed by his tendency to interrupt songs or end songs prematurely, others became impatient when a misunderstanding led to the announcement of homecoming king and queen while they were wearing their respective sashes.
"I think he could've been better, but I'm not going to let it ruin my experience," said Bojo.
Reflecting on the senior homecoming experience as an SCA officer, Hakim is even more sad and pensive, but nonetheless relieved.
"Being an SCA officer during homecoming is a lot, and I don't think people realize how much work goes into it," she said. "This is the third homecoming that I've had to run with a team of officers. I'm glad that the planning behind it is over; I'm so sad that the week is over. We get so close as an officer team and I feel like the entire school gets close."
Hakim estimates that she and her team spent at least seven hours planning and setting up for the dance. In terms of Homecoming as a whole, "It's probably over a hundred [hours], I would say. And the week of, it's insane."
"This week was really sentimental just because homecoming is such a big part of PA," said Bojo, who is also an SCA officer. "I feel so lucky to be able to go to a school where Homecoming is such a big deal, and where we can always have alumni that we're still friends with, and where I have friends that are so into school spirit and just being passionate about their own things. I'm just really lucky to be surrounded by those types of people."
"I feel like Homecoming is where all the good parts about PA come out, and where we can really appreciate our school as a whole and ultimately our heritage," he said.
Ott called PA "the most spirited school I've ever seen." I call it the McDonald's Sprite of Virginia Beach.
About the Contributor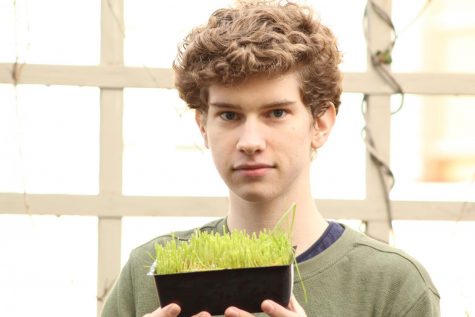 John Kibler, Staff Writer
Howdy! My name is John Kibler, and this is my second year on staff. In addition to writing for The Page, I am a Workshop staffer, junior class president,...