Assassination of Iranian leader Qasem Soleimani encourages fear of Iranian retaliation and American leadership
By John Kibler
On the morning of Friday, Jan. 3, Americans started their day with news of a drone missile strike that killed Iranian leader Qasem Soleimani at the Baghdad International Airport. This assassination came as a result of recent events that have fueled a rise in tension between the U.S. and Iran, which started with a rocket attack that killed an American contractor on an Iraqi base near Kirkuk, for which American leaders blame the Iranian-backed militia. This act now gives reason to fear a full-blown war with Iran, as well as reason to fear the presence of impulsiveness and lunacy in the Oval Office.
Soleimani was an immensely respected figure in Iran, and widely regarded as the second-most powerful man in the country as commander of the Quds Force, which executes missions abroad. According to the White House, the Quds Force gave funding, training, and troops to nearby U.S.-designated terrorist organizations. Soleimani played a role in organizing attacks on U.S. troops in Iraq in 2003, and the recent low-level attacks on Iraqi bases and the Baghdad American Embassy can arguably be linked to his command. But despite this history, his sudden killing seems unnecessary and ill-advised.
In his statement following the attack, Trump claimed that Soleimani was plotting "imminent and sinister attacks on American diplomats and military personnel."
Solaimani was a dangerous man, but Trump's decision to assassinate him came without any sort of Congressional approval. It was a rapid escalation in a string of subordinate conflicts. In other words, Trump drew and fired a gun in the midst of a knife fight. 
Multiple reports claim national security officials offered Trump a variety of options, the drone attack being the least attractive option, and it implementation stunning The Pentagon. Perhaps those officials have learned by now never to give Trump an extreme option.
Trump claimed that eliminating Soleimani was intended (somehow) to avoid war. But of course, Ali Khamenei, the supreme leader of Iran, has now promised "severe revenge" in the aftermath. In further threatening manner, Trump took to Twitter to alert Iran that the U.S. has targeted 52 Iranian sites, "some at a very high level & important to Iran & the Iranian culture" that are to be "HIT VERY FAST AND VERY HARD" should Khamenei's "severe revenge" inevitably come our way.
Now, the threat of war looms over both powers. Americans responded to the situation with memes about the potential for World War III, although fears of a worldwide crisis may be slightly unreasonable. Iran likely doesn't wish to cause a full conflict with the U.S., as America's military power is far superior than that of Iran, although Iranian troops in conjunction with Shiite militia may be the most significant power we have faced since World War II, with more manpower than Saddam Hussein's 2003 Iraq and Vietnamese guerilla forces. But Trump's Twitter threats give reason to believe that any retaliation at all would escalate into war.
Potential targets for attack include American Embassies, including the Baghdad Embassy that was stormed in events leading up to this airstrike, local allies such as UAE, Israel, and Saudi Arabia, who all consider Iran an enemy, taking Americans hostage, and cyber attacks. Iran likely wishes to avoid a full-blown war, but hopes to do what is necessary to avenge its leader. This could also come from Iranian allies; Russia and China, though they are both allies, are unlikely to attack. There is no real benefit for either power to involve themselves with the meddling between the U.S. and Iran. Rather, an allied threat would take the shape in the network of Shiite militia across the Middle East, which the Quds Force and Soleimani had been working to organize for decades.
But, in addition to Northern Asian powers, distant allies of Iran could be found everywhere you look, including Southeast Asia and Central America.
"They're not starting from zero almost anywhere. There's always something they have, almost everywhere," said Nick Ramussen, former director of the National Counterterrorism Center, to NBC.
If these events do somehow spiral into a world conflict, things seem to be looking bleakly down on America. This is the problem when a nation this diplomatic and involved in multiple foreign locations, blindly worships the empty phrase of "America First," which has proven over time to mean lazily disregarding allies, who now have trouble trusting America. With this President, the threat of World War is more of a threat of self-destruction. If our allies can't trust us, and there is thus no promise of them backing us in conflict, we would be all alone. Everyone versus America.
We cannot expect to kill the second most powerful person in Iran and expect to get away with it peacefully—I find it harder than ever to trust Trump now when he says this was meant to prevent conflict.
So, we now have no option but to ask of Trump's leadership: Where is the sense in this? There were less provocative options, but we are now faced with inevitable conflict and serious threats from both sides that could lead to a catastrophic war with great magnitude.
War is never a topic to be taken lightly; it takes young men and women—brothers and sisters, sons and daughters—and presents obscene, traumatic experiences that will forever corrupt and haunt the mind. Any reasonable thinker will agree that such violence is always a last resort. But Trump executed an act of war without batting an eye while on a New Year's V\vacation in his glitzy Mar-a-Lago resort.
"The President pushed ahead with this strike, ignoring his obligation [constitutional obligation, as only Congress can declare war] to consult with Congress and escalating an already volatile situation with Iran," said House Foreign Affairs Committee Chair Eliot Engel (D-NY) in a statement published on Twitter. "We have an obligation to keep Americans safe. Despite his rhetoric, the President's options have had the opposite effect."
In a meeting with reporters on Friday, Army Gen. and chairman of the Joints Chief of Staff Mark Milley said, "The ball is in the Iranian court. It is their choice what the next steps are."
Yet rather than give the ball of possible war to Iran, with their offense of numerous Shiite militias, there is no denying that the mature option was a peaceful negotiation out of this horrible, foolish game. But Trump is neither mature nor is he a diplomatic negotiator, and so his impulsive act of war has done exactly the opposite.
About the Writer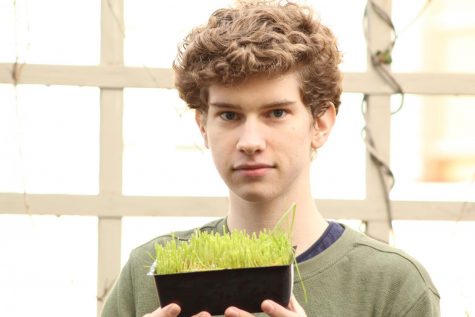 John Kibler, Staff Writer
Howdy! My name is John Kibler, and this is my second year on staff. In addition to writing for The Page, I am a Workshop staffer, junior class president,...