Gabe Boyd is building a 3D printer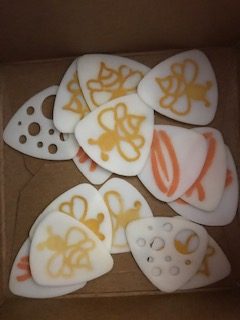 By Natalia Miasko
Junior Gabriel Boyd has been building his own 3D printer since January of this year, and after countless hours of building and troubleshooting, the printer is in the final stages of production.
Boyd's interest in 3D printing began when he attended a technology showcase at his middle school. "I wanted to do that stuff by myself as opposed to relying on school to do it," he said.
In 2016, Boyd saved up enough money to buy his own 3D printer. He assembled his first printer using the instructions that came with the kit. This hands-on experience set the stage for Boyd's most recent creation.
"I made a 3D printer that is two or three times the size of normal 3D printers. It won't fit on a table. I made it so that I could make big things."
Boyd learned the inner workings of 3D printers from his original kit, and he ultimately repurposed its motor and circuit board. "I watched a lot of videos on the internet to figure out how to update the firmware to the circuit board," he said.
Building this large 3D printer was no small feat. "I got the pieces in January and I spent several months designing," said Boyd. It took him about three months of consistent work to advance the printer to its final stages.
"I've run into a bunch of challenges making sure that it is machining ready," said Boyd. He has been running tests of coronavirus face shields, a product he and junior Jason Qin have been hoping to mass produce for teachers. "It turned out really well, but it wasn't able to print. I noticed there was an issue with the firmware I used so I quit the print," said Boyd.
Boyd has high expectations for the printer once it's completed. It should be able to print skateboards, bike frames, and even ukuleles. Boyd even envisions the printer making a variety of motorized vehicles, though he jokingly added, "My parents have expressly rejected this idea."
In the meantime, he has started a business selling 3D printed guitar picks and bolo ties using biodegradable materials. "It won't affect the environment," said Boyd.
Boyd hopes to attend MIT or UC Berkeley and major in either systems or electrical engineering. "I'm going to 3D print my own house one day," he said.