The (virtual) undefeated season of Scholastic Bowl
The PA Scholastic Bowl team finished its virtual season undefeated, playing four matches in just two weeks. Led to victory by senior co-captains Lalitha Aiyer and Shannon Dinniman, the team made it to regionals after beating Kellam, Bayside, Green Run, and Ocean Lakes, only to lose to Maury by two questions.
While the team will not be going to states this year, coach and IB History of Europe teacher Judy Petykowki looks back on her all-star team with pride, stating that new players freshman Trevor Darr and juniors Swara Chokshi and Michelle Sanford will be "unstoppable next year." 
Sanford decided to join the team this year because she has always been a fan of trivia. She was also interested in being quizzed on a wide range of topics. 
All of the competitions this season were conducted through Zoom. This presented the inevitable challenges of poor connection and slow WiFi, according to Sanford, along with the inability to fully discuss the questions during the team rounds. 
Nonetheless, Sanford reflects, "I really enjoyed competing with the team and we were able to adapt to the small obstacles that came with transitioning to an online format." She also gained a variety of new skills from being a part of the team, such as "communicating, learning what questions I was good at answering, and understanding the dynamic of the group."
As the question reader for the second year, English and Theory of Knowledge teacher Kelly Boyd also had to adapt this season. 
She explains, "I go onto a website called NAQT that provides me with questions in order.  I must read the questions clearly with a headset on, and I make sure the light is directed toward my face so that my lips can be read, too.  The NAQT website is fairly easy to use as long as I know what round to type in. I must have faith that the website is keeping a file of the questions that were read when I click 'read' on the screen to move to the next question so that no questions get repeated."
According to Boyd, the virtual nature of this season is just like any other aspect of the past year: It has its pros and cons. 
In her opinion, "It may be easier to gain readers and timers for regional and state competitions if it is conducted online in the future. I think when activities get to a Post-Covid-19 state, there may be levels such as state or regional competitions that continue to conduct competitions in an online format."
About the Writer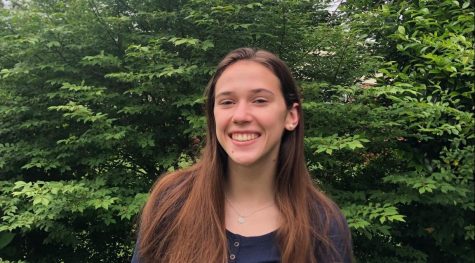 Emma Halman, Staff Writer
Hi, my name is Emma and this is my first year as a staff writer for The Page! Writing has always been a hobby of mine, which is why I am so excited to...