Early season wins for PA Crew
Even when Princess Anne Crew Club novice rower and sophomore Molly Western felt as though she had reached her limit in the 5,000-meter race, she had to persevere.
"I honestly felt like I was ready to die," says Western. "I think we all did, but there was something about hearing people cheering us on from the shore and hearing the men's novice four cheering us on from their boat heading down river that kept us going."
The PACC had some very special victories at the Head of the Chick Regatta in Williamsburg on Saturday. Even though this was the club's third regatta of the season, it was the first one where the brand new novice rowers got to compete.
Three boats placed first for PA that day, one being Western's women's novice boat of four, which consisted of Western, sophomore Hannah Taczak, freshman Izzie Van Deman, senior Katia Bass who goes to Kempsville High School, and freshman Matt Hall as their coxswain. 
One of the two men's varsity four boats tied for first, the boat comprised of senior and men's varsity captain Nathaniel Foley, Alex Cochran, Zach Bernas, Micheal Wiener, and women's varsity captain Maddie Walters as their coxswain.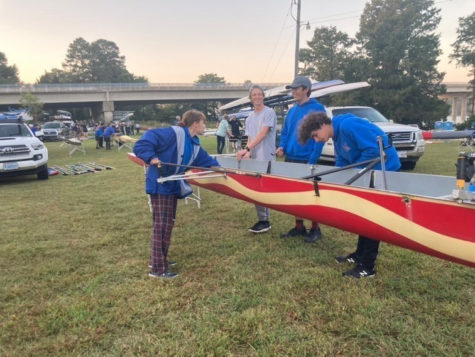 Another notable victory was made by senior Isabella Costanzo, who won first place in her varsity single boat race by an incredible 14 minutes, when races are usually decided by a margin of about 1-4 minutes.         
The participants of neither of these boats expected to win in the harsh conditions provided by the Chickahominy River that day. There were winds up to about 11 mph with gusts of 25 mph that caused the water to be very unpredictable. Not only this, but there was a wake caused by a nearby fishing tournament. According to Western, "At one point in the last few meters, a wake came up and absolutely soaked Matt. It was pretty funny."
There was anxious energy in the air for all parties that day. Costanzo wasn't even sure if she made the right decision in committing to participating in her first-ever solo race. "I usually feel excited to race, just because it is my senior year and I want to enjoy every second of these regattas. But because I was doing something I had never done before (and with the incredibly choppy weather) I was absolutely terrified."
The waves were so high that sometimes Costanzo had to stop rowing because she was scared of capsizing.  "I actually thought I was going to lose just because I knew my speed was not too fast because I was watching out for the waves, but I definitely noticed that something was going on when I immediately passed the coach (who started 2 minutes before me) and at the end of the race couldn't even see him anymore."
Costanzo had no idea she won, but as she stepped out of her boat, she saw her coach and teammates smiling at her with pride because they knew she was the first single to cross the finish line. Coach Jon gave her a big hug.
"Winning was an amazing feeling but feeling the support from my amazing team was probably the best feeling of all," claims Costanzo.
Western had a similar experience when exiting the race. She left her boat feeling exhausted and disappointed even though the team was so encouraging. She felt as though she could have rowed so much harder and she felt like she had let her team down. Little did she know how well her team's perseverance would pay off when she least expected it.
"Then I saw our time. I saw the number 1 right next to our boat. I was in shock." She added, "The blisters were really truly worth it. I don't know how we did it but we still got to take our medals home at the end of the day."
Next Sunday, the PACC has its next regatta in Norfolk at the Head of the Lafayette Regatta. Being so close to Halloween, the regatta is also a costume contest.