Shifts in PA faculty
The Page is interviewing PA staff members on their respective retirements and/or career transitions. This collection of stories will be updated regularly, with the most recent being published at the top.
English and Journalism teacher Blair Thurman
By John Davis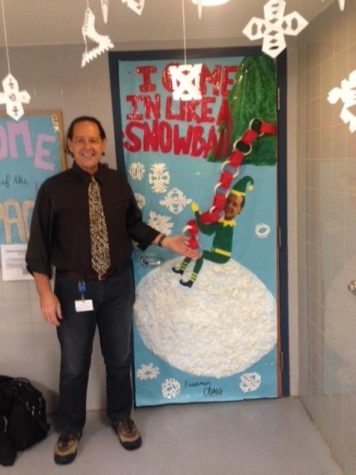 After an illustrious 27-years, Blair Thurman is calling it a career. The 19-year Princess Anne veteran will be walking away from teaching with goals to pursue a stress-free life at the oceanfront.
"I'm only about a mile [away] from the beach right now," Thurman said, "but I want to be on it." He mentioned he'd be interested in "investigating groups of immigrants in the Tidewater area that might be interested in conversational English," which he also described as teaching said groups of people all the "colloquialisms of the language" in order to make the assimilation process easier.
Despite being born in Casablanca and raised in Los Angeles, Thurman considers Virginia Beach his home. He graduated from UNC Chapel Hill with a degree in journalism, leading to him "landing a job as a sports editor of two weekly newspapers, one in Virginia Beach and one in Chesapeake," at the same time. "I learned how to take pictures on the fly and wrote all the stories, designed the pages, laid them out, wrote the headlines, the whole bit for both of them."
Thurman credits this job experience as ultimately being "what landed [him his] job at The Virginian-Pilot," at which he was a sports reporter for a "several" years.
Eventually, Thurman says he became "burnt out" of sports writing. "They sent me to New York to cover a Jets playoff game," he noted, but jobs such as being sent to "[cover] a 9 game in Charlottesville on a weekday" inevitably became too much of a lifestyle. "I lost my weekends a lot, and I looked at my sports editor in my office, who had already burned through three wives and had no life other than this, and said 'he was a great writer, not a good writer, and this was all he had, but I have more.'"
This inspired a move to Knoxville, Tennessee to get a master's degree in teaching secondary English over the span of two years. In his first year of student teaching, Thurman said "I knew I had made the right choice. I loved it."
After this, he took a job in Fairfax at George C Marshall High, an IB school, for eight years. For the latter six years, he taught MYP English 9, a class that he would end up teaching here at PA for 15 years. "I had known for a couple years that I wanted to move back to Virginia Beach. Though I had grown up in California and all around the world, Virginia Beach is where I moved after college and where I consider home."
In his seventh year of teaching, First Colonial offered Thurman a job, which he turned down because there was no journalism position available. The following year, "Kellam and Princess Anne both offered me jobs," said Thurman. "I was really, really torn. I knew the assistant principal at Kellam, and I was really leaning towards it."
However, "Kellam was going to have me based out of the teacher work room, operating on a cart going class to class." Thankfully for PA, the idea of a full classroom was much more enticing and Thurman decided on coming here.
Over the span of his 19 years here, he has taught MYP freshman English , Honors English 9, core junior English and core senior English, as well as all levels of journalism, and most notably the school's newspaper, The Page. He acknowledged that The Page moved away from printing newspapers "around 2018" and became fully digital. He notes that basing The Page on a website allows for "interactive pictures, videos, and more." Thurman has been the advisor for The Page throughout his career here at PA.
English teacher Lora Marlar
By Emma Halman
Lora Marlar concludes her sixth and final year teaching at Princess Anne with bittersweet sentiment, as she is a part of the growing group of teachers who feel "very frustrated" and like "now is the time to exit."
This is Marlar's 19th year teaching in VBCPS. She taught at Ocean Lakes for her first 12 years and then at Salem for one. At PA, she has primarily taught MYP 10 English, but "after COVID hit, I switched my schedule around and taught some different classes. I've taught every single type of English course there is."
As for her decision to leave PA, Marlar explains that "personal reasons have been a factor in my need to pursue other goals and ambitions that I feel have been a bit limited in the teaching profession."
Currently, Marlar is still unsure what her next career position will be. While there is a "strong chance" that she will move to teach at another high school, Marlar also "feel[s] like I need to pursue some other venues, so that's why I haven't made my commitment to another teaching position."
Despite ending her time at PA on not the most positive note, Marlar still emphasizes that "I've enjoyed my time at Princess Anne and I've met some amazing people. My colleagues have been outstanding, and I've enjoyed learning from them and letting them help me grow as a person and a teacher, which they've definitely done. I've taught some amazing human beings here and I always feel like my path crosses a student's path because we're meant to be on that same path for a small moment in time together. I'm very grateful and thankful for my time here."
Family and Food Science teacher James Myrick
By Delaney Brenner
Virginia Beach native James Myrick will be transitioning from a Cavalier to a Stallion next year, stepping up from his position as the Family and Food Science teacher here to an assistant principal at Green Run. 
Myrick originally wanted to coach football but did not have a teaching degree out of college at East Carolina University. He taught Special Education for two years as it "helps you get in quicker" before moving to California for a few years. When he returned to the East Coast he was able to get back into teaching because of the lateral entry offered in North Carolina. The classes he took in college translated to him being able to teach the Food Science class.
His favorite aspect of the class to teach has been the care of babies where students receive a baby doll that cries and needs attention; however, he said, "They're stressful because they are hard to deal with and keep [students] up all night." 
Myrick began his pursuit of an assistant principal position back in 2019 while he worked in North Carolina. He finished the program during the pandemic and then had to take the test. "The test was like $425 so I was scared to take that." He passed the test but then had to wait all summer to receive his license. 
He received some offers during the school year from other states but turned them down to stay closer to family. 
In the end, it was Princess Anne's incoming principal Christopher Tarkenton who helped convince Myrick to continue pursuing his goal of becoming an assistant principal. "Just talking to him gave me some encouragement and motivation," said Myrick. 
Myrick revealed that he is "nervous but excited at the same time" about his new position. "I'm scared to be an administrator but at the same time, I'm excited because it's not comfortable. I get to learn and grow as a person."
To the PA community, Myrick has one major piece of advice: "People in general just need to do their dream. Because if you don't do your dream somebody's going to use you to get their dream accomplished. So there's been a lot of times where I'd just be like I'm okay with being a teacher and just doing it and enjoying the students, but then I'd be like what are my dreams? If I'm not accomplishing my dreams I'm just stagnant. And as people, we always do that.… Everybody should just follow their dreams and it's going to be hard, but do it." 
Marketing and Fashion Marketing teacher Janet Bright
By Olivia Guy
Janet Bright concludes her 42 years of teaching in VBCPS with plans to spend her retirement "chilling" and crossing some goals off of her traveling bucket list. 
Bright has taught Marketing and Fashion Marketing at PA for all of her 42 years and in the last 10 years also began teaching Economics and Personal finance at Landstown, and just recently started teaching the same course at Salem. 
Bright switches off days between Salem and PA and it provides a "variety" when teaching. 
Out of college, Bright first planned to explore the world of business and finance, and soon realized it was not a "good fit," but still wanted something in the finance world that was "career-oriented."
Bright has always wanted to "help people" and was the kind of person who enjoyed "showing people how to do things."
Bright has always seen the importance of students learning economics and "applying it to the real world." 
Simply put, Bright describes her teaching career as an "evolution."
"Teaching is a career that is always changing and evolving. You always think at some point you will get comfortable with it, but I never did." 
As for the future, Bright is unsure what her retirement will look like, but at least in the beginning she knows she will be "chilling until something hits." For now, Bright looks forward to "sitting back and doing nothing for a while."
Math teacher Tammy Sylvia
By John Davis
Tammy Sylvia is calling it a career after 26 years at Princess Anne High School. She began teaching at PA in 1985, and after teaching for four years she retired for a decade to raise her children. Returning in 2000, and having taught for all 22 years since Sylvia now intends to retire with a similar goal in mind. 
She began her teaching career in Atlanta, Georgia, teaching both math and science classes. "My first love is actually science," said Sylvia, but once she became a math-exclusive teacher here at PA, it stuck. Sylvia noted how it ended up being convenient, because "my grades in college were better in math than they were in science."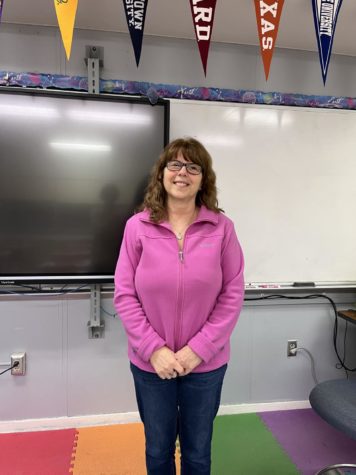 Sylvia has been teaching in her classroom since 2004 before most of the students at PA were born. "I've seen a lot of change," Sylvia noted. "I've been under a lot of principals and taught a lot of classes." She also highlights that she was thankful to be at home with her children when part of the building burned down in 1995 and that she had to make sure she "didn't run into any walls" when she came back to teaching.
Of all years, she specified when she got the chance to teach her daughter as one of her favorite moments at PA. "I had students I knew from when they were very little" Sylvia explained. "They were children of my friends in the neighborhood. That was when they called me mom." 
Sylvia noted that some of her favorite moments in her career were Leadership Workshop and homecoming hallways, saying she has attended "probably 12 to 14 leadership workshops," and that in the period that she retired the "school spirit had exploded." 
She also highlighted how the academic standard has changed over the course of her career. "When I left in '89, I had a personal [trigonometry] calculator, but that wasn't the norm." Sylvia also pointed out that when she was teaching AP Calculus, "there were no calculators used on any of those." Humorously, Sylvia said that when she came back to teaching in 2000 she had "never seen a TI-83 calculator in [her] life."
Sylvia describes her teaching style as "strict, but understanding," as she treats all topics in her classroom as "multiple choice." Princess Anne will miss the helping hand that Sylvia has lent for the last 26 years.
Future plans for Sylvia include "spending time with [her] two little grandchildren in Charlotte, North Carolina" as well as "traveling abroad with [her] husband." Sylvia noted that she is relieved that "for the first year in my life, [her] schedule has not been dictated by the school calendar."
English teacher Amanda Grimm
By Olivia Guy and Jana Isern
English 10 teacher Amanda Grimm will leave PA at the end of the year, as she will be moving to Florida to teach at Odyssey Charter School in Melbourne, Florida. 
Grimm reflected on her six years of teaching at PA, describing her time teaching as "fulfilling." 
Grimm worked in advertising for six years after majoring in Public Relations in college. However, she felt she had "no sense of purpose" and became "bored."
After reflection, she realized that she had a "nagging feeling that I should be a teacher." 
One of her favorite aspects of the classroom is seeing students "working together and learning from each other." To achieve this class atmosphere, Grimm includes "a lot of group and collaborative activities" in her lesson plans. 
Grimm believes that teaching "is not always about the academics," and she "loves seeing how students become more well-rounded." 
Custodian Elijah Willie
By Emma Halman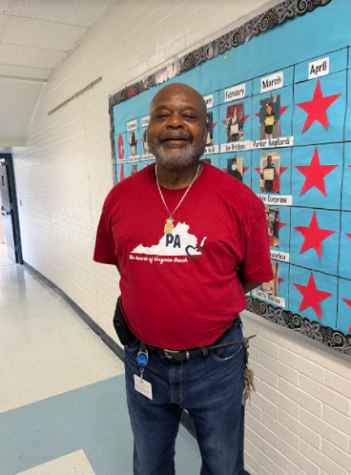 Custodian Elijah Willie began working at Princess Anne in 2004 and will be retiring in June.
Willie was a substitute teacher at Bayside Elementary School before he moved to PA. The fact that it keeps him "active" and "moving" is what Willie has enjoyed most about his job here.
Every day, Willie tries to "help whoever needs it." That being said, he also knows that "of course, kids will be kids."
During his retirement, Willie is looking forward to going on a cruise with his wife to the Dominican Republic, which he would "like to see some time in my life."
Assistant Principal Ryan O'Meara
By Gabi Altinok
This year will be Dr. Ryan O'Meara's sixth and last year as an assistant principal here at PA as he leaves PA to be the next principal of Tallwood High School.
After arriving in April 2016, O'Meara has spent his time bonding with staff, students, and parents and will continue to at his new school.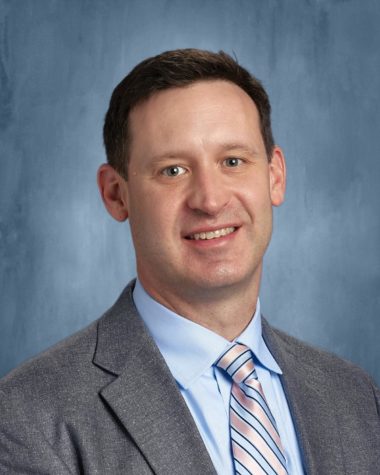 "I'm looking forward to this opportunity," said O'Meara. "I will be sad to leave Princess Anne because this has been home for six years, and I've built so many wonderful relationships. I will miss that greatly, but I'm looking forward to the challenge of doing that at Tallwood."
O'Meara reports that he would not have decided to leave PA if it were not for "an opportunity to lead a school in a different capacity."
O'Meara says that Princess Anne, after being home for so long, will be hard to leave. However, he says he intends to continue his work and take on a new challenge: "It was just that career opportunity to lead another school, and Tallwood is a great school with a great community. I look forward to getting to know them."
One of the things that O'Meara has enjoyed most about PA is the different programs and activities that the school has to offer. "We have programs throughout our building that are just unique to this school that aren't anywhere else in Virginia Beach and I love being a part of that."
"I love all of the different things this building brings to the table. We have different programs such as the IB Program and our West Building."
When announcing his leaving, it felt "bittersweet. I'm excited for the new challenge and the new opportunity, and I'm sad to leave behind many relationships that I value here at PA."
Moving up to be the next principal at Tallwood, O'Meara feels "excited, anxious, nervous, and energized. All of those things."
O'Meara hopes to accomplish what he did here at PA, but in a new role: "I want to help provide learning experiences for students that allow them to face the challenges that they are going to have when they leave [high school], at whatever capacity it is. Whether they go enlist in the military, go to college, or get employed somewhere else."
Setting up students for success is his main goal.
O'Meara said, "Do students know how to navigate different challenges that they'll face and know how to do them successfully? Do they know how to contribute to the local community in positive ways? I want to set up learning experiences that allow that to happen for students."
"The school spirit here is fantastic and I'm going to miss that," said O'Meara.
"That's just an example of how students really care and love Princess Anne, and it shows. I'll miss that."
Assistant Principal Sherri Brooks
By Emma Halman
Assistant principal Dr. Sherri Brooks will be retiring at the end of her sixth year working at Princess Anne, marking the end of her 30-year-long career in the public school system. 
Brooks, who hails from San Diego, received her bachelor's degree from ODU, her master's degree from Virginia Tech, and her doctorate from Regent University.
Brooks began teaching in 1992 at Plaza Middle School, where she spent 13 years teaching sixth and seventh-grade math and science. She then transitioned from teaching to administration when she became the School Improvement Specialist at Renaissance Academy‒then known as Central Academy‒for two years. Next, Brooks was an administrator at Larkspur Middle School for two years and then at Kellam High School for seven years, before she finally began her current position at PA. 
When the school division was offering to pay for staff members to receive advanced degrees, Brooks decided to take advantage of the opportunity to take a new step in her career and become an administrator. This required Brooks to earn a master's degree in administration and supervision, which confirmed her transition. Brooks explained, "even though I was enjoying teaching, I felt like once I got the degree I should use it."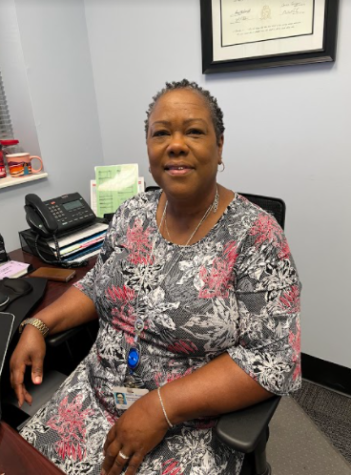 One stand-out moment for Brooks when reflecting on her extensive career in the public school system is the special relationship that she formed with a group of four girls that she taught at Plaza. Brooks and the group of girls "really connected," and even spent time together outside of school. 
Brooks recalls fondly how "they would often come to my house. I sent the permission slip home, and I took them out to go ice skating and things like that. They went to church with me." 
This experience allowed Brooks to fully realize that "as teachers, we do more than just teach. We influence and impact and mold and shape, and being able to be a part of something like that has just been such a tremendous blessing for me."
With that group of girls, specifically, Brooks "had the opportunity to serve in two capacities: one as their teacher and one as more of a mother figure."
Simply, Brooks describes both her teaching and administrative career as "amazing." She loves both "the opportunity to talk with young people" and "the day-to-day challenges of being an administrator."
According to Brooks, "We rock and roll. We're going all day long every day and we never know what we're going to get, and for me, that is something that made me stick with it because I never got bored. It's always been a challenge that I have enjoyed accepting every day."
Still, Brooks also feels that she has reached a point in her career where she feels "ready to rest." However, she still intends to remain active in her retired life by running a non-profit organization that is branching out of her church that helps youth in the community. 
Overall, Brooks is confident in saying that "I just really, really enjoyed my life and my career in education. It seems just like yesterday, and it's hard to believe that it's been 30 years already. It's been an experience for me that I've enjoyed, but it's time for me now to do something different."