Boys' volleyball gets ready for postseason
By John Kibler
Coming off of a loss at Ocean Lakes last Thursday, the boys' volleyball team is looking to find its groove in time for the postseason.
"All of our games depend on our energy," said sophomore hitter Carter Daugherty. "Our last game against Ocean Lakes did not go well because everyone was tired."
After getting swept 3-0 by Ocean Lakes on Oct. 4, a team it had beaten earlier, that extra boost of energy may be found in the talented newcomers this season, according to senior captain Connor Dooren.
"We've had a lot of young kids come into the program and they're finally getting used to it," said Dooren, "like [junior] Josh Crumbly and [sophomore] Nic Alimard. They're really getting the hang of it."
The same goes for freshman passer Owen Cannon, who is accommodating nicely to the high school volleyball scene. Starting to play more of a defensive role, Cannon has been eminent for the Cavaliers in the back row.
The team is also looking forward to the return of junior hitter Noah Moyer, who will start his season in one or two weeks after recovering from a back fracture. He may temporarily become a setter to prevent further injury.
"It hurt a lot knowing I could have helped my team," said Moyer, "and seeing my team play now I wish I could do more to help. It's hard for me just watching them play. I think I could contribute with what I can do…I haven't played in months so I hope I can still be on the same level I was before. Once I'm back hopefully we'll get a lot done moving forward."
"[Moyer] should be a really good addition coming up in the next week or two," said Dooren. "He should be ready to go for the postseason."
Sophomore hitter Michael Armentrout is also confident in the team's future, claiming that, based on raw ability, they "can defeat any team in the city." From this point on, its performance is dominated by its mentality.
"We're a little rough around the edges now if I'm being honest," said Moyer. "I think through the end of the season we need to tune everything up. We have a lot of potential once we keep practicing…I'm feeling confident about it."
Moving forward, the team is hoping to set a good rhythm nearing the end of the regular season, playing Green Run at home on Thursday as their Dig Pink game for Breast Cancer Awareness. On Tuesday, the Cavaliers swept Salem 3-0.
"We should have a good closing postseason despite our rough start," said Dooren, "and I expect us to go pretty far in regionals and states…Everyone has a really good attitude and we're really just working as a team getting ready for the future."
About the Writer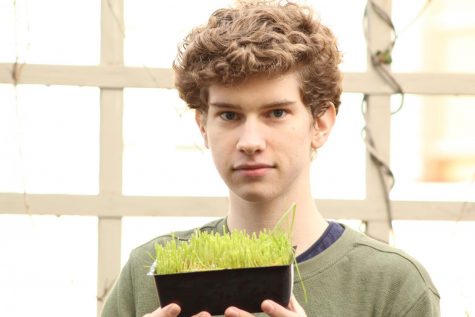 John Kibler, Staff Writer
Howdy! My name is John Kibler, and this is my second year on staff. In addition to writing for The Page, I am a Workshop staffer, junior class president,...