PA goes international with summer trip to Peru
Hang on for a minute...we're trying to find some more stories you might like.
By Abby Hendrickson
Climbing up yet another step roughly two feet high carved into the mountainside, senior Tanner Drew paused and sucked in a breath. She absorbed one of the Modern Seven Wonders of the World that lay before her: the timeless Inca civilization known as Machu Picchu. She had been hiking for 90 minutes, waking up at 5:30 with her peers to experience the mountain that reaches 8,000 feet above sea level with a citadel on the top which is the main tourist attraction, built almost 600 years ago.
In June of this past summer, a group of 14 students chaperoned by Spanish teacher Rachel Thompson traveled to Peru for a two-week period full of cultural immersion and exploration. Senior Nicole Quick said, "The first week was mainly sightseeing so we could explore and get to know Peru."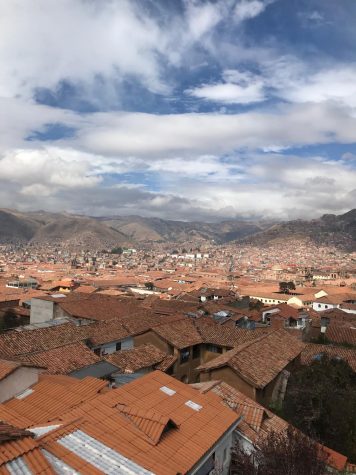 One of the activities in which the group participated was a scavenger hunt around the city of Cuzco, a Peruvian city known for its Spanish colonial architecture and artistic features. Drew said, "[The scavenger hunt] was like three hours, so we split up into groups and we just walked around looking for stuff like specific buildings or an artist making a certain style of art."
According to both Quick and Drew, one of the most interesting parts of the trip was when they moved into a Peruivan household to experience the natives' way of life. "As far as the home stays, two of us got paired to a house…we got breakfast and dinner with the families and spent the day either exploring sights and towns or doing service projects at the school," said Quick. 
Kana Roarty, a senior who traveled with Thompson for the second year in a row this summer, described the whole experience saying, "It was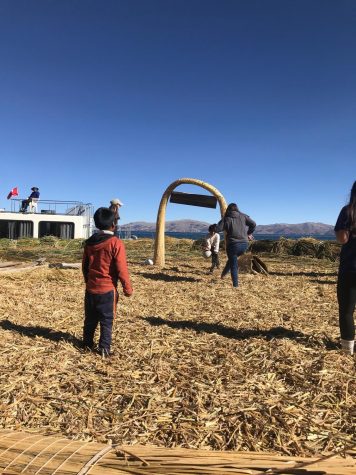 really the first time I had gone to a third world country, and it just opened my eyes on what different perspectives there are and [the many] different things like food and family traditions." 
What seemed to be the highlight of the trip for everyone were the interactions they had with the children of the Uros, a local indigenous group surviving off of man-made islands on Lake Titicaca (the highest lake in the world). Drew stated, "When we went to the floating island of the Uros, it made me realize how different our way of life is. Because they have five families of like 25 people total on this floating island.And they only go to the mainland once or twice a month."
Describing the Uros as welcoming and interested in the tourists, as they have limited connection to the outside world, Quick recounted the experience saying, "We rode around in their reed-made boats and played soccer with the children…that was probably my favorite part of the day."
All those who embarked on the trip to this South American country, rich in both natural beauty and culture, claimed to have returned with a new perspective and appreciation for the world around them. Roarty described how life-changing the experience was for her, stating it was one of her first times in a third world country. " I had a great time on the trip and it just really opened my eyes on how grateful I am to live here but also getting the chance to see how other people live."
About the Writer
Abby Hendrickson, Staff Writer


Hello I am Abby Hendrickson, a senior here at Princess Anne who is currently in her first year writing for The Page. I am an environmental advocate...