PA welcomes new 2021-2022 staff
The Page set out to interview the new staff in PA's main building for the 2021-2022 school year. They shared about their teaching backgrounds, hobbies, opinions on returning to in-person school, and more!
New AP Psych and World History teacher Belinda Pond
By Gabi Altinok
Having never taught at PA before, AP Psych and World History teacher Belinda Pond's main goal this year is to proceed with patience and positivity as she leaves the virtual classroom to teach a new set of faces. During her first year of teaching AP Psych and continuing World History, she hopes to create a classroom setting where students feel that it is a "safe-zone" for them to make mistakes and fail in order to introduce growth.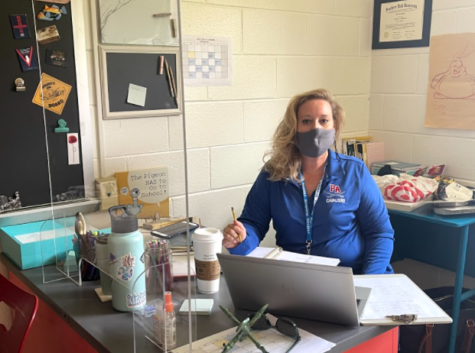 Pond is especially excited to teach in subjects she has never taught, like AP Psych. In regards to teaching World History, she loves the whole subject of social studies, whether it be the history, traveling, or just "finding out what makes people work. I'm in a good field," said Pond.
Pond just recently moved to Virginia Beach in order to be closer with her family after she had found a liking to the city. She previously worked as a social studies teacher in New Jersey.
Besides being a teacher, Pond is also an equestrian and supporter of equine therapy. Along with her love for horseback riding, she also enjoys reading and traveling in her free time. She has one cat who enjoys its personal space and according to Pond's family, is "neurotically evil."
Navigating a classroom this year will be a new challenge for Pond, as well as many other teachers. In an ideal learning environment, she believes curiosity and enthusiasm is key. "If you're not curious, then you're not asking questions. I love questions being asked," says Pond. Along with valuing hard work and research, Pond is also a stickler for school being fun and a place where students can really find something that interests them, no matter what.
Overall, Pond wishes for nothing but a safe and inclusive classroom for her students: "My goal is to be there for my students as we are going through this journey together."
New biology teacher Elena Graham
By Gabi Altinok
Biology teacher Elena Graham is one of the returning teachers at PA who is looking forward to seeing the faces of students in person this school year. Her first year teaching at PA last year was in a partially virtual setting, but now she gets to teach in a face-to-face classroom. "Just all of the personalities that are going to be in my classroom face-to-face, I'm going to feel so much more energized by it," said Graham.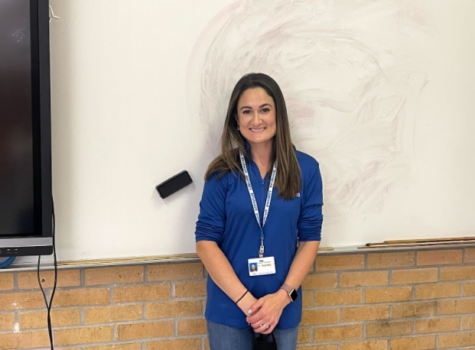 Graham was at a middle school in Indianapolis before coming to PA. Prior to starting her teaching career, she worked in healthcare. "I was working as a quality assurance coordinator at a surgery center and one of the people at my job was going around and educating staff, so I did that and then all of the staff members were like, 'Hey you should get into teaching,'" said Graham. Teaching was something that had been present in her life for some time, given that she had also been a tutor for calculus and taught violin.
"The reason why I chose biology is because I have a background in it and I think it's applicable to every part of my life because I'm a living being and you can really use the subject no matter what," said Graham.
Outside of school, Graham has many hobbies and skills she likes to indulge in, including artistic ones. "I like to do mosaics and woodworking," said Graham. She also enjoys running, reading, playing the violin, and also playing with her Patterdale Terrier, Smokey.
This school year, Graham wants to create a healthy learning environment in her classroom by introducing mindfulness and the acceptance of failure. "Failure is what leads you to success. Every time I've made huge mistakes in my life I have gotten so much more success later," said Graham. She believes in the importance of a growth mindset and that students should strive to have an understanding of one another's differences within the classroom in order to maintain positivity.
Graham has expressed her love for the PA community and feels that its energy is radiating positivity. "I'm looking forward to a really good year, and I am just excited."
New English teacher Rachel Bly
By Jana Isern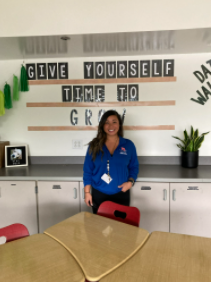 English Teacher Rachel Bly loves collecting and growing plants, which becomes exceedingly obvious as one steps into her beautifully decorated, plant-themed classroom. In fact, this summer she reached her 150 –plant milestone.
Bly joins the PA English staff after 10 years of teaching. She will be teaching English 9 and 11.
She was born and raised in Virginia Beach and is a former Cavalier. She explains that ever since she started teaching she had hoped that one day she would make it back to PA.
"It just so happened that the opp
ortunity came up and it's where I've always wanted to be," said Bly.
Growing plants and sharing them with others, golfing, and spending time with her dogs are some of her favorite activities.
New Spanish teacher Sara White
By Jana Isern
Spanish Teacher Sara White moved back to Virginia Beach at the beginning of the pandemic to be closer to her family, after living in California for four years.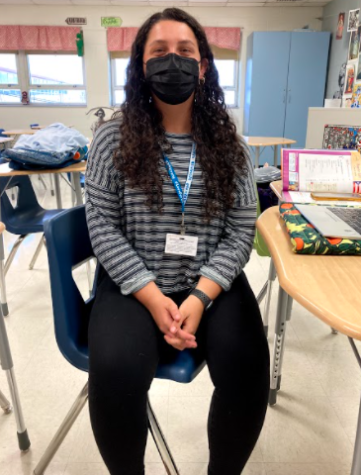 She graduated from Kellam High School and when she saw that there was a job opportunity here at PA she was eager to take it. "It'd be nice to teach in the same school system where I went, so I'm happy to be here," she said.
This summer she enjoyed hiking, kayaking, and paddleboarding, as well as spending time with her dogs.
"It was nice to just kind of be able to take them all to the mountains or take them to the beach," she said. She also planned a trip to Puerto Rico.
New P.E teacher and Head Football Coach Jesse Litton
By Jana Isern
P.E teacher and Head Football Coach Jesse Litton enjoys playing football, lifting weights, swimming, and reading in his free time. He is also a big fan of the Food Network. "I watch it every night. That's my guilty pleasure," he said.
Litton was born and raised in Virginia Beach and graduated from Kempsville High School. He lives with his wife and his eight-month-old son. He was teaching for five years at Tallwood High School when he was offered the position of Head Coach here at PA. "I'm really excited. I've heard really great things."
He explains that he is looking forward to meeting new students and starting a new year. "We won't see faces but it'll be nice to have somewhat normalcy and have everybody back in the building," he said.
New English teacher Autumn Guild
By Emma Halman
Once a Cavalier herself, Autumn Guild is returning to the halls of PA now as a new English teacher. She will spend her first year teaching three ninth grade English classes and two ninth grade Honors English classes. She was naturally drawn to the subject as she has written in a journal since she was young and loves "the expressiveness of English."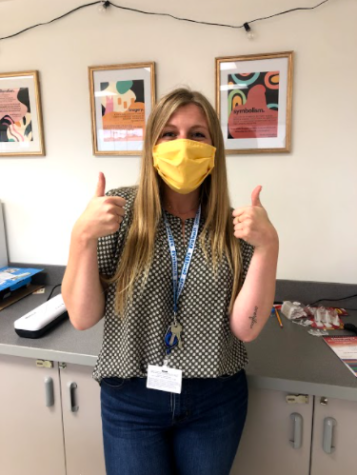 However, Guild spent her freshman and sophomore years at James Madison University originally studying to become an elementary school teacher. This was because of how much Guild loved her high school internship at Princess Anne Elementary School with the Virginia Teachers For Tomorrow (VTFT) program.
It was not until Guild was a counselor at Virginia Beach Leadership Workshop the summer after her sophomore year of college that she decided to make a slight change in her career path. She reminisces on the experience fondly by explaining, "I got to be in charge of 26 high school students. I loved the conversations I got to have with them and really appreciated the intellectual depth of older kids."
After a hybrid/completely virtual student teaching experience, Guild is excited to kick off her first year of teaching with more than nine in-person students. Over the summer she prepared for the upcoming year by teaching a summer school class at Kellam High. She also spent time taking care of her new cat, Hank, who she adopted in February.
Reflecting on her freshman and sophomore years at PA, Guild has only felt the same level of support from the staff, now as a new teacher. She also appreciates how the level of school spirit has only increased since she was a Cavalier herself: "When I was here in 2014 the school spirit was through the roof, like everyone who went to PA loved PA. It's just cool how everyone is really committed to school pride and being excited about being a Cavalier, which you don't find everywhere. I definitely think there is something special about this place for that to be the legacy for so long."
New Spanish teacher Tamara Hamlin
By Samantha Lee
Tamara Hamlin joins PA's World Language department this year, teaching Spanish 1 and 2. She previously taught at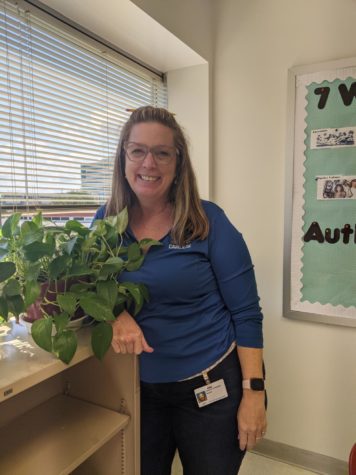 Bayside Middle School for seven years, and will be teaching high school for the first time here at PA. She looks forward to "working with a different age group" and is thrilled to be with her students at this point in their academic careers.
Hamlin is from Roanoke and attended Norfolk Academy. She enjoys biking, reading, going to the beach, and spending time with her family. She has four kids and four dogs.
New Advancement Via Individual Determination teacher Nicole Beymer 
By Samantha Lee
Nicole Beymer joins the PA community as the new SCA sponsor and Advancement Via Individual Determination teacher this year. She will be preparing students for college readiness and opportunities. She previously taught at First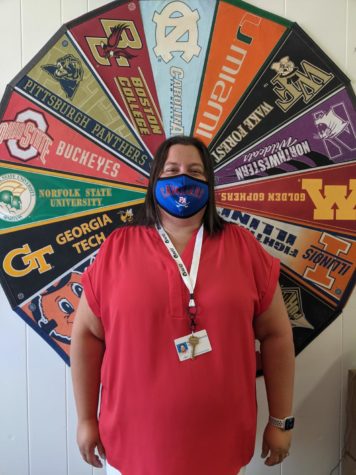 Colonial for seven years, and is excited to be "Getting to know faculty and staff, building relationships, and spreading AVID."
Beymer is originally from Chesapeake and a graduate from Old Dominion University. During her free time, she enjoys spending time with family and her three dogs, traveling, and watching softball.
New orchestra teacher Alexander Kelly
By John Davis
Orchestra Teacher Alexander Kelly joins the PA staff this year and begins his first year teaching high school students. "I've been teaching for a little bit, but this is my first year in high school…I taught at Kempsville Middle School for five to six years, but I am super excited to be in high school."
"You guys are learning to be adults and going out into the public. And so it's really cool getting to watch you guys grow and learn," Kelly said. When dealing with expectations, Kelly said, "I try to bring a more practical approach to some stuff, especially in music. I think I'm pretty realistic. I don't expect every student to be Julliard bound. You guys are so busy and you have so much going on."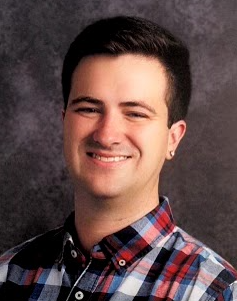 Kelly's goal is to give students "a tiny break from the craziness and provide a space where kids can come and make music and have fun and meet one another."
Kelly believes that his "only job is to provide a great opportunity for these students." Kelly's perspective is that he is not here for himself and he "knows how to play these instruments. I know the music. My only job is to provide a great opportunity for these students." Kelly is "very eager" to begin conducting his new orchestra this school year. "Everyone seems so supportive and friendly," and he is "incredibly excited" to further that connection with the school.
New math teacher Lauren Vento
By John Davis
Lauren Vento begins her first year at PA teaching geometry and Algebra 2. Vento grew up in Connecticut and later went on to attend college in Massachusetts. Before moving to Virginia Beach, Vento lived in Rhode Island. "The cold of Virginia Beach winters are nothing compared to that of Rhode Island's," said Vento.
"I love to run. 5K's are pretty much my distance of choice. I did a half marathon once and I will never do it again." Along with running, Vento is a passionate reader and set a goal to read 21 books over the course of the year. She is "finishing number 17 hopefully in a week or so."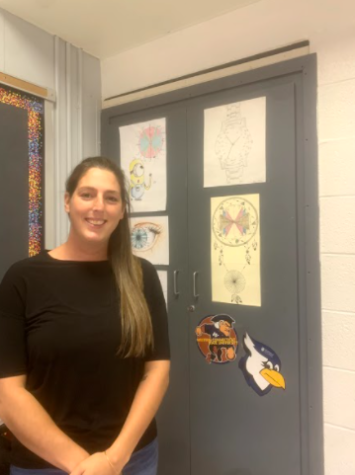 "There's always that one person that makes you go like, 'that's why I want to be a teacher.' She was a math teacher. So I think that's one big part of it," Vento said. She continues, "Math is universal. You can go to France, you can go to China, and you could go to Africa. And two plus two is still four. And I love that it's universal across the country, across the world."
One of her notable impressions about PA is that "the general culture is awesome because people that eat together and socialize together feel like family."
New French teacher Julie Vance
By Delaney Brenner
Julie Vance joins PA as the new teacher for IB French 1/2, IB French 3, French 2, French 3, and AP French. Despite not having previous teaching experience, she says her former job involved training other people, making her familiar with teaching people skills, just not necessarily French.
Vance majored in English in college but she "likes to think [she has] a good perspective on how to learn a language" as she grew up in France and did not start learning English until middle school. She first came to the United States for an extension year in high school and then returned for college. After meeting her now husband, she decided to stay in the U.S.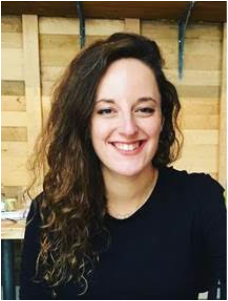 When Vance is not preparing to teach French, she enjoys spending time outdoors, specifically on the water. She likes to go to the beach or First Landing State Park with her husband and two-year-old daughter. She also likes to kayak and is excited for when her daughter is big enough to kayak with her.
Vance looks forward to teaching her students this year and learning with them. She hopes that by focusing more on usable French rather than grammar that her class will be more fun for her students. "I don't want the language class to be something that they stress over…I am hoping that they cannot be some of those people who say they took so much French and can't say anything."
New history teacher Maria Franklin
By Delaney Brenner
With 17 years of teaching experience behind her, Maria Franklin is PA's new World History I and US History teacher. Although she taught middle school for many of those years, Franklin feels confident transitioning to high school as she taught US History and World History II last semester at Tallwood.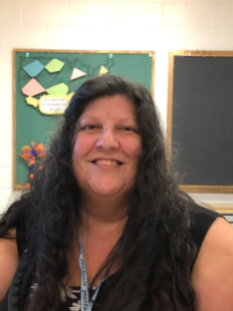 Before beginning her teaching career in Florida, Franklin worked as a contract manager for a non-profit that helped people with HIV/AIDS receive treatment and keep their housing. "It was a really great experience. It really allowed me to kind of get some first-hand experience of some of the government workings…and helped me so I could do some grant writing," said Franklin. This work did not change her desire to become a teacher but was an opportunity she "fell into."
Despite being born in Hampton Roads, Franklin considers herself a "Florida girl" and loves "everything Tampa Bay." She also loves talking hockey and college football. When not in the classroom or watching sports, Franklin enjoys reading, biking, kayaking, and hiking.