Leadership Workshop brightens up the breezeway
PA's annual Leadership Workshop is one of the school's finest traditions. Unfortunately, COVID-19 restrictions require that the event be held at the school this year, instead of at Triple R Ranch. Still, senior and coordinator Emma Fuhs explained that the Leadership Workshop committee staff has already started planning activities and goals to implement into their workshop weekend. They have also recently held a couple of fundraising events.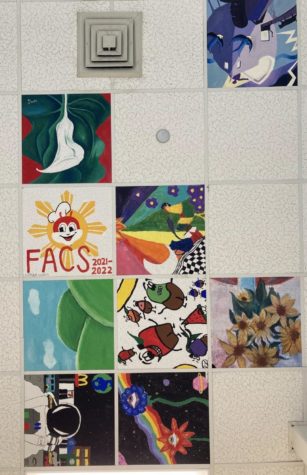 The Paint the Ceiling event took place on Nov. 5 as a fundraiser for the upcoming workshop this spring. The students participating were given a white tile to paint and to be displayed on the ceiling of the upper 900 hall breezeway.
Around 30 students paid 10 dollars and met in the atrium to decorate a tile. Along with individual students, clubs were also given the opportunity to create a tile with a logo that promoted their club, such as the Filipino American Culture Society (FACS). The tiles are already up, displaying the artistic expression of students and creating a unique mark at PA. 
Senior Lauren Layne attended the event and painted a tile with doodles of fruits wearing pants. "I'm a pretty abstract artist," she said sarcastically. Layne explained that she didn't want to paint anything extensive because of the two-hour time limit so she took inspiration from her doodling. "It turned out better than expected," she said. 
Senior Shannon Costello also attended the event and created a tile with a drawing of the Earth. She said that as a vegetarian she feels very connected to nature so she looked on Pinterest and found "a happy image of the Earth and decided to paint it."
Both tiles are up on display in the breezeway, along with many other artistically decorated tiles from past years. 
Another fundraising event conducted by this year's workshop staff included selling homecoming shirts to raise school spirit during homecoming week. 
The staff has already decided on a theme that will inspire instructional and fun activities for the delegates that attend. However, this theme will not be revealed until the first day of Leadership Workshop. 
To prepare for the weekend, Fuhs explained that they have also been preparing songs, skits, and games. 
Right now, the staff is in the process of filming and editing videos for their virtual round-up. The video will be around 10 to 15 minutes and will be shown in all advisory classes at the beginning of January. This will inform students about Leadership Workshop and encourage them to apply.