Unexpected PA staff departures
Student Activities Coordinator Bob Robbins
By John Davis
Robert Robbins, affectionately known as "Bob Rob" has retired from his position of Student Activities Coordinator (SAC) after nearly four years with PA.
Robbins began working as the SAC at PA in February of 2018. Since then, his impact has been felt throughout the school as a well-known administrator with a friendly personality.
You may recognize his name from your Schoology messages, as he consistently sent updates regarding the SCA, sporting events, and more. 
When asked about the decision, Robbins said, "I have kids who are 11 and 7, and it ultimately comes down to spending more time with them." Robbins plans on changing careers and becoming a project manager for home construction. He notes that the premise of the job is "essentially what I did here."
This was not always an aspiration for Robbins, however. As his career in high school sports developed, Robbins said, "It wasn't until the pandemic hit that I really knew what it was like to be at home every night, having dinner with my family."
This inevitably evolved into the decision to walk away from his role at PA. "I had 18 months, and it was great, and it had kinda led to some soul searching about how I can apply the skills I have learned here and apply elsewhere to free up that time with the family," said Robbins.
Robbins closed by stating, "Ultimately, I don't want to look back when I'm older and think about how I missed all those times [with my kids]." 
Track coach William Brumage has recently been appointed as the new SAC.
Technology Support Technician Bridget Householder
By Emma Halman
You know that woman in room 504 who fixes or trades out your Chromebook? Well, she is leaving Princess Anne. 
Technology Support Technician Bridget Householder is cutting her fourth year working at PA short, as she is moving to the school administration building to be the Customer Support Technician. There, she will be communicating with vendors when there are problems with our technology products. 
Prior to her time at PA, Householder worked at Renaissance Academy for six years as the Data Technician. 
She has "bittersweet emotions" about leaving the school system, especially about having to leave PA. She is excited about her new job but also scared because of the fact that it is a brand new position. She did not anticipate receiving a promotion and having to leave in the middle of the school year. Householder explains that the opportunity "just kind of fell into [her] lap."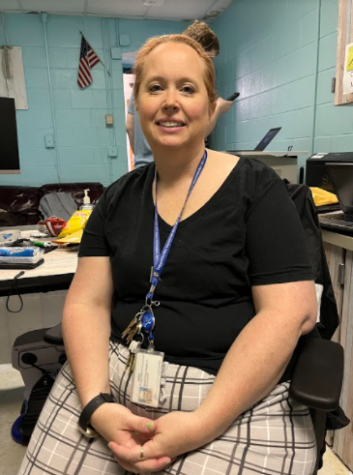 When reflecting on her past four years as a Cavalier, Householder's favorite memory is when she performed in the faculty talent show her first year, recreating the first YouTube video that was ever posted.
She explains, "I didn't know anybody and the staff reached out to me and asked me to be a part of it, which was a nice welcome." 
As she prepares to say goodbye to PA, Householder wants to give thanks to "the staff and students for always being so kind, making me feel so welcome here, and making it so hard to leave."