Candidate platforms for the Congressional Election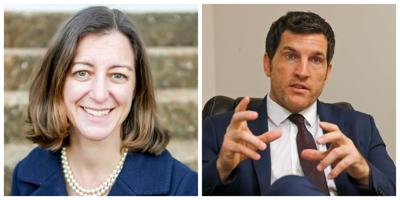 By John Kibler and Kendall Peterson
Scott Taylor:
Gun Control
Strongly in support of the Second Amendment (served as a Navy SEAL), will oppose any policy that inhibits the right to bear arms.
Abortion
Pro-Life, and highly Christian.
Environment
Has a record of voting anti-environmental.
Border Control
Wants to uphold strong border control, but families should be kept together and children should not be held responsible for their parents' actions; wants to keep but fix DACA.
LGBT Rights
Backed Virginia Beach for Fairness coalition to protect LGBT community from discrimination in the workplace, introduced legislation to protect LGBT citizens from housing discrimination: "It's not Republican orthodoxy, but I don't care."
He's been pretty critical of Trump's border policies, attempts to ban transgenders from military, indifferent responses to Charlottesville riots— "failure of leadership"
Elaine Luria:
Gun Control:
Firmly believes that gun control is one of the most important issues affecting public safety (Navy veteran), supports repealing Dickey Amendment, which prohibits the CDC from labeling and researching guns as a public health problem, wants to pass universal background checks on all gun purchases, prohibit the sale of all assault weapons, and wants implement a "No Fly, No Buy" policy (prohibiting suspected terrorists from buying guns), and opposes arming teachers.
Abortion:
Pro-choice, opposes changes to existing laws.
Environment:
Opposes offshore drilling, supports EPA protections against pesticides in water.
Border Control:
Supports allowing young people to become citizens if they were brought to the US illegally, opposes building a wall on the border – believes there is better use of technology to monitor the border.
LGBT Rights:
Supports LGBT community and their rights, believes every person should receive equal pay for equal work.