Girls' volleyball wins states completing an undefeated season
By Hannah Song
On Friday, Nov. 16, the PA girls' volleyball team made school history by having an undefeated season 29-0, taking home the 5A state championship win at William & Mary. The team won decidedly against North Stafford 25-23, 25-15, 25-16. By the end of the season, they ranked 25th nationally.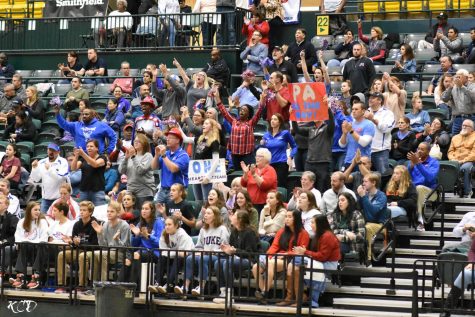 The energy was especially high as hundreds of supporters came to cheer on the Lady Cavs at William & Mary's Kaplan Arena. Led by senior captains Jayna Francis, Chloe Coose, and Lizzie Hunt, the team was one big family all striving for the same goal.   
"When we're playing, we know to play for each other and for the other players that have graduated," said Hunt. "I think the fact that you're out there with your best friends really makes a difference because when you mess up, they know exactly how to treat you. When you get a kill, they're just as excited as you are. I think we have the best team dynamics of any team around here."
The team started to intensely train in May and scrimmaged every day acknowledging that they wanted to be the best in their division.
"We all wanted to win especially after losing last year," said Hunt. "We didn't want another loss because we remembered how bad that was and how much it hurt to leave without winning the state championship."
The girls went in with a steady mindset feeling confident as they knew they had worked hard up to this point, and they had a few strategies on hand.
"We wanted to force the balls to their outsides to get them out of system — making them pass before they attack — and challenge them mentally by continuously picking up their swings," said Francis, who made 20 kills during the game and is committed to play volleyball at the University of Virginia.
The first set was especially tense as it was close almost every point, but by the end of it, they knew that the game was in their control.
"We broke them," said junior libero Erin Gray. "[Coach Dooren] told us before the game that during the set if we were dominating we could tell when we broke them. It definitely showed because the girls were breaking down and arguing with each other." Gray played a huge part in wearing them down as she ensured that the ball never hit the ground during the game and proved to be a formidable defense specialist against North Stafford.
"Towards the end of the first set, we were all still trying to find our grooves. But then Jayna [Francis] called for a hit and she sent it straight down. I knew from that point that we were in sync and that we had it," added junior setter Alyssa Vitale, who assisted 42 hits.
It was smooth sailing from there for the PA team as they "completely took over and demolished [North Stafford]," recalled sophomore outside hitter Jiji Lykins who made nine kills during the game.
By the last game point, the team became so excited to the point where they almost could not focus.
After being set up by Vitale, Hunt made the game point kill: "It was so exciting to do that. It wasn't even the kill, it was turning around and seeing everyone, and thinking, 'We did this. We just won the state championship,'" said Hunt.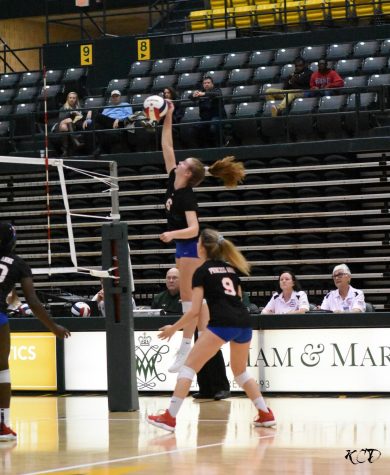 "We won because we played for each other, and we didn't look back," said Gray.
"For me, the win means everything," said Vitale. "All the seniors we had were the hardest workers and the best people I've ever met. Knowing that we sent them off with this incredible season just means a lot."
With this undefeated season being over, many starting players are graduating this year but the team has high hopes for next year as well with several freshmen and sophomores who will step up to keep breaking records.
"I hope the team practices with purpose and realizes they can do it again and again," said Francis. "That is what I hope we seniors taught them — that our belief in the process of PA volleyball isn't accidental and it's theirs just like it was mine when 10 seniors graduated."