9 Cavaliers commit to NCAA athletics on National Signing Day
By Katie Smith
For senior Jayna Francis, signing day was more than just an official commitment to play Division 1 volleyball at the University of Virginia. It was a day she has been working towards since she decided she wanted to play at the collegiate level.
"I instantly fell in love with the sport so when I started to travel in 7th grade I knew I wanted to play at the highest level," said Francis.
Students signed to play at NCAA Division 1, 2, and 3 universities across of the country.
Francis is not the only member of the Cavalier volleyball team committed to continuing her volleyball career in college.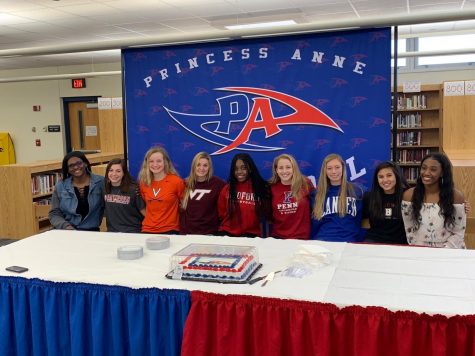 Senior Daria Burrows also signed her letter of intent, committing to play volleyball at Radford University as a member of the class of 2023.
Burrows was an instrumental member of the team this year and played a big role in its path to the state championship with big blocks and hits bringing a spark to the team when it needed it most.  
Along with Francis and Burrows, the PA class of 2019 has five other student athletes committed to NCAA D1 schools, including seniors Brianna Jackson and Mahogany Lester.
Both Lester and Jackson have been influential members of the Cavalier basketball team and helped lead it to its state championship during the 2017-2018 season.
Jackson is committed to play Division 1 basketball at the University of Miami and Lester is committed to being a member of the Division 1 basketball team at the University of Maryland-Eastern Shore.
Olivia Francella is also one of the five student athletes who will be competing at the NCAA Division 1 collegiate level.
Francella will be attending the University of Pennsylvania to continue her athletic career as a diver.
Francella is a two-time state champion diver and is looking to achieve her third title in the 2019 season after placing first in the 2019 Beach District meet.
Like many athletes, Francella participated in multiple sports; however, Francella found a passion for diving and looks forward to continuing this at the collegiate level.
"I thought I might want to dive in college shortly after starting dive," said Francella. "I was a gymnast for seven years and never thought about doing gymnastics in college, but when I started diving it just felt different and I thought I might want to keep doing it."
Francella is not the only member of the PA swim and dive team who signed their letter of intent.
Senior Charlie Burt signed her letter of intent committing to be a member of the Virginia Tech swim and dive Team.
Burt is a four-year member of the PA swim team and has been a strong leader on the team serving as a captain in her fourth and final season.
Burt is a year-round swimmer which allows her to use her experience to lead the team with her ability to swim multiple events including the 100-yard back and the 200-yard IM.
Senior Emma Coleman, a four-year member of the PA field hockey team, also committed to continuing her athletic career in college as a field hockey player at Davidson College.
Along with the five Cavaliers committed to play sports at Division 1 schools, PA also has students committed to play at both Division 2 and 3 schools as well.
Senior Hailey Gump will be continuing her academic and athletic career at Bridgewater College as a member of their Division 3 soccer program.
Gump is a four-year member of the soccer team and was given all-region honors as a sophomore.
Gump is not the only Cavalier soccer player who will be continuing to play at the collegiate level.
Senior Ashley Euerle also signed her National Letter of Intent to play soccer at Lander University, a Division 2 program in the NCAA.
Eurle suffered an ACL injury her sophomore year but bounced back to be an important part of the Cavalier's defense and work towards her long-term goal of playing soccer at a collegiate level.
"I like to be a member of a team and I am very competitive, so doing what I love at the next level has always been my goal," said Euerle.
PA has helped many of these athletes grow and learn and they credit a lot of their success to their work with athletic programs at PA that have taught them lessons to use both on and off the field.
"Balancing schoolwork and dive has been a struggle at PA and I have no doubt it will be a struggle in college but I feel like the lessons I've learned about managing my time in high school will really help me next year," said Francella.
"The standards that PA values give me an edge over the competition by shaping me into the ideal student-athlete," said Francis.
Although sad to leave the Cavalier family, many of the student athletes look forward to the new experiences that come with being a college athlete.
"I can't wait to represent my home state and compete against some of the best players in the nation, but I am stoked to play Virginia Tech in the rivalry match," said Francis.
Francella is excited to meet new people and be a member of a team of athletes who enjoy dive as much as she does.
"I'm most looking forward to the team and starting college with a family-like atmosphere," said Francella. "It's going to be a new place and a totally different experience so I'm really excited to be surrounded by other motivated people who love what I love."
"If there's one thing I'll miss the most it is the relationships that I've had with so many amazing friends, coaches, and teachers. Once a Cavalier, always a Cavalier," said Francis.