Nathaniel Foley wins The Page's annual March Madness bracket challenge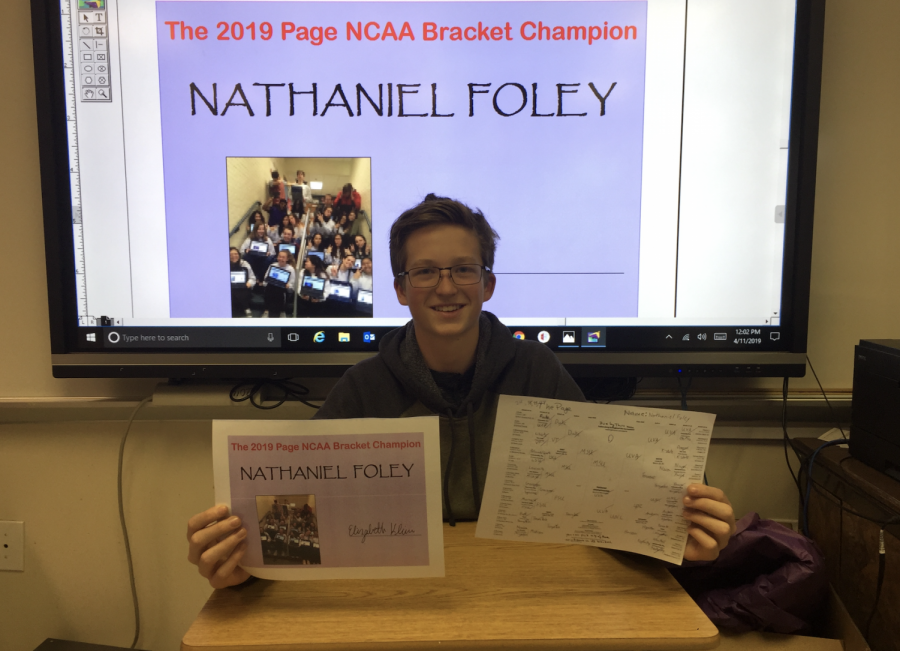 With the buzzer sounding the UVA win over Texas Tech in the 2019 March Madness Finals, freshman Nathaniel Foley was crowned The Page's annual schoolwide Bracket Challenge winner.
"I predicted so many different outcomes in my head, so I'm glad that the one I submitted happened to be a good one," said Foley.
An avid fan of college basketball, he used a selective strategy to choose the winners that would end up giving him the first-place award.
"I started looking at records and strength of schedule," Foley said. "I chose teams that tended to be hotter towards the end, like Auburn winning the SEC Championship."
Furthermore, Foley, who is a Virginia Tech fan at heart, had to break personal boundaries to successfully pick UVA in the finals.
"I knew that Duke was going to beat us so it was hard to pick against Tech," Foley said. "I also knew that UVA crushed us twice so they were definitely going to go far."
Foley's strategy worked wonders on a few key picks that landed him in the top spot. While the majority of top brackets at PA had few of the Final Four correct, Foley correctly predicted UVA winning it all and Texas Tech in the Final Four.
"My key pick was definitely Texas Tech in the Final Four" Foley said. "I knew Texas Tech had one of the best defenses and that was important to me."
Foley was able to correctly predict 48 outcomes out of a possible 67 games, giving him first place. Brackets submitted by sophomore Shannon Dinniman and junior Nathan Spiers were tied for second place, with 46 games correctly picked.
From the faculty members who submitted brackets, English teacher Paige Stanley had the best bracket, with the accurate prediction of 45 games. She is an avid fan of college basketball and continually finds her passion in cheering on UVA; however, her bracket did not reflect that, as she incorrectly picked Purdue against UVA in the Elite Eight. Had she had picked UVA to win it all, she would have won the contest.
"I am a huge UVA fan, but this year I decided to go with my head and not my heart when I was picking," Stanley said.
She had a different strategy than Foley, yet still effective to carry her to faculty bragging rights.
"I mainly watch ACC basketball, but I have a few friends who watch other teams," Stanley said. "Overall, I had a pretty good grasp and went with the stronger teams throughout the season."
Although she was not able to correctly predict UVA, her strategy worked and resulted in a few key picks that moved her along to the faculty selections. Stanley predicted Michigan State in the Final Four and only missed 6 picks in the entire first round.
Stanley was able to bring home the faculty first place award, with Principal Danny Little in second with 41 points and technology specialist Steve Delaney in third with 37 points.