Pharrell and friends endorse Battle of the Bands held at PA
PA hosted the Battle of the Bands at Cavalier Stadium Wednesday to kick off alum Pharrell Williams' inaugural Something in the Water festival taking place at the Virginia Beach oceanfront this weekend. VBCPS high school bands from all over the city—including PA, Landstown, Ocean Lakes, Salem, Green Run, and Kempsville—came to participate in performing the music created by Williams, along with songs from N.E.R.D and The Neptunes.
"I could talk for an hour about how appreciative I am to be back on Princess Anne grounds," said Williams, who attended PA in the '90s. "Walking through the halls right now was especially nostalgic, and I can't even tell you how my body was still buzzing with the electricity of being in the halls of this high school."  
But Williams wanted to shift all the spotlight to his long-time friend and fellow record producer Chad Hugo, another Virginia Beach native who graduated from Kempsville High School in 1992. Hugo and Williams met in middle school and quickly bonded over making music all the time, dreaming to make it big.
"His dad would come in all the time and knock on the door and say, 'The bass is too loud! You have to turn it down!'" said Williams.
Needless to say, they made it big. Together, they created The Neptunes who are now considered one of the most successful music producers in history — proven by their several Grammy awards. Williams is now a massive pop and fashion mogul, and Hugo has continued to create No. 1 hits as a music producer.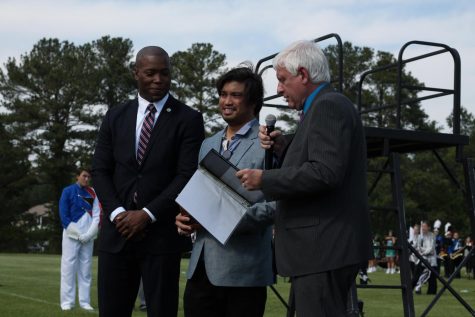 Hugo was bestowed the honor of the Key to the City by Mayor Bobby Dyer who said, "The story of how Chad came to be one of the most sought after and accomplished music producers of his generation is a testimony of doing what you love."
"Don't let anybody tell you that you can't do something with your music," said Williams to the high school marching bands congregated behind him. "Music can take you very, very far."