Math teacher Richard McHugh retires after teaching for 22 years at PA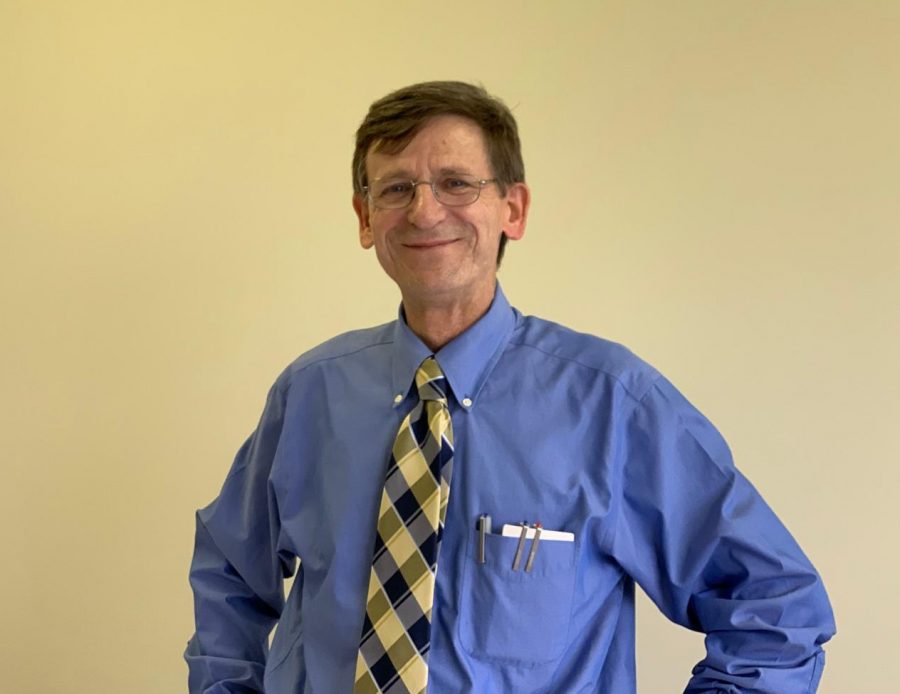 For renowned math teacher Richard McHugh, transitions have never bothered him, and he prefers to go about them in a quiet manner.
After 22 years of teaching at PA, he is facing one of his biggest transitions yet: retirement, which again does not faze him at all.
McHugh has taught a wide array of math but he is most well-known for teaching AP Calculus AB, IB Higher Level, and IB Further Higher Level maths.
Prior to his teaching career, he spent around 20 years in the Navy as a nuclear submarine officer. His time in the Navy shaped his perspective immensely and led him to become a teacher.
"I knew had to do something I thought was important," said McHugh, who has spent his entire teaching career here at PA. "My goal had always been to prepare students and life beyond formal education."
"McHugh sort of defies a simple description," said former student Clement Bouden, who currently attends Stanford University. "I was lucky enough to have him for three years, and I loved every bit of it so much. He really crafts an atmosphere for his classroom that is quite distinct from any other teacher that I've ever had."
"My teaching philosophy is trying to help students understand the concepts and ideas, and the only way they are going to learn them is if they study those," said McHugh.
Apart from impacting students by expanding their math knowledge, McHugh has affected his students by indirectly teaching them about living humbly.
"Mr. McHugh has zero tolerance for insincerity," said Bouden. "He's one of the most direct and frank people I've ever met, and that's such a refreshing quality in a human. I strive to incorporate that kind of direct honesty in interactions with people."
A common thread from accounts of McHugh from his students is that at first, it may seem as if he has a gruff exterior, but in actuality, he has a heart of gold.
When senior Paul Spears first sat in McHugh's class in sophomore year, he thought it was quite "scary" but throughout the years, Spears could see more sides to his teacher, realizing how much Mchugh actually cared about his students.
"I guess he does come off as strict and almost intimidating at first because of how strict he is," said senior Bhoomika Chowdhary. "But when you get to know him, he's really such a sweet person, and he's a fantastic teacher which I think people only realize over time. Even though he gives a lot of quizzes and homework, he does it all to make sure you know what you need to know."
McHugh spends hours and hours outside of school in grading papers and preparing lessons plans and that coupled with his outstanding teaching in the classroom translated into continued student success.
"What I want students to know about me is that I'm going to work from the first minute of the first day to the last minute of the last day," said McHugh.
What makes McHugh distinct in the PA community is his endless amount of wit and sarcasm which students grow to enjoy and love throughout their year with him.
"As time goes on, he tells more tidbits of his life, and it's great," said Chowdhary, who recalls McHugh regaling the students with stories from the Navy.
"The thing you enjoy the most about teaching is seeing the results of your work in the success of your students even years later," said McHugh.
This impact can be clearly seen through his students, and Bouden has always found McHugh to be very approachable and incredibly comfortable with his extensive knowledge of mathematics.
"He never condescends to his students however much he likes to tease them," said Bouden. "He always respects their intellectual contributions; it's really refreshing especially for adolescents to get this mentor who can talk to them on the same plane of discussion. That's really valuable for students' development as thinkers and he always brought that to his classroom which I really appreciated."
"Even if you don't like math, you end loving the time you spend with McHugh," said Bouden. "He truly is a fantastic teacher and a fantastic person. It's hard to underestimate his contribution to the intellectual community."