Girls volleyball Coach Craig Dooren achieves 400th win at PA
After four exciting sets against the First Colonial Patriots on Sept. 12, the Lady Cavaliers volleyball team triumphed 15-6 in the fifth set, marking girls' volleyball Coach Craig Dooren's 400th win during his time here at PA. 
According to senior setter Alyssa Vitale, Dooren has "cultivated such a strong culture for Princess Anne volleyball. We learn to hold ourselves accountable as well as giving everything we have for our teammates." 
"He teaches us that high expectations yield high results, and that's what we seem to be getting," said junior Olivia Sutherland. "This helps us persist and do anything."
Along with holding the girls accountable and encouraging strong bonds between the girls, he is also all about second chances. 
"If we're down or messing up, he's not just going to take somebody out automatically," said senior Jassli Baylor. "He's going to keep working with them. For example, say I go in there and bomb a hit. He's going to tell Alyssa to set me again to make sure I get this hit down."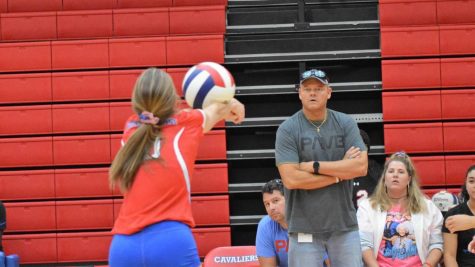 Due to Dooren's determination and the Lady Cavaliers' hard work, they prevailed over Kempsville, finishing 3-0 with junior JiJi Lykins scoring 15 kills and Vitale finishing with 31 assists, Sept. 17, helping them to solidify their top ranking in the 5A division. 
After losing so many seniors last year, it was expected that there would be a gap in the team; however, the girls "continue to play for them," said Vitale. "Having a brand-new lineup has been hard at times, but we're starting to find our groove and learn to maximize our potential." 
"It was definitely tough on the court," Sutherland agreed. "However we're trying to build chemistry as a team with lots of new starters. Tradition doesn't graduate."
Despite these minor setbacks, the girls seem to be setting the bar high for the season and bringing in some talented freshmen. 
"I think Baylee Cowan, a defensive specialist or setter, and Brooke Cunningham, a right side hitter and setter, have shined this year," said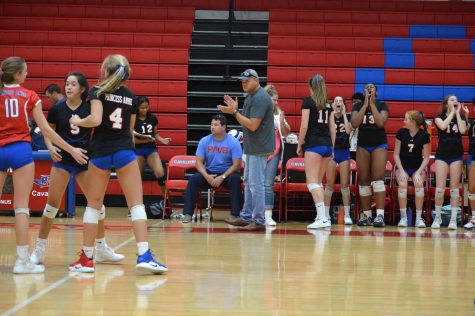 Vitale.
"A freshman to look out for is Brooke Cunningham," agreed Sutherland. "She has a really good defense and hands for being so young."
With a strong and new line-up backed up by freshmen, the Lady Cavaliers are hoping for their third state title in four years.  They are currently 7-1 with the most recent win on Tuesday against Tallwood where they dominated 3-0. The next big home game is tomorrow (Thursday) against Cox.