Class of 2020 comes back with first place win in homecoming hallways
By Emma Niland
The senior class redeemed its humiliating last-place finish in the hallway competition last year, taking first place with its "Southeast" displays as part of the overall Great American Road Trip theme last Friday.
The sophomores took second place, followed by the juniors in third and the freshmen in fourth.
"It feels so great to win, especially after putting in so much time to make our hallway look amazing," senior Danielle Prisinzano said. Last year, the then-juniors suffered that tough fourth place, so this year they wanted to make a comeback. Prisinzano added that the class of 2020 officers had a great influence on the amount of participation this year.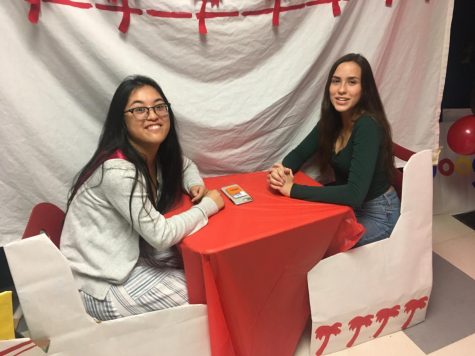 The Class of 2022 had a surprising second-place finish two years in a row, and sophomore class president Zoe Davis credits their victory to their class sponsors and teachers Kristina Berney and Susanna Davis. "Having them as class sponsors has been so amazing," Davis said, "because they both have so much experience with this type of thing, which has really helped us."
Zoe Davis said that even though participation from last year dropped off, she's still very proud of the work put in by those who participated.
The same sentiment was expressed by junior class vice president Gali Robledo, who added that while she wasn't sure if the juniors would place first, she was still confident in an amazing final product.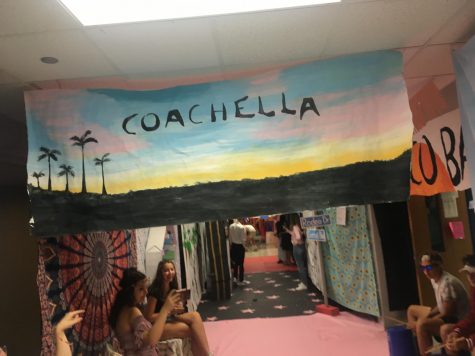 For the competition, each grade was designated a different region of the U.S. The freshmen had the midwest, the sophomores had the northeast, the juniors had the west coast, and the seniors had the southeast. Sophomore Rocco Brola said that this years theme "made it easier to formulate fun ideas for the hallways" than last year's theme of "Decades."
In the senior hall, the standout sections included Louisiana with New Orleans, Florida, and Virginia. "I thought our Louisiana and Virginia sections were incredible," Prisinzano said, "because there was so much detail and there were no blank spaces."
The junior hall's key  section was Coachella, an annual music festival held in California. It was portrayed really well according to PA alumn and one of this year's judges Bella Cabaccan.
The sophomore hall incorporated stand-out cities in the northeast region, and Brola said that he was really proud of how intricate each section was. "Our take on New York City was by far our best out of the whole hallway," he added. 
"A standout part from the sophomore hallway was the tribute to Nate Smith. It was a really nice thing to do," Cabaccan said. 
Freshman class sponsor and social studies teacher Ellen Northrup had a lot of faith in her students despite this being their first year participating. "I think [the freshmen] are really going to  see the other classes' hallways and it's going to show them that we need to step up our game."
The judging panel consisted of faculty, staff, and PA alumni from the classes of 2019, 2018, and 1969. "The hallways are scored on criteria for participation and sportsmanship, quality of creations and art, required elements, and its overall impression as a coherent hallway," said senior SCA vice president Daniel Bojo.
Bojo also added that every year SCA tries to incorporate new staff members who haven't experienced "the craziness of PA homecoming" into the judging panel, and this year those included Hunter Ott, Jacqueline Davis, Natalie Napolitano, and Christopher Smead. 
"Having teachers like them as judges was super cool because their reactions were genuine and they really validated all the students' hard work," Bojo added.
About the Contributor
Emma Niland, Staff Writer
I am a senior and a member of the volleyball team here at Princess Anne. I am really passionate about The Office and Grey's Anatomy and I will binge...