Students and teachers overwhelmingly prefer current start times
By Akaash Kamdar
Almost 90 percent of students and teachers prefer the current high school start times as opposed to the later times proposed by the VBCPS School Board, according to a recent survey conducted by The Page.
Freshmen, sophomores, and juniors responded to the survey with the teachers responding to the same questionnaire but tabulated separately.
Just over 10 percent of both groups (10.3) expressed a desire to switch to the proposed times (start at 9:20 and end at 4:10) when presented with a binary choice.
This is particularly important because the VBCPS School Board has pushed the voting on the recent proposition to transition high school times to December.
81.6 percent of PA students preferred or really preferred the current 7:20-2:10 times, and 88.3 percent did not prefer or really did not prefer the proposed 9:20-4:10 times. 
Teachers tend to agree with this common consensus, as 77.6 percent prefer or really prefer current times, and 79.6 percent did not prefer or really did not prefer the proposed times. Overall, 81.3 percent of the teachers voted to keep the current times. 
The polls for The Page ran at a 土 2.9 percent margin of error.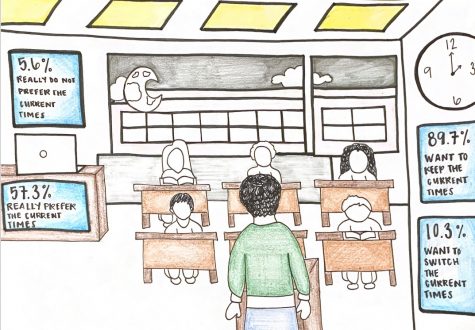 It is important to take into account that many students and staff members expressed a desire for a 8-3 time or an 8:15-3:15 time; however, the survey presented students and teachers with a binary choice. VBCPS has seemed to not entertain the possibility of this idea with its meeting agenda basing their decisions binarily off the current or proposed times
At the School Board's Nov. 12 meeting, strengths and challenges were presented, where the main strengths presented were the alignment of medical research on sleep schedule patterns of students with the proposed times and middle school students having earlier release times. 
On the other hand, the challenges presented consisted of the need for approximately 80 additional driver hours per day, and the negative impact on elementary tutoring and middle school athletics. 
The School Board agreed to take into consideration a variety of different surveys and polls that have been circulating to come to a decision next month at the December school board meeting regarding the decision to keep or switch the current times.
About the Writer
Akaash Kamdar, Staff Writer
What's cookin, my name is Akaash and I am a senior and second-year staffer. I coordinate PA Leadership Workshop, captain the Scholastic Bowl team, and...