Boys and girls cross country's top seven runners qualify for states
By Kendall Peterson
Senior Alex Sawyer placed first for the boys cross country regional last weekend with a time of 16:39, leading the boys and girls team to qualify for states.
Sawyer said, "Our plan was to conserve. We knew we were probably going to win, so coach just had us try to preserve our energy in the meet. The plan kind of worked, but it also kind of fell apart because I had to end up taking the lead and just go finish it out."
The girls team placed third, with freshman Peyton Culpepper finishing fifth in the 5K..
Both teams, coached by Kevin Rhue, are advancing to this weekend's state competition, each with its top seven runners..
Junior Sarah Kinka said, "[The boys] blew the competition out of the water."
Culpepper said she enjoys being on the team because of everyone's energy which makes the sport more fun.
Junior Jackson Cinnamond placed second, going under 17 minutes."I did improve on getting out into the race faster and starting at a faster pace than I usually do," said Cinnamond, "but I need to improve on being able to keep the pace so I can then run faster and be more competitive."
Kinka said, "All season really prepares for this main race because regionals is one of our bigger races because it is the one that matters the most to get us to states."
"Our team did really well so I'm really proud of them," said Kinka, who was the fourth Cavalier to cross the finish line.
Reflecting on regionals, Culpepper said, "I did well at controlling my pace…As a team, I feel like our communication was a little off as we were running, so we could work on using our team to the best of its abilities."
Sawyer said, "I normally find it hard when I'm running to mentally prepare for a meet, especially for a 5K." 
As the team heads to states this weekend at Great Meadows, they are setting the goals they would like to achieve.
Culpepper said she is going to try to set a personal record or at least run under 21 minutes.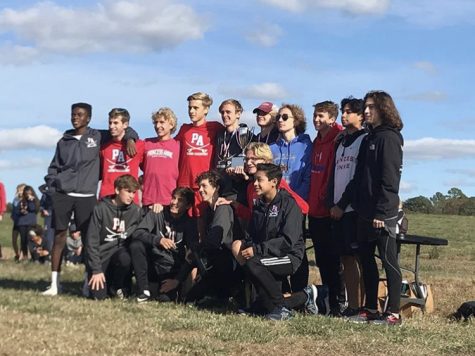 Both Sawyer and Cinnamond want to become All State by making it in the top 15 at states.
"Ultimately, I want to try to get 10. That would be pretty big. I had a good plan for regionals and it felt really good, so I'm just taking the same course and hopefully it turns out pretty well for states," said Sawyer.
To physically prepare for states, the team is just sticking to its normal workouts and routines. "The week leading up to states we tried to make our running a little bit easier just to relax our muscles for the race," said Kinka.
"I'm planning just racing people and if the PR comes it comes, but I also have a meet that is two weeks after states, and that's where I full out want to PR," said Sawyer.
According to Cinnamond, the team is also trying to mentally prepare for the cold weather they'll face while running.
Culpepper is excited for the race because "I think a really fast race like states kind of keeps you in your goal, but in terms of the team, I just want everyone to cross the finish line."