PA studio theater class puts on a shining performance of "These Shining Lives"
By Cassidy Davenport
The PA theater class recently performed "These Shining Lives," that will be the school's entry in the VHSL One-Act competition this winter. "These Shining Lives" is an emotional play based on a true story directed by senior Hannah Ruloff that takes play in the 1930s, and centers around a group of women working at a watch-making factory in Illinois.
The play starts off with the women being excited to have a job and make money, even though their job is to paint watches with radium paint. And that mood starts to shift when the women start to notice health problems, later realizing that all their issues stem from the poisonous radium that they were getting in their systems. 
The women then sue the company they work for, and eventually win the case, but only a short time before they die of the sickness the radium caused. 
"I love this play because it brings honor to a real story with real people, " said senior Shannon Dinkler, who performed the lead role. "The story is so momentous for our nation and as such, performing the show is extremely difficult." 
Despite the sad ending of the death of the women, Dinkler explained that the play ends on a hopeful note because "it leaves people feeling humbled and grateful for the work these women did for our country." 
Junior Sierra Colbert, who also played a role in the play, agrees with Dinkler. "It's a true story about women who fought for the right and safety regulations that we have today, which I think is a really important story to tell."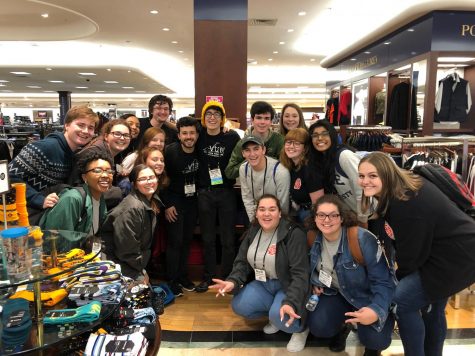 On the performance itself, Colbert said that "our best performances have been the ones we've done for an audience, because we can draw on the emotion of people who have not heard this story before." 
Dinkler explained how proud she was of her and her cast, and how great she feels about their performance both in their PA shows and the theatre conference, called VTA (Virginia Theatre Association), that they performed in late October against 64 other schools. 
At this theater conference, the cast performed the show with a strict time limit in front of a panel of judges. They spent the weekend participating in performances, technical workshops, and watching other schools perform. According to Colbert, "It's a really exciting and busy weekend." 
The studio theatre class started preparing for this play since last spring. Many of the rehearsals took place during class, but they also attended after-school rehearsals once a week in October. Lead actors such as Dinkler and junior Jackson Kubin would even spend extra hours after school and during lunch in order to perfect their performances. 
Dinkler explained that when she found out that she had the lead role, she was "ecstatic," but "being a lead in a huge responsibility." 
"Being any role in a play as important as this one is a huge responsibility. I knew I would have to give 110 percent to make the show run smoothly," said Dinkler. 
Colbert agrees with Dinkler with the fact that the play is incredibly important, saying, "The play is really sad to me, but also very empowering because I think the message behind it is that you should never stop fighting for what you know is right, which is what these women did."