Drama club's annual zombie run
By Sarah Olander
Freshman Lindsey Chambers was a "human" last week, doing her best to not be killed by a zombie.
Makes sense.
"I did my best to hide," said Chambers, "but I was tapped right away."
Last week the Drama Club hosted its annual Zombie Run to initiate new members and teach them about stage makeup. After the makeup crew showed the drama newbies how to apply zombie makeup and competed to make the best zombie, a game ensued in the auditorium with the zombies against the rest of the club.
"It's basically a big game of capture the flag, but the humans' goal is to survive," senior and drama club president Shannon Dinkler said. Those made up as zombies attempt to steal the other club members' wristbands while the "humans" attempt to run and hide.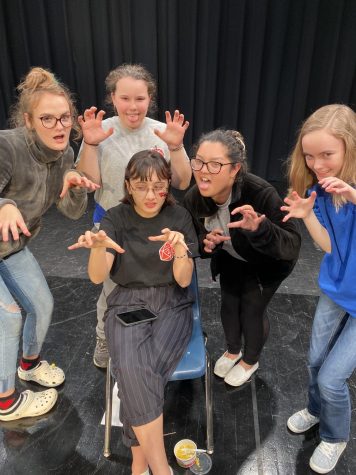 Dinkler said the run serves as an event with multiple benefits, as it not only acquaints the freshmen to current members, but also teaches them about the ins and outs of theater: "It's a fun game to get the freshmen out of their shell and like theater." 
Chambers attended the run for the first time this year.  Chambers' favorite part was learning to apply the makeup, as drama used similar makeup in its fall concert, and would like to be able to help in the future. "It was really cool," said Chambers, "just watching how to make cuts and blood look real."
Dinkler says as compared to other years, Drama Club was much more organized for the event. She said multiple groups got to participate and "everybody got the opportunity to play."
The event originally came about as a way to teach stage makeup as well as getting everyone excited for a year in drama. With the upcoming year in drama and specifically the upcoming Winter One-Act show, the zombie run is a way to get the entire club set to audition and perform.
"We have Winter One-Act, musical, and studio one-acts coming up, so it's a way to get everyone to perform," said Dinkler.