Rian Johnson reinvents the whodunit genre with Knives Out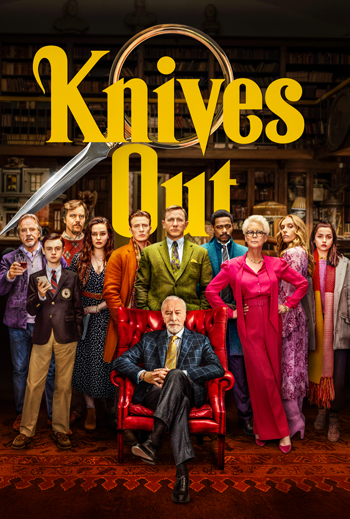 By Olivia Brightbill
Knives Out (2019) is the new Rian Johnson whodunit that maintains its own pace and charm that individualizes it among a saturated genre by being satirical, campy, and darkly comedic. 
Knives Out has been receiving critical and audience praises and it is well deserved. I could not help but have high expectations going into the movie with such a promising cast and trailer. I am pleased to say they not only met but exceeded expectations.
The writing was firing on all cylinders, it was dramatic and serious but also humorous, and these aspects heightened the quality of each other. 
It perfectly walked the fine line among comedic timing, subtly, and fantastic delivery that made it excel. It was visible the actors were having fun with their wacky roles and the material so it made their performances that much better.  
A very British Daniel Craig with a thick southern accent is my new favorite thing. While all of Craig's monologues are gold, and there is a specific one at the end that is complete comedy genius. 
I was enamored by Craig and Toni Colette playing these over-the-top characters that brought out the camp. 
Collette is slowly becoming one of my favorite actors since her performance in  Hereditary blew me away and her part in Knives Out shows she has incredible range. 
Ana de Armas was fantastic and I am excited for what she will do next. I was so charmed by her. Se did a great job stand out among the star-studded cast. De Armas is set to be in the next Bond film with Craig and I look forward to their chemistry revealed in Knives Out.
I am happy that Chris Evans got the role of a family, as he needed to play a pompous jerk and break away from the Captain America role the world knows him for. He sold the character completely: you love to hate him. I am surprised but glad he was able to land such a different role so quickly after leaving Marvel.
I would not change a single actor. It would be far too long to detail every cast member's performance so I just recommend seeing it for yourself in theaters. 
I am very wary of a sequel since it was so successful. I completely understand wanting more, because I already want to watch the movie 10 more times. Knowing what I know now, it would be interesting to spot the little hints and details that I missed watching it the first time. However, trying to replicate greatness in the form of sequels has rarely gone well. I would only be interested if it followed another one of private investigator Benoit Blanc's cases, and it cannot be another murder within the Thrombey family. 
The film strays course from a typical murder mystery while still paying homage to the classics.
You can tell it is made by people who love the old whodunit movies because of the tropes the movie emulates and that fact they are able to poke fun at them well. I do not think it will become a camp classic like Clue the movie, but Knives Out definitely will develop its own cult following.
Johnson needed this win after all the backlash from his previous movie The Last Jedi got a bad rap from audiences. Johnson cleverly keeps the viewers interested and manages to still surprise up until the very end.