PA artists take home big awards at Virginia Wesleyan art competition
By Bella Coulter
The theme of the recent Virginia Wesleyan exhibit was 'Hope and Healing,' with several Princess Anne students entering the competition with varying interpretation of how to approach the topic.
For sophomore Haven Muchetti, it was all about getting help, and the difference between depression and hope.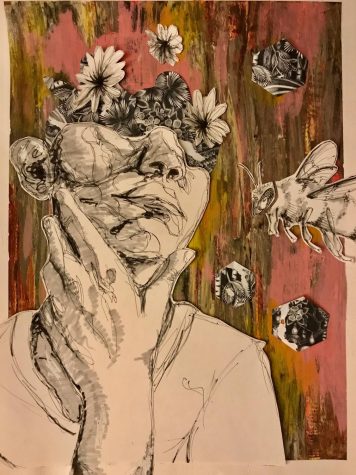 "Contrary to most art teachers, I love contrast," said Muchetti. "They hate it. They're like, 'That's too contrasting. I thought, 'What can I do against the extreme black of depression and injuries,' so I thought a hand pulling themselves out of the dark would be pretty powerful imagery."
Muchetti stood waiting in the gallery as she listened to a list of names being called. The announcer finished the list of Junior Merit Awards, and moved on to the Juror Awards: the highest honor, which came with a $100 cash prize. 
Muchetti listened attentively until she heard the last name she would have expected: "Haven Muchetti!"
"I was surprised," she recounted with a laugh. "My mom cried a bit."
To complete her piece, she decided what would go on the bottom half to contrast the black depression.
"I picked lively, healthy, happy colors against the stark black," said Muchetti. "Apparently [lotuses] are the flowers of healing. I did not know that before this project."
For her media, she used a mixture to achieve her contrast.
"It was india ink and watercolor and white paint," Muchetti said. The hardest part for her was the appearance of the hand, and working with india ink.
There were four Juror Awards presented at the event, and PA artists came home with three of them. Other PA artists won six out of the 17 Junior Merit Awards, making PA art teacher Betsy DiJulio extremely proud.
Freshman Bridget Calhoun and junior Margaret Abrams, the other two PA winners of the Juror Award, had similar shocked reactions to their monumental win.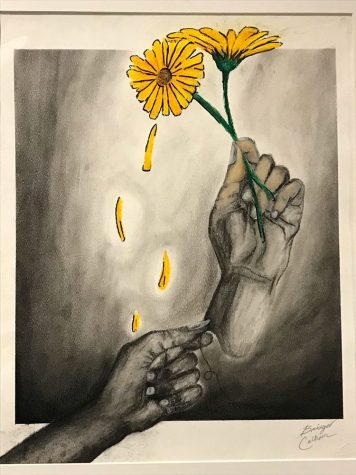 "I wasn't expecting it, honestly," said Calhoun. "I was just standing there like, 'I'm a freshman, I'm not going to get picked.'"
The exhibit took place in the Neil Britton Art Gallery on the VWU campus, with all of the art pieces a part of a collage on a wall.
"When you walked in, immediately to your right was the best part, which was the food," said Abrams with a laugh.
Abrams took a different approach and focused more on growth. 
"I love the idea of growth and people," she said.
She also chose to do mixed media, using unconventional materials like Dollar Tree poster board and IKEA wrapping paper.
"I don't know what specifically drove me to do mixed media, but I feel like my technical skills by themselves are fairly weak, but when you combine them, you can make something awesome," Abrams said.
The show was a wonderful growing experience for the girls, proving to themselves that they can do anything.
"Just being in the show and being able to be a part of that as a freshman, it was just kind of eye-opening, like I can do so many other things," said Calhoun. 
When reflecting on what she learned, Calhoun concluded: "Keep going, and if you make mistakes, don't stop. Just work with what you got."
For more details about the exhibit, visit https://www.vwu.edu/about/news-and-events/features/story/healing-amp-hope-area-high-schoolers-use-art-to-respond-to-violence