Princess Anne's swim team celebrates senior night and maintains 4-0 record
By Dylan Stanford
Senior Cat Munitz felt cherished and loved during the senior night pasta party when her two best friends, junior Estelle Craib and junior Rebecca Hearns, gave a touching speech a week ago. But for senior swimmer Keenan McCabe, it was a little less touching and more amusing, as the boys' speeches focused on roasting as a form of bonding.
The next night, Friday, Jan. 10, the girls' and boys' teams pulled out a victory against the Salem Sun Devils: the girls with an end score of 194-92 and the boys with 195-99. 
"Senior night was a lot of fun because we got to open up as a team and bond during speeches and gifts," said McCabe, despite the fact the boys spent the night poking fun at each other. "But the meet itself was also great because we won and continued our unbeaten streak."
For the seniors, they got to reminisce on the season and the seasons past.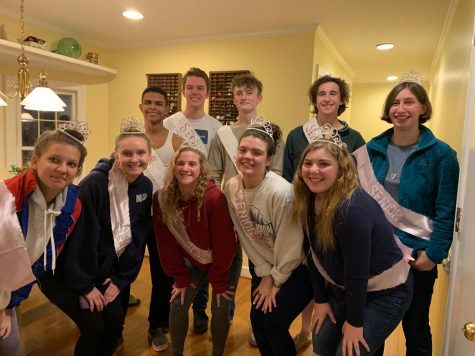 "[The season] has been so good because even from the start at tryouts, everyone has been so connected and friends and you're so comfortable talking to anyone," said Munitz. "So during stretching or practice it doesn't matter who's in your lane or who you're talking to because everyone knows each other and can relate about swim and things outside of it too."
Senior Alex Hakim agrees with Munitz, as she believes that in all the four years she has been on the team, the unity this year has got to be the best it has ever been. "This year [the] team is super close. Yes, we're fast, but PA swim team has always been one of the best teams," he said.
Aside from the unity of the team, the senior swimmers will fondly remember certain moments during this season.
"If you asked me what my favorite part of the season was before senior night, I would've said tryouts because the energy was so there," said Munitz. "Even new girls were coming up and talking to everyone. But senior night, the pasta party was really great because some of my closest friends gave my speech and they did a really good job."
Hakim personally loved being able to watch McCabe and senior Conner Kemper run practices for the boys. "This is their only second year on the team and it is interesting to see the things they pretend they know and the things they actually do know, because they surprise us all the time. But it has just been amazing to watch grow as leaders and see them lead the team."
As for McCabe, leading the team has been an interesting and new experience, as he says that he is constantly working with athletes who are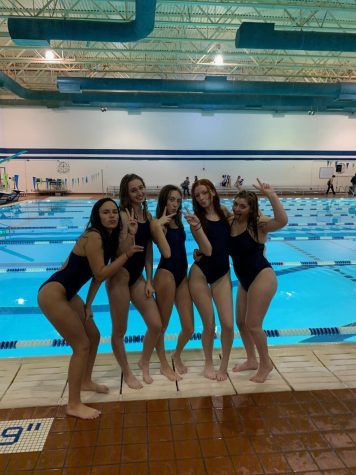 faster than himself. "We constantly push one another to do our best. My leadership as well as Kemper's has contributed to our growth and inner team relationships."
But his favorite moment so far this season was "playing boundary breaking games with the team at Hanover invitational because [they] got
to let loose and get to know one another more."
Because most of the seniors seem to agree that their favorite parts of the swim team involve their teammates, it is no surprise that the seniors felt a little sentimental during senior night.
"I will miss the people I'm always hanging out with," said Hakim. "Swimming is such a  nice way to see people that I don't normally see every day, like kids that I don't have classes with or kids that are in the IB program." 
"One hundred percent it is going to be the people I will miss the most," said Munitz. "I've met some of my closest friends on the team and the seniors have just gotten so close. I'll also miss the environment and the atmosphere of pushing each other, but also spending time with each other going out after meets or on the weekends."
But instead of dwelling on how they are going to feel when the season is over, they want to focus on the underclassmen and upcoming meets. 
Munitz recognized junior Emma Fuhs as one of the possible upcoming leaders on the team: "I think that Emma Fuhs is going to be a really great leader and swimmer. She just pushes everyone to do their best."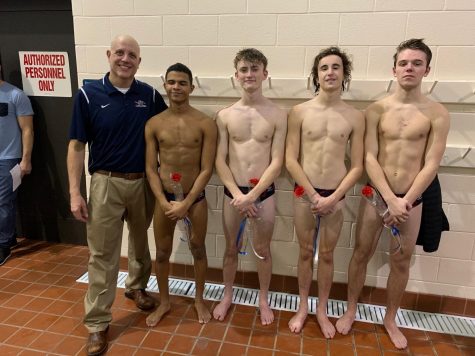 Along with Fuhs, junior Anna-Claire Sanzone may be another possible leader, as "she did a really great job of organizing senior night and contributing overall," said Munitz.
Hakim also said that "Sanzone is definitely going to step out a lot, and it's been great to see her grow."
According to Sanzone, she really enjoyed being able to give gifts to all the seniors and organize their senior night because it was such a big night for all of them: "We did a lot of buying and returning and crafting to get ready but it was all worth it. Everyone who gave their speeches did so well and we got a lot of good laughs from gag gifts." 
Despite all the preparation, the pasta party was a little wistful for Sanzone and the lower-classmen.
"The pasta party was bittersweet because all of the seniors are leaving, but everyone made sure to make their speeches funny as well and we got to reminisce on a lot of good memories," said Sanzone. "And during [the meet at] halftime, all the seniors ran down a tunnel and got roses which was again really bittersweet to see them, knowing the team won't be the same."
But most importantly, Sanzone will miss the "spirit and energy that [the seniors] bring to the team. They are the people who are encouraging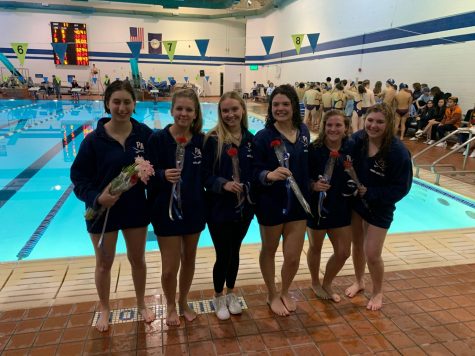 us to do our best in every race and during practice they add so much fun to our team. We will all miss them so much. Plus, of course, they're fast times will also be missed."
As for the boys, Munitz and Hakim both acknowledge that there is a lot of new talent this year. Specifically, junior Russell Hroneck who has only been swimming on the team for a year and already seems to be heading towards States. 
McCabe recognizes freshman Rad Couture as an exceptional swimmer as well, who has proven his ability on the team this year.
However, their best win is yet to come. The next meets that will determine the outcome of the season are against Cox, First Colonial, and Ocean Lakes, some of the most skilled teams that the PA swim teams will face.
Currently, their record is 4-0.