Freshman Hannah Grau competes in nationwide pageants
By Kendall Peterson
As freshman Hannah Grau walked up to claim the Little Miss United States National Title in 2014 in Little Rock, Arkansas, she felt proud and was filled with accomplishment for her hard work. This became one of the most significant moments in Grau's pageanting experience.
Grau started competing in pageants "when I was a lot younger, but I only did a couple. I started doing them more regularly when I was seven. I usually do only one a year because I don't let it consume my life, but it's something that I enjoy."
The main reason why Grau began competing in these pageants was "to gain confidence and become an individual."
All in all, pageants have helped Grau "a lot with my confidence and being proud of who I am and also helping my community."
Participating in pageants has given Grau several opportunities and a large platform to help those around her. 
Grau was able to raise over 200 coloring books and crayons for a children's hospital after she had won a local title. When she received a national title, she was then able to collect over 1,000 coloring books and crayons. Pageantry "really shows you the difference in having a bigger platform and how to reach more people, and I think that's really awesome," said Grau.
One of Grau's favorite parts of pageants is "the sisterhood that you get from it."
Even though Grau competes against a lot of people, she also meets and stays in touch with new friends. 
When Grau attended a national pageant in July, she became friends with the 50 contestants in her group, and they all still keep in touch. "It's really awesome to have close friends that do the same thing you do," said Grau, "because they understand things about [pageants] other people might not."
When Grau was seven, a two-year-old girl died of neuroblastoma, a rare and fatal form of cancer. A foundation started thereafter called the Grace Oughton Cancer Foundation, to raise money for childhood cancer.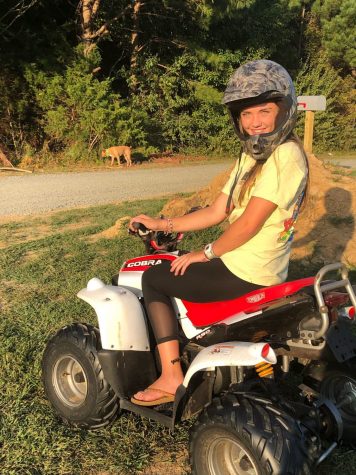 Grau "wanted to give back to the family, and give back to their organization, so I just held a yard sale, and I didn't get much from it, but it was really amazing the feeling of just giving back a little bit."
Grau then started making paracord bracelets, and sold them for $5 each. With that, she was able to raise over $16,000 for that foundation. From that experience, Grau said, "It's been really amazing to touch that many people."
After that, Grau decided to make bracelets for American troops since her dad is in the military. "I made 200 of them with my church and we sent them overseas as a morale booster for the troops," said Grau, "because when you're over there and you're in those conditions, it's hard to be happy all the time."
Another reason why Grau did this was because she knows the troops are "saving your country and so many people back home are proud of you, but you might not know that, so it's really good just to have those things just to let them know that we're thinking about them."
In regards to the types of pageants, "There's a difference between doing pageants for fun and hard-core doing them," said Grau.
Glitz pageants are the equivalent of "Toddlers & Tiaras," with the fake hair and fake teeth. However, "I feel like all pageants get grouped in with that, but the majority of pageants are actually nothing like that," said Grau, "They're sort of more the natural, inner beauty sort of thing."
Grau said, "The preparation can be hard but it's really fun." There are typically three stages of the pageant: gown, fun fashion, and interview. 
"With interview, the way that I prepare for it is I just talk to people back and forth about things that I'm passionate about or things that I'd want to get across in my interview, so I'd say interview preparation is one of the hardest to nail down because you don't know what they're going to ask you, so you have to be confident and know your résumé [because they ask you questions based off your resume]," said Grau.
The other stages are less difficult to prepare for because "you usually get a modeling pattern down, and then my favorite part is going and getting your dresses," said Grau.
Grau's favorite stage of the pageant is "fun fashion because you really get to let your outfit show your personality."
With fun fashion, there are no rules or limits "as long as you're out there having fun and being yourself," said Grau. Grau loves "bright colors and fun, extravagant things, so I always go that way."
The gown stage is something "elegant that suits you and your personality, but still very soft," said Grau.
Grau has learned a lot from being in pageants. "I was never a super confident person when I was growing up," said Grau. "I was very shy and timid, and I don't think pageants have changed that about me, but I think they've really helped me to know who I am and to be proud of who I am," said Grau. 
Grau has ultimately learned through her experiences that "it's okay to be shy and it's okay to not be comfortable in every situation. Just be confident in yourself and know that you're you and you can do anything you want."