PA artists bring home big awards at Hampton Roads Student Gallery
By Bella Coulter
Senior Christina Liu stood next to her parents, listening to the list of names being called for the various honorees. She stood listening attentively, but was surprised to not hear her own name being called.
Then, the judges moved on to the finalists. She listened in shock as they called the honorable mentions, and her name still had not been called. She had been previously informed that she had been getting an award, so why hadn't they called her name?
Finally, the judges got to the top three. And when the announcement came for second place, she finally heard what she had been waiting for: "Christina Liu!"
Her mind went blank and she barely processed her movements as she walked up to the podium to accept her second-place award, accompanied by $300.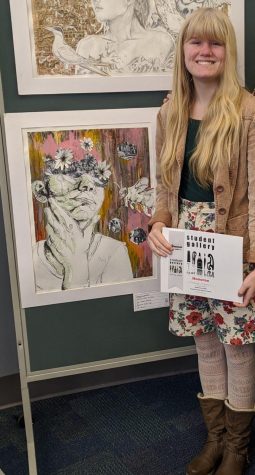 "I was surprised," said Liu. "I really did not expect it."
Liu was one of several PA artists who were featured at the Hampton Roads Student Gallery, including junior Maggie Abrams who took home an honorary award. The prestigious contest featured over 600 artists from all across Hampton Roads.
According to art teacher Betsy DiJulio, "It's the seven cities, and private schools and public schools, and it's only eleventh and twelfth graders."  
While some may find the presence of so many artists intimidating, Abrams finds it inspiring.
"I like it when there's a lot of pieces together, because while it dwindles my chances of being up front, it's motivation to push forward," she said.
The gallery took place at the Chesapeake Central Library, where the art stood on display for two weeks. Then, there was an award ceremony where 26 artists were recognized.
"What they've always done is choose 20 honorees and that group hangs at [Museum of Contemporary Art], and six finalists, and that group hangs at the Chrysler," explained DiJulio.
Prior to the event, DiJulio received an email informing her that two of her students were a part of the 26 honored artists. She was pleasantly surprised to receive a second email emphasizing the importance of Liu's presence at the gallery, although she remained uninformed of the nature of her award.
Liu, on the other hand, found out about her placing a bit prematurely. 
"I also knew that I was a finalist, but that was an accident though," she said. "The guy from Chrysler called me because he couldn't read my name on the scan or something and told me that I was a finalist."
Despite the mishap, she was still shocked to find that she had placed so highly, especially when she didn't realize that there were first-, second-, and third-place awards at all.
She was also extremely humbled by the experience, noting that she saw many deserving artists at the gallery. 
"I was actually shocked this time because it's such a big thing," Liu said. "I didn't actually think my piece was very good compared to everyone else's."
She pointed out that these awards depend entirely on the judges' subjective opinion at each competition. Despite the fact that there are many deserving candidates for awards, whatever the judges are looking for each year will take home the grand prize for that specific competition.
"It makes you feel good, but you also know that the judges are always different and people are always looking for different things, so it doesn't necessarily mean that I'm the best," said Liu. "I entered the same piece to a different show and it didn't win anything."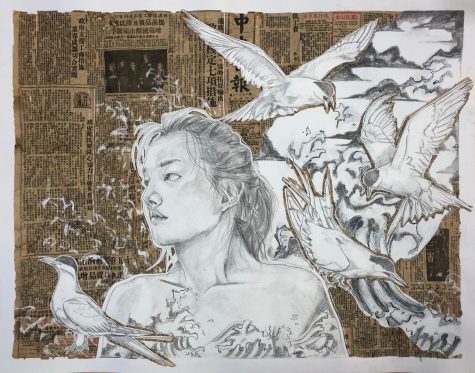 Abrams found herself in a similar situation, as she was one of the recipients of an honoree award. However, she won a top award for her piece at a previous contest while Liu won the honorary award. The girls swapped awards for this competition, despite the fact that they entered the same pieces in both.
Their stellar art pieces are also accompanied by thought-provoking messages. Liu based her art on a traditional Chinese story, while Abrams chose to examine a human condition.
"My inspiration for this piece was a Chinese mythological story about this lady named Jingwei," explained Liu. In the story, Jingwei was swimming in the Eastern Sea when she drowned and became a bird. As a bird, she spent the rest of her days trying to fill the sea with rocks and pebbles so it would dry up.
"I used that as a metaphor to learn the Chinese language because my whole exploration in AP Art is about my identity as a Chinese American," said Liu. "There's a Chinese idiom that means expressing determination in the face of seemingly impossible odds based on that story. I just wanted to show that even though it seems impossible to learn a new language like this, you still persist and you still try."
Abrams on other hand, created a piece she says is "exploring the boundaries of human nature."
She added, "I put a bee on there as well, like the joke of the hive mind and the absent-mindedness of  how people can be and they follow one another," she explained. "I believe in growth and I feel like we can be beyond that."
DiJulio expressed pride in their performance how extremely hard they worked.
"It was a good experience just to get into the show, and I'm always proud to show off my students' work," she said with a laugh.
Ultimately, her post-contest advice for her students was to continue to encourage their uniqueness in their work.
"Do what you do, you do you. Don't try to [please] a judge. You never know exactly what they're looking for," DiJulio said. "There's room in the world for apples and oranges and they're both good. You just don't know what they're looking for."
Christina Liu's piece will be displayed at the Chrysler Museum until March 1, 2020.
Maggie Abram's piece will be displayed at the Virginia Museum of Contemporary Art (MOCA) until March 1, 2020.