Lots of love at Love Run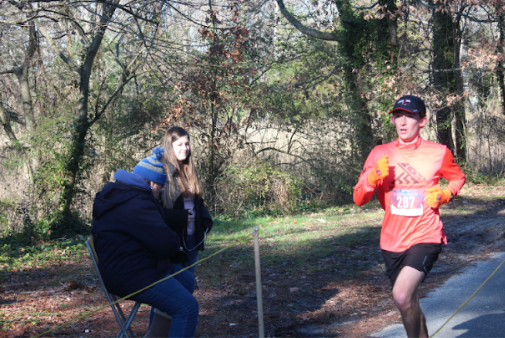 By Abby Hendrickson
The crowds around the finish line perked up and roared with enthusiasm, attentively watching the first runner enter into their line of vision. His face grimaced as he sprinted his hardest, trying to shave every possible second he could off of his time. He sprinted through the guided corral of the finish line, slowing down as he made his way through the crowd towards the gym.
Brightly colored clothing of varying tones of pink decorated the bodies of almost every person (whether they were runners, volunteers, or merely participants played no part on their spirit and attitudes) as everyone gathered for the 16th annual Love Run of the local Virginia Beach community. 
A few SCA officers and volunteers raced to and from the school running supplies for water stations and mile markers to their designated places, in a race against the clock. The crowds of runners (and their families who came to cheer them on) slowly began to amass as the time for the first race to start neared. 
Three! Two! One! Daniel Bojo and Evie Liu led the first corrale of participants, who were mainly those in strollers or on bicycles. Then, Zoe Davis, Emma Kittrell, and Ellie Berrett led the independent runners in a few minutes following the initial start of the race. 
The first few people to cross the finish line took most by surprise with their considerably fast times (as it is a 5k race). Soon after, those in strollers or walking with their pets began to cross the finish line. All of the flushed participants made their way over to the gym of Thalia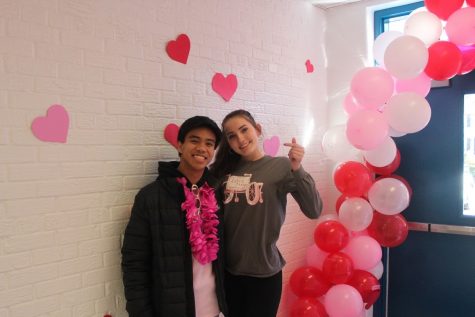 Elementary School, where the main festivities would be hosted. 
A bright pink, red, and white balloon arch livened the doorway into the main hall, leading all participants down a hallway filled with paper hearts of all colors (fitting the Valentine's theme) spreading across the walls. Heart-shaped balloons filled with pink and white confetti bounced along the perimeter under ceilings covered in streamers. The rather small, poorly lit hallway was transformed into a lively and visually-aesthetic space for volunteers to enjoy. 
Love Run is an event orchestrated by the SCA organizations of both Princess Anne and Cox High School that spreads awareness and raises money for CHKD. 
"I wish that people knew the history behind the event, not only that it was started by our SCA president who had been diagnosed with cancer but that Cox is helping because their sponsor had lost a son who had been treated at CHKD," said 2020 Love Run Coordinator Brady Callahan.
"We added a Fun Run in honor of Hunter Berns who had survived childhood cancer and fought a long battle alongside his family and had been treated at CHKD. I kind of wish this because I think when I heard this I really saw the passion behind it. I saw the reason why we got to do such an awesome thing. We get to serve. We get to just really give back to a hospital who has done these things for so many people."
Aside from a history that is deeply rooted in PA tradition, Love Run is a huge community event that requires months of planning among the designated leaders. According to Callahan, it was an almost 10-month planning process that began with her brainstorming and "dream casting" as early as last May. 
"As it got into the summer, I started meeting with the Love Run coordinator over at Cox (her name is Jordan Parker-Ashe and she's awesome). We started planning a lot together and having meetings between PA and Cox, eventually after some planning I picked the Love Run chairs and members and we really hit the ground running," said Callahan. 
Sophomore and new-time Love Run committee chair Livi Palalay detailed the process of gaining business sponsorships to which Callahan alluded: "We would go searching for businesses to designated areas around Virginia Beach and even to the outlets in Norfolk, for businesses who were willing to donate."
Another huge part of the planning process of this event was the publicity of it. The PA committee's responsibilities included decorating many of the school's hallways and publicizing in various forms throughout the community. 
"We were responsible for making canvas, videos to go on the morning announcements, and decorating the halls of PA to publicize for Love Run," detailed Palalay. 
According to Callahan, the results of their efforts paid off. "We had a huge campaign to get people to sign up and this year, we had over 500 runners and volunteers and people just getting shirts, which is awesome," added Callahan. 
The proceeds of this year's Love Run event are projected to be a greater amount than last year's funds raised (which was $14,500), with all being directly donated to CHKD. While participation set records this year, Callahan stated that she wants to reach even higher in the following year, drawing from both the school and local community more.
"It's not just putting on an event. It's about loving people well. It's about helping out in the community, and also showing love to all the people who have done so much for us." 
About the Writer
Abby Hendrickson, Staff Writer


Hello I am Abby Hendrickson, a senior here at Princess Anne who is currently in her first year writing for The Page. I am an environmental advocate...