Rebuilding PA: Fast facts and figures
After years of speculation, it is finally time for Princess Anne High School to get rebuilt. This process is projected to begin in the summer of 2024, affecting this year's freshman class, as students will spend over two years at the old Kellam High School building. 
Not including the section of the school that was remodeled following the infamous 1995 fire, PA is the oldest standing high school in the city. Just one walk through the building can feel like being in three different schools of three different decades. This is made further evident by the differing ceiling heights, 50 exterior doors, and unproportionate classroom sizes that make up the school.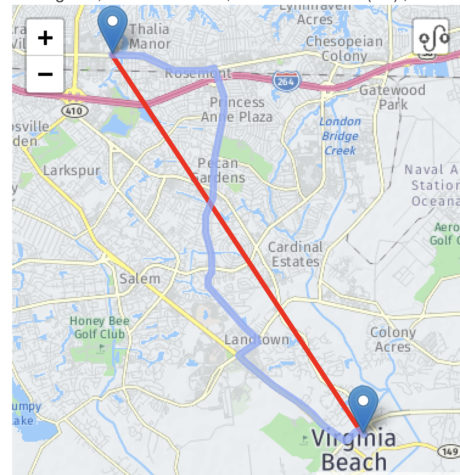 Recently, the City Council has approved a $162,650,000 budget for the long-awaited rebuild. It will be fully funded through the six-year capital program. VBCPS has also received a proposal from the SB Ballard Construction Company to carry out the project, although the contractor will most likely not be selected until the spring of 2022. 
Architect Tony Arnold explains that the exact time frame for the project will most likely continue to be adjusted. Currently, he believes that the earliest PA will move out of the "swing space" at Kellam and reopen is the 2027-2028 school year. This location is 9.4 miles away from PA, or about a half-hour commute for zoned students that drive to school and up to one hour for those riding the bus, near the Pungo area.
With an end result that seems so far in the future, the planning process has already begun to rebuild the 67-year-old building. 
✦✦✦✦✦✦
A project of this size can be expected to disrupt the daily lives of teachers and students. 
Transportation
Principal Danny Little anticipates that the increased distance that students zoned for PA will have to travel to the temporary building as being a potential concern for parents. Students who cannot drive themselves to school may have to get on the bus as early as 6. This, along with the increased number of buses necessary to accommodate all IB and West Building students, Little believes will be a "major challenge for the school division."
Freshman Lydia Winstead assumes that students in her neighborhood will choose to drive together to the temporary Kellam space her senior year. She also anticipates that the increase in transportation time will create a problem for students staying after school for activities and seniors with a fourth period excused block: "It is maybe a 10-minute drive now. I think it will be about a 40-minute drive to Kellam."
Overall, Winstead thinks "It will be sad not having the full senior 'high school experience' at my own high school."
Freshman Bree Curameng agrees with Winstead, explaining "It will be kind of weird having my senior year across town after three years at PA. To be honest, I am not really looking forward to it."
Reaction of teachers
Aware that nobody ever really wants to face the changes that come with moving, Little believes that the majority of teachers will recognize the long-term benefits of rebuilding the school.
Building design
Kellam is the latest high school in Virginia Beach to have been rebuilt (2014). However, the architects are unsure if that layout will be suitable to follow in rebuilding PA, as it would not fit into our current campus.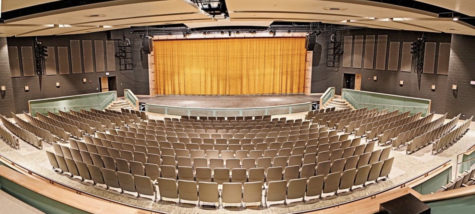 However, Little expects that the rebuild will include a schola, or a mini auditorium where several classes could listen to a guest speaker or students could have a special activity. All of the recently renovated school buildings have one, including Kellam.
To watch a walk-through of the remodeled Kellam, visit https://www.youtube.com/watch?v=4ZpEGFcCBz8.
✦✦✦✦✦✦
The following are changes to the current school building that will be implemented in the reconstruction. 
West Building
Little confirmed that all PA students will have to transport to the old Kellam High School while the new school is being built. This includes those in the West Building. This presents the challenge of having to make the appropriate accommodations to the temporary space for those students, as well as in the new building. 
JROTC
In reference to both the West Building and JROTC building, Little confirmed that the current plan is "to rebuild one building that accommodates everything." Currently, the JROTC building is detached from the main building. This means that those students have to exit the main building to attend their JROTC classes. 
Portables
Little explained that when he became principal in 2016, PA had a total of 16 portables. Now, there are only eight. The initial plans for the rebuild reveal that the new building will be large enough to accommodate all students without the use of any portables. 
✦✦✦✦✦✦
While the official layout of the new building is still being determined, these are the current goals. 
Addition of classrooms
The ultimate goal for the new building is to limit the number of spaces that are idle. This means that it is likely that a number of teachers will continue to share a classroom space. That being said, there will be an increase in the number of classrooms in the new building, and almost all will be the same size. According to Little, this will "maximize the space for the number of students." To provide additional input in the transition planning, members from Support Services have been visiting the school to inspect how it is currently being used, as well as the number of students and teachers. 
Lockers
Little acknowledges that the use of lockers by students has become essentially obsolete in recent years. However, he still considers them useful for providing additional storage and a personal space for the students who are interested in having it. Taking this into account, he believes that the number of lockers in the new building will be heavily decreased, so as not to become wasted space.
Parking lot
There have been discussions about condensing the current parking lot layout by creating a parking deck or garage. This will most likely combine parking for juniors and seniors who drive themselves to school. 
Leave a Comment
PA staff shares opinions on school rebuild
AP and MYP biology teacher Jason Tomik has been a member of the Princess Anne community both as a student and a teacher. He was a part of the first IB graduating class of 2000 and has been teaching here for 13 years. Indeed, all of this time spent as a Cavalier makes him even more eager for the school to be rebuilt. 
Tomik said enthusiastically, "I wish that they rebuilt the school sooner!" However, he still is somewhat apprehensive that the process will continue to be delayed. "I feel like we have always been about five years away from a new Princess Anne High School for 20 years now. It always feels like it's just beyond the horizon. My biggest concern is that there'll be something else that will happen that will push it back another five years."
Spanish teacher Tina Garfield shares Tomik's opinion, explaining, "I am excited for a new school, but we've been promised [one] since the '90s, so I am a little skeptical." 
Garfield graduated from PA in 1986 and is "slated to retire in 2028." So, she wonders if she will ever be able to teach at the new building. Tomik also hopes to still be teaching at PA by the time the new school has finished being rebuilt. 
IB biology teacher Camilla Walck is more certain that she will teach at the new building, as she has been a part of the PA staff for 26 years. Walck explains that teachers have been told they will be able to voice their opinions about the new building's design. She hopes that "they take into consideration better parking." Although, she is looking forward to the "science stuff, equipment, and the rooms [that] will be better suited" the most. According to Walck, "This room's ancient."
Like Walck, Tomik feels that "There are nice parts of the school that were rebuilt in the '90s, but for those of us that teach in the older portions, especially the science wing, it would be nice to be able to have some newer facilities." 
Garfield acknowledged that two years ago the school underwent a series of renovations. Still, the building was originally built for when classrooms were smaller, and are not as suitable for the school's now much larger class sizes. 
2007 PA graduate and first-year English teacher Rachel Bly has more mixed emotions about the idea of the school being rebuilt. This is especially because the main reason she wanted to return to her former high school is that she recalls her time spent here as a student so fondly: "I would be really sad to see the building go just because I personally have so many memories here, but I'm also excited to get a new building." 
Tomik agrees that "It will be nostalgic and we will all be sad to see the old building go, but I definitely think that the excitement of a new building exceeds how much I will miss the old building." 
Also, Bly feels that if "this were to happen when I was back in high school I know I would really hate it just because being displaced for a few years probably isn't the best feeling for a teenager." 
The majority of teachers have also considered this potential downside. Walck's initial reaction to the idea of the temporary school was "It's farther away!" 
Similarly, Tomik explains, "I definitely think a lot of students who are zoned for PA will definitely have a longer commute. It's not too bad but it will be inconvenient for things like sports events and things where you want to get a lot of parents and community out there." 
But as most simply noted by Walck, "The character comes from the students and the programs and what we do with the building. I think that is going to be the same." 
*Staff writers Delaney Brenner, Gabi Altinok, Jana Isern, and Samantha Lee contributed to the formation of this story.
Leave a Comment