A new addition to PA: The Princess Anne Cavalettes
Senior co-captain Indigo Blackford wanted to start a dance team because she felt like "something was missing" at PA, and wanted to give students the same "opportunity" as the other VBCPS high schools that have dance teams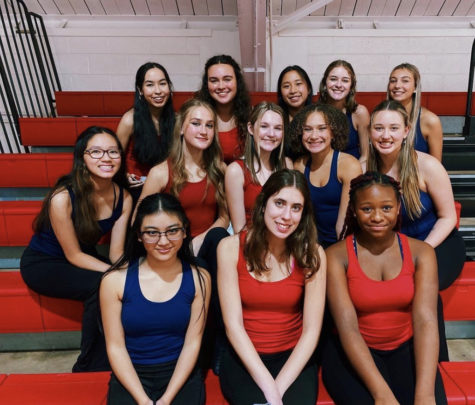 As the month of December kick-started the traditional winter school sports, the PA dance team, The Cavalettes, made their dancing debut at the first PA basketball home game during halftime.
For sophomore co-captain Toryn Hester, her interest in starting the dance team stemmed from her desire to have a "more fun outlet through school."
Coaches Katie Liakos and Katelyn Smith, along with assistant coach Monica Lang, worked together with Blackford and Hester to discuss the vision of the team and the "rest is history," says Liakos. 
Smith and Liakos both danced growing up, danced on their college teams, taught dance at outside studios in the past, and "missed being a part of the dance world in the past few years."
Up to this point, the dance team has performed at both the home boys' and girls' basketball game halftimes against FC. Their first introduction as a team was at the homecoming parade in October. In the future, the goal is to perform at upcoming basketball games, school pep rallies, other school spirit events, and the idea of competitions is even possible. 
Long term, the goal is to compete in a National Dance Association workshop and qualify for Nationals and possibly have some team members receive scholarships to dance on the collegiate level. 
Blackford feels that one idea that makes the team stand out is "inclusivity." They did not just restrict auditions to dancers outside of school, but instead wanted to give "everyone an equal opportunity to show what they could bring to the table."
Team member junior Quilla Chavez originally wanted to join the team because she had to quit dancing during the pandemic and wanted to get back into it through The Cavalettes. 
Their first performance at both halftimes was memorable to Chavez because she had performed on a stage before, but never on a basketball court. "Overall, it was very exciting, a little nerve-wracking, but ultimately fun," explained Chavez. 
Performing is something Blackford has always loved about dancing. "The rush of performing compares to no other feeling in the world," stated Blackford. "Getting to go out on the court or the stage to do what you love is such a rewarding feeling."
According to Chavez, COVID-19 has presented challenges for the new team. A couple of practices have already had to be canceled due to members being out, and the next basketball game was recently postponed, which was originally their next performance. 
However, the team has worked hard to adjust and Blackford explains that "You could also say we are very goal-oriented and flexible individuals." 
The girls pick up choreography extremely fast which allows them to try more complex choreography, explained the coaches. 
Team member junior Sarah Blazek "really enjoys learning the new dances and it's so much fun dancing with people you never have before."
According to Smith the team dances "Extremely well together especially since they only started dancing together as a team in October." 
Starting a new team tradition, the team conducted a Secret Sister (much like the traditional Secret Santa activity) this past December. Blazek enjoyed "Learning so much about someone new and creating a new connection."  
The dance team has provided Blazek with new opportunities to "make new friends and even rekindle old friendships as well." 
Another major experience so far has been the process of fundraising to raise money for team uniforms and other supplies since the team is so fresh. "Getting uniforms was something we thought would be a little harder to achieve, especially during these times," explained Chavez. 
However, through the use of a fundraiser site "SnapRaise" the "girls did a superb job facilitating the fundraiser and we will be able to purchase brand new uniforms for the team," explained both Smith and Liakos. These uniforms will hopefully debut at a showcase with other VBCPS dance teams in April. 
According to Blackford, "Whether [our challenges] be with fundraising, learning new dances in a time crunch, or continuing to dance when our music goes out, we stick to doing what we know best and working together as a team to accomplish our goals."