Leadership Workshop 2022
First-time senior delegate Tori Loehn notes the immense influence that the nature of workshop had on the community that was built in "just two short days."
"Going into the event there were some people I did not know and had even never seen [before]," said Loehn. However, by the end of the workshop, "I felt like I could be myself and felt included."
The 2021-2022 Princess Anne Leadership Workshop (PALW) has just recently wrapped up another successful year hosting the two-day action-packed event.  
PALW ran from March 26 to March 27. Students arrived at PA in the morning and returned home at night. The theme of workshop this year was "Beyond this Place." 
Loehn's workshop experience aligns with the goals of PALW, as workshop counselor Jackie Lacroix hoped that it would bring together a "great community of students that [would] get to know each other very well over the weekend."
Having similar intentions, sophomore delegate Teena Hamada said that going into workshop her "goal was to meet new people and step out of my comfort zone."
Workshop coordinator Emma Fuhs noted that the main goal of workshop this year was to focus on the "beneficial lessons that could be taken away."
Along with the delegates from 9-12 grade, 14-16 junior and senior students who had previously attended workshop as delegates held the role of "staffers." The PALW staff also included eight student counselors.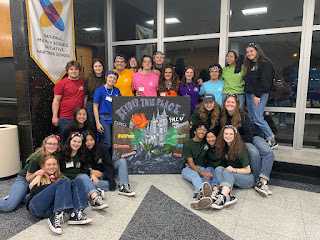 Each council was assigned a student counselor and a few staff members to lead and guide the group in activities throughout the day. 
The weekend before PALW, all the staff worked together to write skits, design posters, and other logistical details necessary for the workshop to run smoothly.  
A large component of workshop is the traditional skits that delegates must lead and perform.
Loehn believes this was one of the "activities that demanded the most leadership," as the individual councils must "work together to include the council name, color, mascot, and each of the delegates' names," while also "choreographing a dance, writing a parody to a [commonly] known song, memorizing it, and performing in front of everyone." 
According to Loehn, with these demanding requirements, it was essential to demonstrate "leadership to be productive in the short time given." 
Fuhs described that another component required for delegates to succeed is "openness and eagerness to get involved."
Lacroix thinks that "it's amazing to see how confident [the delegates] have become and the amazing performance they put on. It's always so funny and creative."
Senior staffer Lauren Layne also recalls the skit activity as a standout moment from workshop, as she believes "Observing what my council put together skit was eye-opening." Layne also reflected on her time being a delegate in 2019 while she was "watching the group of delegates applying the skills we taught them" and had "a full-circle moment."  
The skit activity is unique because it is not just a leadership task but also a competition. First-year sophomore delegate Esther Akinade believes that the "skits were all really good," but comments that she "felt like my group should have won." 
Along with focusing on the leadership skills of delegates, another large goal of PALW was to  "create an environment where people feel like they are free to be themselves," said Lacroix. One activity that was utilized to achieve this goal was "boundary-breaking."
"Boundary-breaking" is "where we dive deeper into questions that are more serious to help us go below the surface," said Layne. Initially, Layne was uncomfortable at the bondings and it was her least favorite part of workshop. Now, "it has become one of my favorite traditions," said Layne. 
Loehn "really enjoyed the boundary-breaking" and after everyone got to know each other well, she "felt comfortable enough to answer deep questions in front of the group." 
Workshop aims to include every student: "Whether you are artistic, a quality ghostwriter, or just there to yell and scream, workshop has a place for everyone," said Fuhs. 
"The fun parts never lose their charm and we just want students to walk away with just a little bit more," said Fuhs.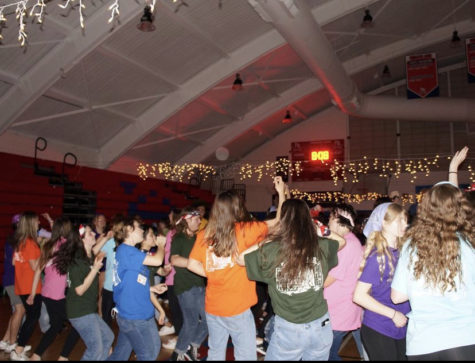 Aside from the more serious activities, the workshop also incorporates targeted activities that were more light-hearted, and Akinade's favorite games were those in the gym that were common childhood games that "felt like recess."
Along with games around the school, delegates discussed what they believed their future would look like. For example, the number of kids individual delegates wanted, future careers, etc. 
According to Layne, "Each decision the delegates made led them to understand their priorities in life. It was heartwarming to see how each delegate reflected on their own choices and how they related to one another." 
This year's workshop also included several small activities called instructionals, like creating the classic egg drop contraption. 
According to Lacroix, these instructionals are aimed toward "goal setting, creating unity, working in a group, and self-awareness."
Akinade reflects on each activity introduced at workshop and believes that incorporating "lots of different activities brings different people together and unites one another." 
As the weekend came to an end, emotions ran high and Lacroix explains that on the last night, during an event called campfire, "I and other two staffers played a few songs for the delegates to sing along to."
Lacroix explained further, "It was super emotional at the end of the weekend, but as we're all crying it brings everyone closer together. It was such a special experience."