National Signing Day at PA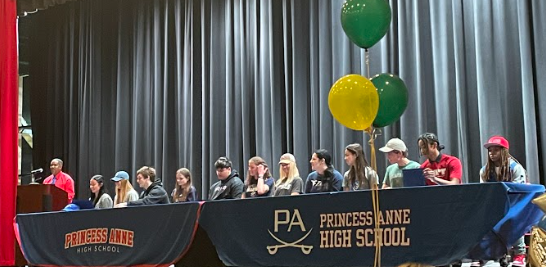 Buzzing fills the auditorium as parents and classmates file in searching the long table of athletes for a familiar face. Athletes sit in a row with anticipation quickly exchanging smiles with each other and the audience. "It's crazy to me to think that I'm a senior and in a few short months my entire life is going to change," said signee Brooke Cunningham.
Feb. 1 was the annual National Signing Day at PA and 12 seniors signed their commitment to various colleges. PA sports coordinator Jauron Brumage and PA principal Todd Tarkenton delivered strong speeches in the ceremony, Tarkenton praising that "Each of them has demonstrated incredible skill, perseverance, and leadership in both the classroom and their respective field of competition."
Brumage presented each athlete, outlining their accomplishments and future goals in their respective college. With a quick wave in the midst of excitement from parents, teammates, and classmates, each athlete was presented with impressive accomplishments.
The following athletes signed their commitment:
Senior Olivia Braunbeck signed for Virginia Wesleyan University for soccer and she plans on majoring in Allied Health with the aspiration of becoming a sports physical therapist. She began playing soccer at three years old on the same team as her older brother. She is a four-year varsity player and two-year captain of the cavalier girls soccer team. She has started every game at PA for all four years as a center-back.
IB senior Amelia Manke signed for Washington Lee University for soccer and will major in Biology. She has been playing soccer for 13 years and plays the starter position on the PA soccer team. This year she placed third in the team for most goals as well as getting elected as captain of the travel team.
IB senior Radomyr Couture signed for Johns Hopkins for the men's swim team and will major in Cyber Security and Warfare. He is the PA's swim team co-captain and has been swimming competitively for 8 years. He is the current PA record holder for freshman in 100 fly and has been awarded the victorious trident award.
Senior field hockey player Mary Ruffin will attend Virginia Wesleyan University and is planning to major in business and marketing. She began playing field hockey 13 years ago.
Senior Gabe Navarro signed for Virginia State University and will major in Sports Management. He signed for football and stated that as a freshman he felt nervous as everyone else was much taller and bigger, however, that inspired him to work hard. He has accumulated 70 tackles and his fondest memory is his first start as a sophomore against First Colonial High School.
IB senior Brooke Cunningham signed for Mary Washington University for volleyball. She has been playing volleyball for 11 years and plans to major in Biology. She was part of the first team to go all the way to regionals and states. She expressed that she loves the family aspect of the team expressing that "everyone tends to know everyone and they want the best for you which I find really special." She explained that she is looking forward to becoming a part of a wonderful team at Mary Washington. "College is a time to step out of your comfort zone and become a better version of yourself, and that's what I tend to do," said Cunningham.
Also in volleyball, senior Avery Hunter signed for Louisiana Monroe and plans to major in Marketing. In her volleyball career she has accumulated a total of 245 kills and placed in class 5 in the region. Her most memorable moment while playing on the PA Volleyball Team was defeating Cox High School her freshman year.
Rachael Gooch signed for West Virginia Tech and will major in Sports Management. She has been playing for 9 years and four years on the PA softball team. Throughout her time on the team she has totaled 26 home runs, and a batting average of .423. She was also part of the second team to make it to regionals.
Laila Rodriguez will attend Patrick Henry for softball, majoring in Health and Physical Education. She has a batting average of .723. She is described as a versatile and dynamic player always helping teammates. She is looking forward to competitive softball in college.
IB Senior Will Griesmer signed for WIlliam and Mary for track and field. He will major in Economics and Business. He has been in the cavalier cross country team for four years and has the highest finish in PA's record. Greismer enjoys backpacking trips and has enjoyed learning how to ride a unicycle.
IB Senior Will Bland will attend MIT for basketball, majoring in Humanities and Finance. Bland has an average of 18 points and six assists per game. Other than being a part of the PA Boys Basketball Team, Bland is the founder of the Student Athlete Mental and Emotional Health (SAME-H) which focuses on the mental health and well-being of student athletes. He has been featured on TV, for his organization and in a Virginia Pilot article. Bland stated that "basketball has allowed me to travel the nation and immerse myself in different cultures."
Also for basketball, Zakiya Stephenson signed for the University of Mississippi and will major in Mechanical Engineering. She is a seven-time state champion with a total average of 20 points and five assists per game. She started playing basketball 11 years ago encouraged by her uncle, at a rec league. "I couldn't go left to save my life," she stated.
After each athlete had been recognized, a silence filled the auditorium as pens were picked up and slow and anticipated scribbles were drawn. The audience erupted with cheers, claps, and whistles.