New restaurants near PA: Crumbl and Nandos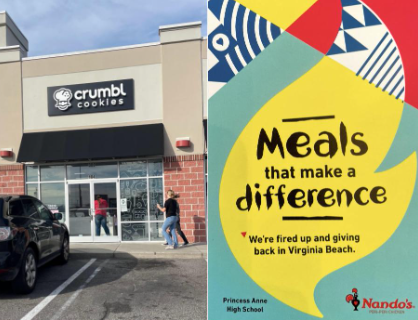 It's no secret that PA is located in one of the most convenient locations in all of Virginia Beach. Closely surrounded by shops and restaurants, and in walking distance from Town Center, a big part of PA's student culture is created from afterschool meetups at places like Panera, Shake Shack and Barnes and Noble. 
In the shopping center that includes many of PA's favorite restaurants, students were quick to notice the Crumbl Cookies sign joining those of Panera, Chipotle and Domoishi. 
Crumbl Cookies, a company that has very recently gained popularity through TikTok for their weekly changing flavors of "the best cookies in the world," according to their website. During the summer of 2022, a sign with the logo of Crumbl Cookies was placed on a recently vacant building in the shopping center directly adjacent to PA, with signs saying "coming soon". 
The location opening near PA is the second Crumbl opening in the area, the first opening in 2021 at Hilltop Shopping center. Sophomore Julie Cigularova's previous love of Crumbl's cookies has only increased from the months gone by without an opening date set for the location near PA. "I'm really excited to get a little dessert after school," Cigularova explains. 
And as much as the students of PA are excited to buy Crumbl's cookies when the store opens, some of PA's cavaliers saw it as an opportunity for employment. 
After noticing a Crumbl opening so close to school, senior Logan Pullar was intrigued by the store and decided to apply for a job. Pullar's interest spawned from the same place as those who enjoy Crumbl's cookies, on the internet. "Mostly it was just seeing it online," Pullar says. "People were posting reviews of Crumbl on TikTok and I thought it seemed interesting." 
Senior Katelyn Palmer was also interested in Crumbl for its employment opportunities. "I was looking to get a job before second semester started," Palmer explains. "So I could get into the job before my harder classes started." Palmer describes that many are taking advantage of Crumbl's close proximity to the school. According to Palmer, "There are a lot of people from our school [and] from Bayside [High School]" that are going to work there.  
Both Pullar and Palmer had similar interviewing processes, both going in for interviews and getting the job within 24 hours. But their interviews happened in December, and as many of PA's eager students will notice now as of February, Crumbl hasn't opened. 
Pullar explains that when she was hired, she was told by her manager about Crumbl's approximate opening date. "He said when I got hired that it would kind of be the second week of January that we would be looking to open. It getting pushed back a lot [has] obviously been kind of a struggle." 
Crumbl's opening has been pushed back because of different fire safety regulations, both Pullar and Palmer noted. Problems with the sprinkler systems and smoke detectors specifically, causing the delay in opening. According to Palmer, no blame can be placed on their manager though, as most of the issues have stemmed from the city. But, Palmer does see an opening date soon. "Hopefully this month," Palmer predicts. "They are expecting a big grand opening. We fully expect for there to be a lot of people." 
"I've got a lot of my friends who are really excited about [Crumbl's opening]," says Pullar. "I think they made a good choice opening it next to the school. It's the same thing with all the other places like Chipoltle or Panera, they're gonna get a lot of business from the students." 
Even with the delays in its opening, Palmer remains optimistic, "I'm excited, I went to the orientation and the clean up and it seems like a really cool job." Palmer is confident in the leadership of her manager and the owner of the store saying, "they all seem like really great guys."
"It seems like it's going to be a good time," says Pullar. "Most of the people there seem really nice, it seems like it'll be fun." 
Additionally, Nando's Peri-Peri, a restaurant serving South African cuisine, is opening in Town Center Thursday, Feb. 16. Nando's is famous for its spicy Peri-Peri chicken, originally opened in 1987 in Johannesburg, South Africa, and has expanded its restaurants across five continents.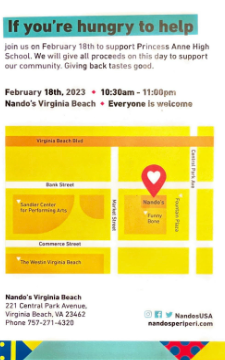 On Saturday, Feb. 18, the new Nando's Virginia Beach location is holding a community day in conjunction with PA. Proceeds from meals bought on the 16th will be donated to PA's Leadership Workshop. "We can't wait to bring our mouth-watering chicken to Virginia Beach residents," according to John Fisher, CEO of Nando's from a press release. 
Nando's is located at 221 Central Park Ave. in Virginia Beach's Town Center. Nando's is open 10:30am to 10pm from Sunday to Thursday, and 10:30am to 11pm on Friday and Saturday.