Love Run crosses the finish line
This past Saturday, students of Princess Anne, Cox and Kellam High Schools joined together to coordinate the 19th annual Love Run to benefit the Children's Hospital of the King's Daughters (CHKD). 
Love Run is a five kilometer or one mile run around the Thalia neighborhood, beginning at Thalia Elementary School where participants are encouraged to walk, run, or skate, and strollers, pets, and families are welcome. But the incredible preparation and the true meaning behind Love Run goes much further than just a "Fun Run". 
Love Run was originally created at PA in 2004, after the SCA president at the time was diagnosed with leukemia. After receiving treatment at CHKD, the president created Love Run as an opportunity to give back to those who helped them at CHKD and provide help for those in a similar situation as he once was. 
Preparation for the February run began in September of 2022, according to PA's SCA Co-Service Coordinator sophomore Brady Dunn, almost as soon as the school year started. "It's been a very long journey from September to this February," Dunn explains. The journey to Love Run started by picking leaders for the different committees that make up the different aspects of Love Run. Then in December, more of the efforts focused on finding sponsors, both from business in the community to make up the bulk of what is donated to CHKD. "We thought about what small businesses might be interested in joining us for this great event," says Dunn. Lastly came most of the logistics for the actual day of the run, focusing on sales, managing volunteers, and making sure the run went smoothly.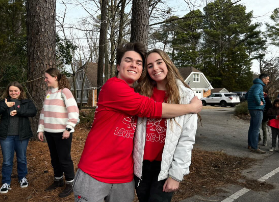 Throughout the years, Love Run has only grown with the increased participation in the event with Cox and Kellam high schools. Cox joined PA to organize Love Run in 2013 after their SCA advisor's son passed away. Kellam renewed their participation in Love Run this year to honor their student Abby Furco. "I honestly think that's one of the better things of Love Run, putting aside school rivalries for a little bit for a greater cause," explains Anthony Organt, a junior at PA and SCA Co-Service Coordinator along with Dunn.  
According to Amelia Keck, a senior at Cox High School and Co-Secretary of Cox's SCA, events like Love Run bring the community together in some of the best ways. Throughout the process of organizing Love Run, Keck was the main point of contact between Cox and PA, handling much of the communication between the two schools. "The process of putting this event together with two other schools was certainly challenging," according to Keck. "All of the coordinators are super involved in our schools and communities, so the time where we got to work together and Bond as a team was really special!" 
While Organt was focused on making sure the organization of Love Run went smoothly, he believes that the spirit behind it is just as important as its logistics. "What I wanted to do is really bring back the love for Love Run. I think coming back from everything covid-wise it's been difficult to build up the morale and excitement from it." The solution to this problem, according to Organt, was to bring not only more people in to help organize the event, but to include students from other high schools like Bayside and Salem, whose SCAs were not directly involved like Cox and Kellam. 
Being largely run by students, PA's SCA sponsor Devon Curtis believes that Love Run is a great way for students to learn new skills and gain experience managing events as large as Love Run. "I think that it helps them to see what the future holds, having to deal with something that has very many little pieces that you have to put together to make something great," says Curtis.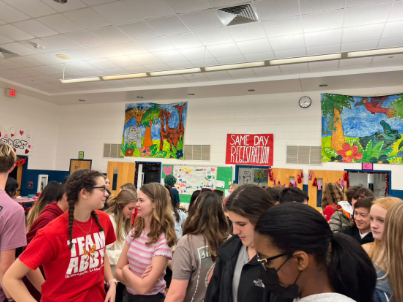 The ultimate goal of Love Run this year was to raise $20,000 to donate to CHKD. While at the time of publication, the total amount raised is unsure, those involved believe that the impact the event has goes beyond any monetary amount. "Both the monetary goal and community-wise I think we've outdone a lot of years," explains Organt. 
"Not only have we been able to raise hundreds of thousands of dollars for charity, but also we've been able to bring our community together to work for a common purpose. It's incredible to see students working for one another for one another," Dunn says, referring to the large number of students in the school system who benefit from the charity. 
"I believe Love Run is called Love Run because it's a great way to show the love for your community and those around you," Dunn reflects. "You never know what someone is going through. That's why we do this and why we help each other. We come together as different schools with a common purpose to help those in need." 
After continuing for 19 years, Love Run has allowed itself to grow and only improve with time, always ensuring a place for it in the future.