"The Power of Infinite Hope": door decorating contest celebrates Black history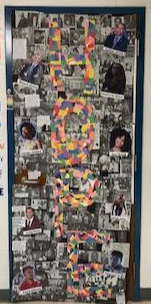 Every year, February transforms into a month filled with appreciation and knowledge as Black history is celebrated among the PA community. The Black Student Union (BSU) at PA, takes the lead, organizing several events and activities throughout the month such as spirit weeks and morning announcements that cultivate respect and knowledge.
This year, a door decorating contest was added to the festivities following the theme of the African American Male Summit: "The Power of Infinite Hope: Awaken to the Challenge". First block and second block classes, as well as AVID students and coaches, were encouraged to participate, decorating their doors in a way that recognized the modern achievements of African-American contemporary individuals or groups. The focus was on current scholars, professionals, politicians, entertainers, writers, local leaders, and athletes who create change. The doors could also highlight movements and issues affecting young African Americans today.
Administrative Assistant, Darcel Johnson, who proposed the door decorating idea as an activity for Black history month, expressed that the aim of the contest is "to bring recognition to the Black American culture, have students ask their teacher questions, start doing their own research about what they're seeing around the school."
She explained that she hopes that from this activity students can gain knowledge and excitement for this month.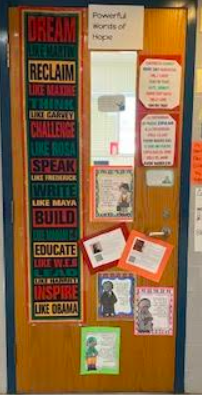 Johnson believes PA has an inclusive environment as there are many opportunities for students to get involved and become a part of something they are passionate about. "I feel like a lot of students can find a place and interest, whether it's in a club, activity, or even get some students together to initiate a club," said Johnson.
Teachers began decorating their doors as early as Feb. 6. On Feb. 22 the doors were judged by a panel of teachers, counselors, and administrators, including Johnson.
The doors were judged on creativity, neatness and appearance, incorporation of theme, guidelines followed, and overall impact of the product.
Social studies teacher Angela Cosimano and her first block class, her African American History class, won first place with a beautifully decorated door, filled with pictures and collaged letters that spelled HOPE through the middle of the door.
Cosimano explained that when designing their door, they created a black and white background, with encyclopedia pictures of black figures to represent black history. These pictures included politicians, musicians, athletes, actors, and historical figures. On top of the background they added more contemporary figures in color, as well as the word "hope" to "represent the hope of today," said Cosimano.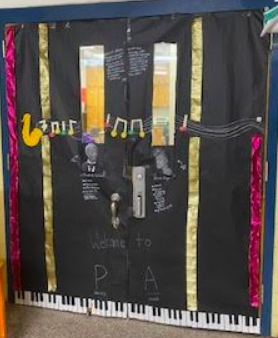 The main takeaway of the experience was "seeing how vast black history is" she said, "[There's] so many aspects, it's not just the same five people that they always hear about, it's a lot of different people from different backgrounds and professions." She explained that it was a chance for her students to see that "Black history is more than just slavery and civil rights."
Cosimano praised the BSU as their club has given the opportunity for students of color to get together and organize activities for Black History Month to share with the rest of the school. "The more people are exposed to different people, [the more] you can learn about them otherwise you're just in a little bubble," she remarked.
"Our school is pretty diverse," said Cosimano, "In our class we looked at the demographics of different high schools, and [noticed] how diverse PA is, and pretty accepting."
She added that "PA does a good job with celebrating diversity and being understanding."
Cosimano hopes that there will be future door decorating contests for all sorts of topics and issues. "It's nice to see classes work together on something with a common goal," she said.
Second place was awarded to Susan Conrad's first block class, Journalism II/III, with a door decorated with inspiring quotes from African American leaders.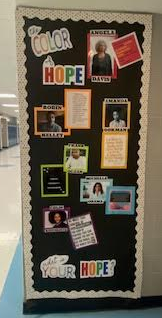 Katherine Davis's door won third place with a door decorated with musical notes, quotes, and prominent African American musicians.
Honorable mention was awarded to the door decorated by Kara Kimball, Monica Lang, and John Merrit. Their door included profiles of Black leaders and inspiring quotes.