PA's ROTC takes second place in academic and drill competition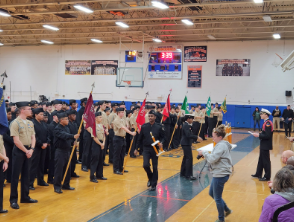 Princess Anne's ROTC program recently competed in a competition at Maury High School in Norfolk, Virginia and took home second place. 
The event took place on Saturday, Feb. 11, and included local schools in the surrounding area, including Bayside, Green Run, Salem, Landstown, and Cox. The competition, which began at seven in the morning, consisted of academic exams and drills that were broken down into five mini-events. 
Naval Science Teacher Jason Houser says he is proud of the outcome of his ROTC unit.
"I feel my team did a really really good job. They exceeded my expectations," he said. "The judging at the competition was unfortunately very junior people, and so we didn't do very well because we don't have a reputation." He added, "When I say junior people, it was like 19-year-old sailors that have been in the navy for less than a year. They were judging my cadets who have properly marched way more than they have in that amount of time."
Even through the frustrations, Houser says he wants to get rid of all the negative stigma around ROTC and improve on advertising the program as a whole.
"I think that most people believe that if you take ROTC, you have to join the military. They don't understand all of the benefits of what we do here and help prepare somebody for whatever they do after high school, whether it's trade school, college, or military," he said, "this could prepare them for it, and I don't think that ROTC as a whole does a good job of getting that information out."
Houser also mentioned the importance of setting the basis for the program. "People focus on, 'I have to wear a uniform,' but they don't see all the benefits of wearing the uniform. Like when the kids go to Panera in their uniform, a lot of times people are thanking them for their service, treating them like adults, and give them free stuff," said Houser.
ROTC has multiple major upcoming events, including a Brain Brawl event, the Southern Regional Drill competition, which Houser described as their "super bowl", the final drill competition of the year, regionals, and the national championship.
Through his hopes of advertising the program, Houser explained that the main purpose of ROTC is that it serves as a leadership and development course. 
"We teach people how to establish themselves as leaders and how to be good citizens. We do it in a military fashion because we're creating our own culture within this unit with our own ethos and with our own core values," he said. 
Houser explained that the requirements to join ROTC are simple.
"We have an application for our program, and that just says that you're willing to learn from other students because it's a student-run program," he said. "I have senior cadets that are telling freshmen what to do and I need the freshmen to be willing."
He added, "The other requirement would be grooming standards. You have to be able to wear the uniform properly and proudly, and with that means haircuts, shaves, and piercings are regulated."
As an elective course, ROTC is very hands-on on a daily basis. Mondays and Tuesdays are academic days, where the teachers give guided instruction to the students for the day. Wednesdays are leadership lab days, in which the junior and senior cadets are joined together to be put through many team-building exercises and scenarios. Fridays are physical fitness days, which consist of many forms of physical activity, like building teamwork, running around the track, and playing capture the flag. 
There are many opportunities during the summer for cadets to participate in enrichment programs, including a summer seminar, which is considered to be a mini boot camp for cadets, and a leadership academy. Cadets are sent to Camp Pendleton, a military camp in Virginia Beach, which Houser described as "the best of the best, working together and learning how to be better leaders so they can come back the following year and potentially run the organization."
Between PA and Bayside, the program has around 100 members and is open to any student who is interested, as well as students who plan to join the military after high school. However, Houser explained that there's no requirement to join the military once a student graduates high school.  
"There is no military obligation. In fact, from my position as the senior naval science instructor, I encourage them to not join," said Houser. "I encourage them to try to do college first, and get as much education as they can, and if that changes, then they can go do what they want. I try to encourage them to make their best decisions."
According to Houser, the program is "a support system" for both straight-A students and those that fall behind, as well as those that may find themselves right in the middle. 
"If they're willing to come and learn and become better, then this is the place for them," said Houser.