PA's Scholastic Bowl team wins states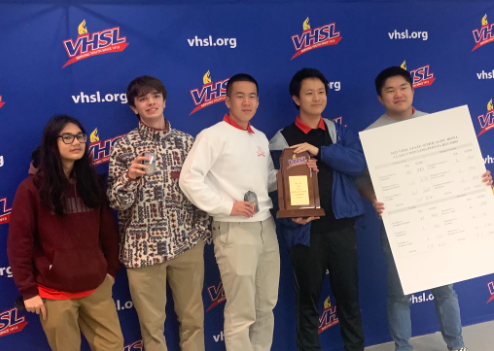 After a very successful season, PA's Scholastic Bowl team won states this past weekend, setting them up to compete in nationals in May. PA's Scholastic Bowl team has gone to states 10 times out of the last 13 years on record, but with renewed effort and unfailing knowledge, PA secured the top spot.
Scholastic Bowl runs like any high school sport. The teams of every high school around the state compete in a regular season, then proceed to regionals and states based on performance. PA was undefeated in the regular season, this success propelled them to compete all the way up to states.
While competing, students are asked questions from "the big three topics," according to senior Austin Zou, which are literature, science, and history, along with other topics like fine arts, religion, mythology, and social science. "Basically everything you learn in school, plus a little more," Zou explains.
To prepare for their matches, students take time to study on their own, as well as practice together, testing their knowledge and reviewing material from previous years. "We have a whole database of a bunch of previous seasons," Zou described, which they review to gauge the type of material they will be asked in matches. Junior Trevor Darr's strategy for learning as much information as needed is to get very deep into certain topics, finding "very random [information], very peripheral to everyday knowledge, but you want to get a lot of it and extract as many clues as you can," explained Darr.
Coach of PA's scholastic bowl team, biology teacher Jason Tomik, credits most of the students' success to themselves, saying that he is only a facilitator for their success. "They're very self-motivated," Tomik explained. "It's a lot of getting kids to learn the right level of self-reflection or confidence and to figure out when you really know what you know. A lot of the credit goes to them and the hard work that they put in."
While strategy for answering questions quickly, or learning the best way to "buzz in" to answer questions is important, according to Zou, nothing can beat knowledge. "The most important thing is just knowing more things," described Zou. "The deeper you go into more topics, then the better you will do. If you don't know the information, it doesn't matter how optimal the time you buzz [in] is. If you don't know the topics better than the other team, then you're not going to get more points."
At nationals, which will be in Atlanta on Memorial Day weekend, PA will be one of 256 teams competing in about 20 to 30 matches, according to Darr. PA's team hopes to place in the top 20. 'We're very much a dark horse," explained Darr. "Two weeks ago no one knew who we were, we hadn't been participating in the tournament circuit for two years. But we have a very strong team this year. We've had a lot more dedication and focus to it than any team that has come before us."
"Especially this year they have really dedicated themselves to learning a lot more," said Tomik. "We've still got a lot to figure out, there's a lot of learning to happen between now and May about what for them to expect."
Until they head to nationals in May, members of the Scholastic Bowl team can be seen competing in the television series, Battle of the Brains. Battle of the Brains airs on WTKR on Saturdays at 10 am and 2 pm, a competition similar to Scholastic Bowl with teams across the state competing in a tournament. PA will compete next against Granby High School, following their win against West Point High School, 435-150.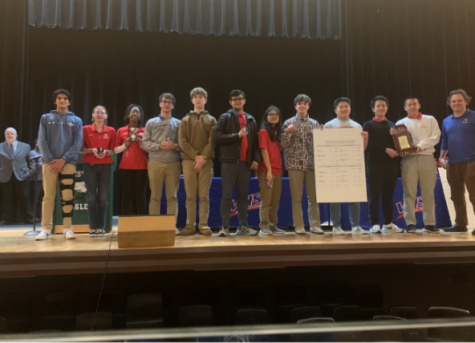 Battle of the Brains according to Darr is a bit more luck based compared to Scholastic Bowl as the questions are a lot shorter, so winning easier questions comes down to the speed of answering. "We feel that there is a little less control we have over it, but in general, we are the best team in the tournament because all the teams that we might have to compete against later, we have beaten before. But because of the format, it's not as conducive to skill-based differences."
Zou also agrees that Battle of the Brains has significant differences compared to Scholastic Bowl. "Battle of the Brains is more geared to a television audience, so the quality of the questions is definitely lower," Zou described. "For Battle of the Brains, you do have to know a lot, but it's a lot more about trying to read into the mind of who wrote the questions, and understanding what the answer is going to be."
To watch PA's first match against West Point, click here