PA's Matilda the Musical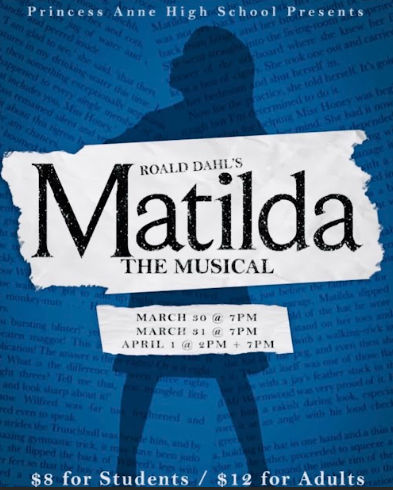 Roald Dahl's "Matilda the Musical" comes to PA with its opening night on March 30 running until April 1. The musical follows Roald Dahl's children's book "Matilda" which is about a girl far too brilliant and witty for her crooked parents and a grouchy headmistress.
Directed by theater teacher Skylar Grey, with juniors Julia LaFountaine and Lauren Wilmoth as stage managers, the musical will follow the same plotline as the "Matilda Broadway Musical".
Senior Lindsey Chambers will play the lead role of Matilda. "Being the star of the show is a little intimidating, but it's truly an honor to be able to play the role, and I've had so much fun with it," stated Chambers.
While rehearsing for her role, Chambers explained that she faced some challenges. "One of the major challenges I've had to face is memorizing so many lines. Matilda has four major monologues set to music, so there's not a lot of room for error."
However, Chambers found creative ways to memorize her lines. "A strategy that has worked well for me, as silly as it sounds, is Quizlet. Even just typing out my lines to make the Quizlet has helped me remember them so much better," explained Chambers.
Senior Anusa Peric, who will be playing acrobat, the mafia boss Sergei, ballroom dancer, and Big Kid, used a different technique to memorize her lines. Peric stated that she's always been able to memorize lines very quickly without having to study them. "I just read them, go on stage, and hope for the best," said Peric.
Peric explained that singing was her biggest challenge as it's not her strong suit. "It definitely took a lot of courage and strength to sing alone," said Peric.
"Matilda the Musical" will include a wide variety of sets tailored to each scene as well as a range of sound effects. As sound chair senior Aubrey Toler is in charge of the sound booth with her crew controlling the actors' microphones and the sound effects during the show.
Toler stated that a big challenge in preparation for the musical was controlling the two soundboards. "We had a lot of struggles with the soundboard because it is very difficult to use, and this musical is unique as we have an extra 10 microphones for actors," she stated.
Naturally, after spending so much time practicing and running through the show, certain scenes, songs, and dances quickly became favorites.
Toler's favorite scene is the revolting children scene because of how much "preparation the actors put into it and how high energy it is," she stated.
Chambers' favorite song in the musical is "Telly". "It's so much fun to listen to," said Chambers, "I hope the audience really enjoys it."
Peric explained that although she loves the Russian mafia scene, as she plays the mafia boss, the dance to the song "Loud" is her favorite by far. "I think the audience will love it too," she stated. "I loved working with Marah, Bailey, and especially Natalia who is playing Ms. Wormwood."
As show night nears, the actors and crew prepare for "hell week," where they will dedicate a whole week to running through scenes, songs, and dances to ensure that the musical is ready for opening night.
Toler stated that "I am a little nervous, but that always comes with theater performances because anything could go wrong, but everyone has put a lot of work into the show and it's going to be great."
"While the process has been stressful at times, I'm confident that everyone is going to do amazing on show night, including all of our amazing techies!" stated Chambers.
Opening night will be March 30 at 7 p.m. at the PA auditorium. The tickets will be $8 for students and $12 for adults.