Biden's VB visit, an inside look from three PA students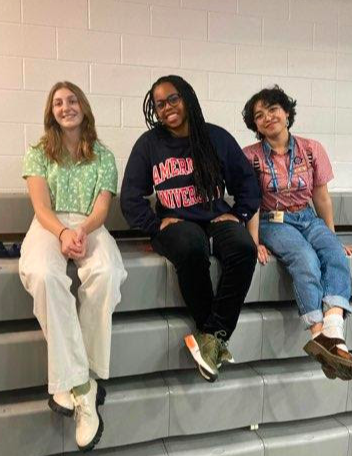 On February 28, while roads were flooded with unexpected, bewildered traffic – and yes, somehow even more hectic PA parking lot departures –, three PA students attended President Joe Biden's speech at the Kempsville Recreation Center in Virginia Beach.
PA seniors Ure Emejuru, Natalia de Los Rios and Kenza Zitouni attended President Biden's speech late last month. They received an invite to the high-profile event through the local Virginia Beach Democratic Party.
"The Virginia Beach Democrats sent us the information to attend as student ambassadors. It was really cool; [the invite] looked really professional," said Emejuru. 
"I found out that we were invited as student ambassadors through Ure and Natalia. It was really exciting," remarked Zitouni.
The three noted that even though they were delighted to have received an invitation from the White House as student ambassadors, they weren't sure what to expect from the event.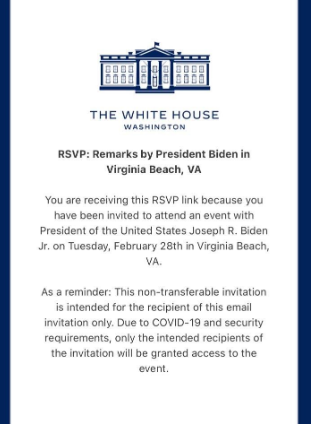 De Los Rios added that "I didn't really know what to expect going into it because we didn't have a lot of information and a lot of it was released right before [the event]. So, it was exciting to be like, 'what's it going to be like?'"  
Earlier that day, Biden landed at Oceana Naval Air Station to begin his Virginia Beach visit. However, the venue of Biden's speech, the Kempsville Recreation Center, was a bizarre location, according to Zitouni.
"[The Kempsville Recreation Center] was certainly an interesting choice," Zitouni elaborated. "It was smack down the middle of a neighborhood, so there was very limited parking and this all happened while school was releasing. The roads were really backed up because they put silly little cones everywhere as if that was going to help."
The recreation center also proved to be contentious to local Republican residents – not fans of Biden, let alone his presence in their neighborhood.
"There were a lot of Republican neighbors when I came in. They were just standing outside their lawns with the MAGA hats with looks of disapproval as they made sure no one parked outside their homes," Zitouni recalled.
Despite the attempts of several residents to discourage neighborhood traffic, tensions between parents picking their children up from school and traffic enforcement swelled.
"There were parents who were getting out of their cars and yelling at the people controlling traffic. It was all very hectic," de Los Rios observed. 
Emejuru claims the last-minute publication of Biden's speech may have added to the resident's anger and confusion as the location wasn't made public until the day of the event.
"What happened was [that] information about where [Biden's speech] would be wasn't public. So no one near where he would be near knew what was going on. It was a big surprise to everyone."
At the event itself, the group of three ran into trouble with Secret Service agents just prior to Biden's introduction. Emejuru claims that she "tried to bribe a Secret Service agent" into letting her see Biden more closely. The agent denied their request and "gave a dirty look." Moreover, the initial seating location of the three proved problematic.
"We got kicked off the bleachers then we tried to go to the front sitting area – we got kicked out of there, too," commented de Los Rios.
Emejuru admitted her role in the seating fiasco: "I'd like to say, I spearheaded the anarchy and then we got in trouble and had to move."
"A lot of people started getting on the bleachers after us. We just wanted to get a little look and apparently so did they," recalled Zitouni.
With regards to the other attendees, Emejuru noted the diversity of the crowd and the wide range of community leaders that were in attendance. 
"There were a lot of people from cultural organizations they reached out to. Since it was a healthcare-based event, lots of nurses were present. And though they didn't invite teacher organizations, many teachers and education specialists were there, a lot of whom were [minorities]. In terms of politicians, many local legislators were present. Delegate Nadarius Clark, Senator Aaron Rouse, and Councilwoman Jennifer Rouse were among the prominent local Democratic leaders attending. It was really cool to see all these important community people at the President's speech." 
Of the substance of Biden's speech, Biden focused on the continuation and expansion of his healthcare agenda while making jabs at Congressional Republicans, one of whom – newly elected Representative Jen Kiggans – currently represents the Virginia Beach Congressional district.
Zitouni noted that, "Biden was focused on tackling Big Pharma and making healthcare accessible to all. It was a lot of the typical rhetoric you'd hear at any Democrat's speech on healthcare."
"There was a lot of putting down," Emejuru affirmed. "I think the big focus was putting down what Congressional Republicans were saying about their plans to cut Social Security and Medicaid. Biden was really against their plans."
"It was kind of criticizing," de Los Rios also voiced. "I think the inactivity or the lack of progress [of Congress] was important for Biden to highlight. After so much time trying to achieve health care aims, Biden still seems ready to continue the fight. Though, he kept a lighthearted tone and included some jokes to make his agenda relatable."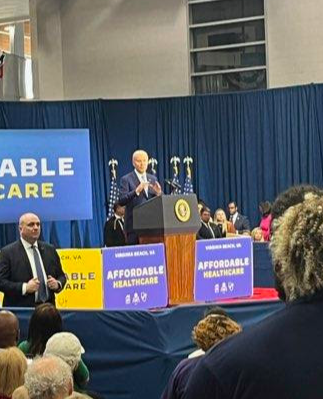 Yet, reflecting on the speech, the three had varying takeaways.
Zitouni sardonically remarked that, "[Biden] made a lot of enemies that day. Coming to school the next day and hearing everyone's opinion, especially people I know to be progressive, saying they don't know if they would vote for Biden because of how inconvenient his visit made things. We've heard a lot of it before too: empty promises and things like that. To me, I was just listening to Joe; however, personally, it felt disingenuous."
De Los Rios thinks the speech wasn't too different from normal Biden rhetoric. "I think in general, Biden is trying to continue the momentum and trying to maintain support from people instead of a specific push for his next campaign. It just seemed more broad and he seems interested in continuing the trajectory of his presidency."
Emejuru, meanwhile, had a more optimistic view of the speech. "It just felt more real. What I think of Joe Biden and what, while not the media as a whole, many people portray him as being slow, but he was just a normal old guy. Honestly, he didn't seem too disingenuous. I've met a lot of politicians and a lot of them aren't genuine – Biden seems like he is. He wasn't a robot that was coming off as only strategic. He related his speech on stuff affecting Virginia Beach. I think he's doing well in that part."
Despite some differing views of Biden's speech, the three underscored the importance of community involvement and that politics and activism aren't closed to a handful of well-connected individuals. Instead, they argue, it belongs to all and it's just a matter of putting oneself out there and getting involved. 
"For people that want to go to things like this, just get involved with your local politics and politicians. They love seeing young people and it's not hard to do," Emejuru noted.
de Los Rios echoed a similar call to community involvement: "Don't feel [like] there's any barrier to joining one of these groups or that you have to be the most politically active or most informed policy expert. There are so many backgrounds to different types of leaders and experiences that everyone has a seat at the table."
Zitouni reaffirmed this sentiment: "Try to stay involved with community groups. You know there's always an off chance that you're just going to get a random message that you're invited to Joe Biden's speech. The purpose of these rallies, I think, is to involve community leaders and organizers so that, I hate to use this phrase, trickles down into the masses."