So Much (for) Stardust – Fall Out Boy's last cry for old-school emo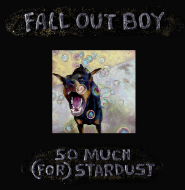 As most fans are aware, an album by the band Fall Out Boy (FOB) hasn't been released since 2018, with their campy LP (long play) 'M A N I A.' The latest record by the quartet dropped alongside an upcoming tour (including Virginia Beach amphitheater, woo!!) on the 24th of March. 'So Much (for) Stardust' is a 13-song album that sends you back to a simpler time of alternative music.
The opening track, "Love From The Other Side," starts with a slow piano, gently guiding the listener into the song. However, after nearly a minute of this tune, a captivating guitar rolls through the song, harmonizing with Patrick Stump's strong voice. This song draws in fans of FOB's older albums (like myself) with choppy guitar and quick beats from drummer Andy Hurley.
The second song, "Heartbreak Feels So Good" has a rhythmic echo that haunts the ear with its bouncy bass riff and nostalgic chorus. Track three, "Hold Me Like a Grudge" treats you to not only a great song but a comical, story-driven music video (one of many for the album), and "Fake Out" captures a milder approach while still creating a song you can get up and move to.
However, about halfway through the album, 'So Much (for) Stardust' feels like it loses its luster a little bit. The songs towards the meat of the album have a more poppy take, which isn't a bad thing but caught me off-guard. Songs like "Heaven," "Iowa" and "So Good Right Now" appear almost lacking compared to the strong start of the first four songs. To really go even more experimental, Ethan Hawke (American actor and Golden Globe winner) is sampled from the movie "Reality Bites" in the abstract portion of the song, "Pink Seashell Beach".
If you've listened to FOB for quite some time, you know that bassist Pete Wentz often incorporates a sample or spoken word passage in the albums to break up the songs and create a transition piece. This song is followed by "I Am My Own Muse," a stadium-worthy track that uses its shooting guitar riffs to make the listener almost feel like they're in a heroic battle.
The final few songs of the album guide you away from the original sound at the beginning, ringing in the change fans remember from albums like 'Save Rock and Roll' and 'American Beauty/American Psycho.' The finishing song, 'So Much (For) Stardust' takes a slower angle to finish off the listening experience. Overall, the ending to this album was deeply underwhelming, unfortunately.
I was greatly excited by this new album by Fall Out Boy. However, after the first handful of tracks, the album ended up with unimpressive stadium hits that left me wanting more. Considering their last few albums have been more towards an unfortunate sellout route, I had meager expectations overall, which was justified by being drawn in by its nostalgic start of familiar songs reminiscent of 'Folie à Deux' (their fourth album) and then shot down by the boring, repetitive songs of the rest of the tracklist.
As a former emo kid, I have spent a long time enjoying Fall Out Boy's discography. In the new album, these first few songs are bouncy and full of nostalgic harmonies that get stuck in your head, and they still seem fresh and remind me of the first time I tuned in to the band. Unfortunately, the album lacks in a lot of ways and has a significant drop in interesting sound after about four to five tracks. That being said, the album does appeal to the audience they have gained in the last few years. The audience is what matters most, though. Passion still needs a paycheck behind it.