PA's Fabulous Marching Cavaliers to be featured on Pharrell Song
PA's band teacher John Boyd was contacted shortly before spring break by the team of PA alumni, Pharrell Williams, to invite the Fabulous Marching Cavaliers to record audio for a song that will be featured in an upcoming movie made by Pharrell.
According to Mike Larson, Pharrell's audio engineer and three-time Grammy winner, the parts recorded by PA's marching band will be included in the "main theme song" of the upcoming movie and is an "original song that Pharrell wrote and produced."
Although Larson shares that he can't release all details yet about the movie, it will feature "[Pharrell's] life growing up here in Virginia," Larson describes. "It goes on to cover a lot of his career." Larson estimates that the movie will come out later this year.
Sophomore Victoria Yu says the recording session "was pretty cool." Yu plays the flute and piccolo in the marching band. "I'm going to be able to hear myself in the actual song, but it was also a bit stressful because I was going to hear myself in the song, so I really didn't want to mess it up." She additionally felt pressured because she was the only piccolo player present at the recording.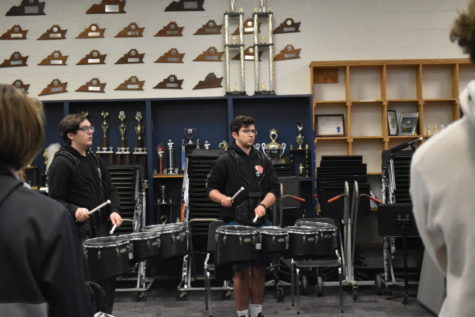 Junior Sadie Ford, who plays clarinet and is the Junior Drum Major of the FMC, describes the experience of recording a song for Pharrell as "exciting but a little stressful."
Ford's opinion is shared by band teacher John Boyd, especially because of the method of recording that was used. "It's always a bit nerve-wracking to record," Boyd shares. Using the soundtrack of "Star Wars" as an example, Boyd describes how when the London Symphony Orchestra records music, they record all at the same time, as a full orchestra.
But in the case of recording for Pharrell's song, recordings were done of each small section so they could later be mixed together. "It's so nerve-wracking because you have to be such good musicians," Boyd explains. "You have to have such total control of the instrument, because the microphone picks up everything. It is a lot of work, but I'm glad the kids had the opportunity to be part of this movie."
Although the production had been coming to a close in the past few months, Larson explains that once Pharrell decided to include the sounds of a marching band towards the end of the song, Pharrell said, "Get the Princess Anne marching band to play on this."
"Obviously he went here and he wants to give that throwback nod to where it all started for him," explained Larson.