2023 CBDA Internship Day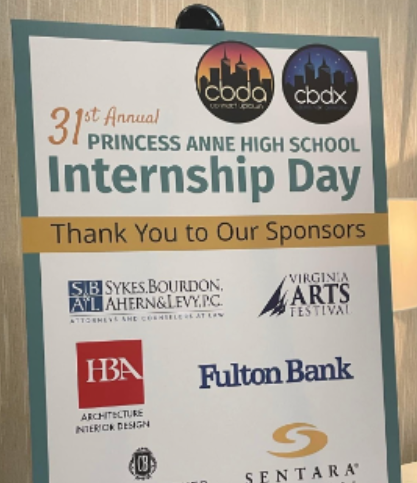 Over 130 upperclassmen were chosen to participate in the 31st annual CBDA (Central Business District Association) Internship Day, where they shadowed local workers in a field of their choice, a few days before spring break began. In addition, seniors Hailey Brown, Niko Santos, and Erika Wu each received a $2500 scholarship.
Juniors and seniors had the opportunity to intern in a range of professions, including journalism, law, physical fitness, and government. Beginning in February, prospective students ranked their top three job options and wrote personal statements outlining their motivations for applying.
Assistant principal and primary organizer of the event, Shana Remian explains, "The counselors, CBDA representatives, and I then met for a 'matching' meeting, where we select students who best match with the companies who are volunteering." She emphasizes that "organizing this event takes a lot of time and attention to detail," but admits that, "while it is a lot of work, it is so worth it!"
Remian hopes that students "see how the transferable skills they are learning in school, such as problem-solving, collaborating, communicating, translate into the workplace" and "see what a career looks like to help guide their future decisions."
Hailey Brown, one of the recipients of the Alex P. Divaris scholarship, says, "The experience made me feel like I was prepared to go to college and the workforce." She had already participated in the program with the local radio station as a junior since she is adamantly interested in journalism, but she made the decision to reapply as a senior and was chosen to intern at the Virginia Beach mayor's office.
In a one-on-one meeting at the mayor's office, she was able to discuss her educational goals and career options with the director of communications. Her favorite part of the day was winning the scholarship and feeling "rewarded knowing people value [her] thoughts."
Brown says, "It was such an amazing experience. I would absolutely recommend that people apply." She points out that "CBDA only partners with Princess Anne. It's such a unique experience for PA."
Fellow senior Jana Isern Escoda agrees, stating, "Even if it is a good or bad experience, it shows the reality of going into the workforce and picking your career." Because she was interested in journalism, she interned at the Audacy Radio Station, which she felt "opened up more options" for her as she had previously concentrated her interest on newspapers and printed publications.
In her position as a law firm shadow, senior Olivia Guy spoke with lawyers who specialize in a range of fields, including corporate law and medical malpractice.
"I had so much fun and they covered such an expansive amount of topics," she said. "We talked a lot about immigration and laws I didn't know a lot about and I've been able to look into it more."
She already had experience as an intern at a legal firm the previous summer, but she thought that this opportunity "expanded opportunities" and helped her build relationships with newly graduated lawyers.
Additionally, she was permitted to go to a judge's chambers where she and her peers were subjected to a Virginia Constitution pop quiz and engaged in a "group discussion on what justice means" to them.
During her internship at Gym and Juice, senior Grace Williams, who is interested in physical therapy, assisted personal trainers and even practiced designing specialized workout programs.
She was able to "learn about physical well-being as well as how to run a business."
She mentions that "seniors have the ability to apply for the CBDX scholarship" which was awarded at a dinner with all of the interns and the businesses that sponsored them at the Westin.
At the same dinner, Brown was selected by Remian to give a speech about both of her internship experiences. Despite being initially nervous, it was one of her favorite moments of the day and a memory she will never forget.
"I would absolutely recommend that people apply. For people who don't know or do know what they want to do, it's such a good reminder that there's something out there for everyone," she says.