AP and IB Exams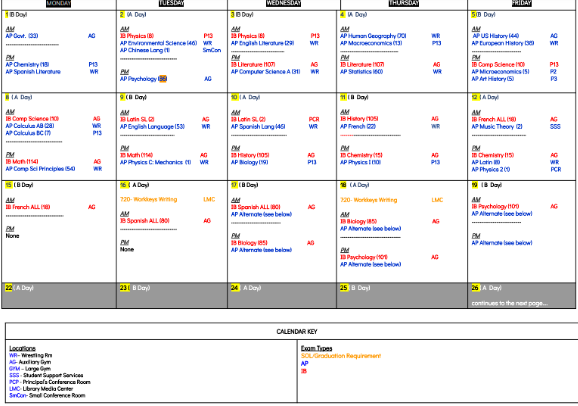 For the first time ever, seven AP exams will be administered online in school at PA, beginning this past Monday, May 1, marking the start of a long month filled with AP, IB, and SOL tests. The online exams include AP English Literature & Composition, AP English Language & Composition, AP Computer Science Principles, AP U.S. History, AP World History, AP European History, and AP Seminar. The digital exams are the exact same as their on-paper counterparts. 
When asked about her feelings on the upcoming exams, IB Senior Jana Isern-Escoda says, "I don't really know. I'm stressed and overwhelmed, and it's scary to think I'm going to have two straight weeks of exams but it's nice to think that in two weeks I'll be done with everything."
She acknowledges that the IB exams are "pretty important" since she has to pass all four of them in order to graduate with an IB diploma.
Similarly, senior Gram Sher who is taking six AP exams feels "nervous and stressed out."  He admits, "As a senior who already got into a college, I just want college credit."
However, he isn't enthusiastic about some of the exams going digital and says, "I like to see what I'm doing on paper. I don't like staring at a screen for so long—I don't think it's a good idea." 
It seems like Sher had a right to be concerned as Wednesday's digital AP Literature exam was postponed due to issues with the Chromebooks connecting to College Board. Currently, the makeup test date is unknown, but it is expected to be on paper at the end of May.