NJROTC Change of Command ceremony
As the end of the school year slowly comes to a close, PA and Bayside's NJROTC program has made a few major staff changes through the annual Change of Command ceremony. 
In one of the program's biggest events of the year, family and friends gathered in the PA gym on Wednesday, April 26. According to Naval Science teacher Jason Houser, the Change of Command ceremony is "the formal transition of power and responsibility" from one cadet to another. This year, the power shifted from Senior Austin Zou to Junior Chase Ashton. Ashton will take over as Commanding Officer (president of the organization) and lead the ROTC program for Bayside and PA. 
During the ceremony, both Zou and Ashton, who have been members since ninth grade, took turns addressing the audience, each thanking the guests as well as the NJROTC program.  Multiple cadets in the program also received promotions, which included new department head officers and assistant department heads that will make up the entirety of the chain of command for the 2023-2024 school year. With a leadership staff of about 18 cadets, Houser explained why the program is run by multiple students instead of one. 
"There's so much work," Houser said. "Most of them have other activities, and we encourage them to do other things. We have one person in charge who then delegates some of these responsibilities to junior cadets, so that work gets done." Houser added, "You learn leadership. This whole thing is about leadership. We give them a task, and sometimes they're nearly impossible to do on your own, and they have to work with others to get it done.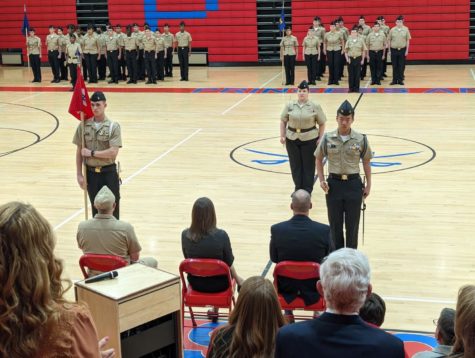 "I am here to help them make decisions and guide them… but the reality is, the cadets run this program," Houser explained. At the end of the day, Houser says what he does is rewarding.
"I get to work with highly motivated cadets that want to make a difference," said Houser. He continued, "I'm just so impressed with what they can do. I give them those impossible tasks, and they find a way."